Queen might be the most high-profile addition to the Beat Saber catalogue so far.
We've seen some absolutely massive modern musicians – such as Billie Eilish, BTS and The Weeknd – added to Beat Saber, but none of them quite have quite the intergenerational appeal and reach as the legendary Queen. Bohemian Rhapsody alone is a bigger deal than almost any other track in Beat Saber so far.
It's not just Bohemian Rhapsody on offer here though – the Queen music pack offers Beat Saber players 11 tracks from the band's discography, including most of their biggest hits and a handful of more unexpected numbers. That said, of all the music packs so far, Queen's music is perhaps the last traditionally suited to Beat Saber, known for its fast-paced, steady, electronic origins.
Many Queen tracks are fast-paced, but they're also often quite slow – sometimes in the same song! There are Queen tracks where a consistent BPM is elusive, which might seem like a challenge for a rhythm game that's founded on the opposite.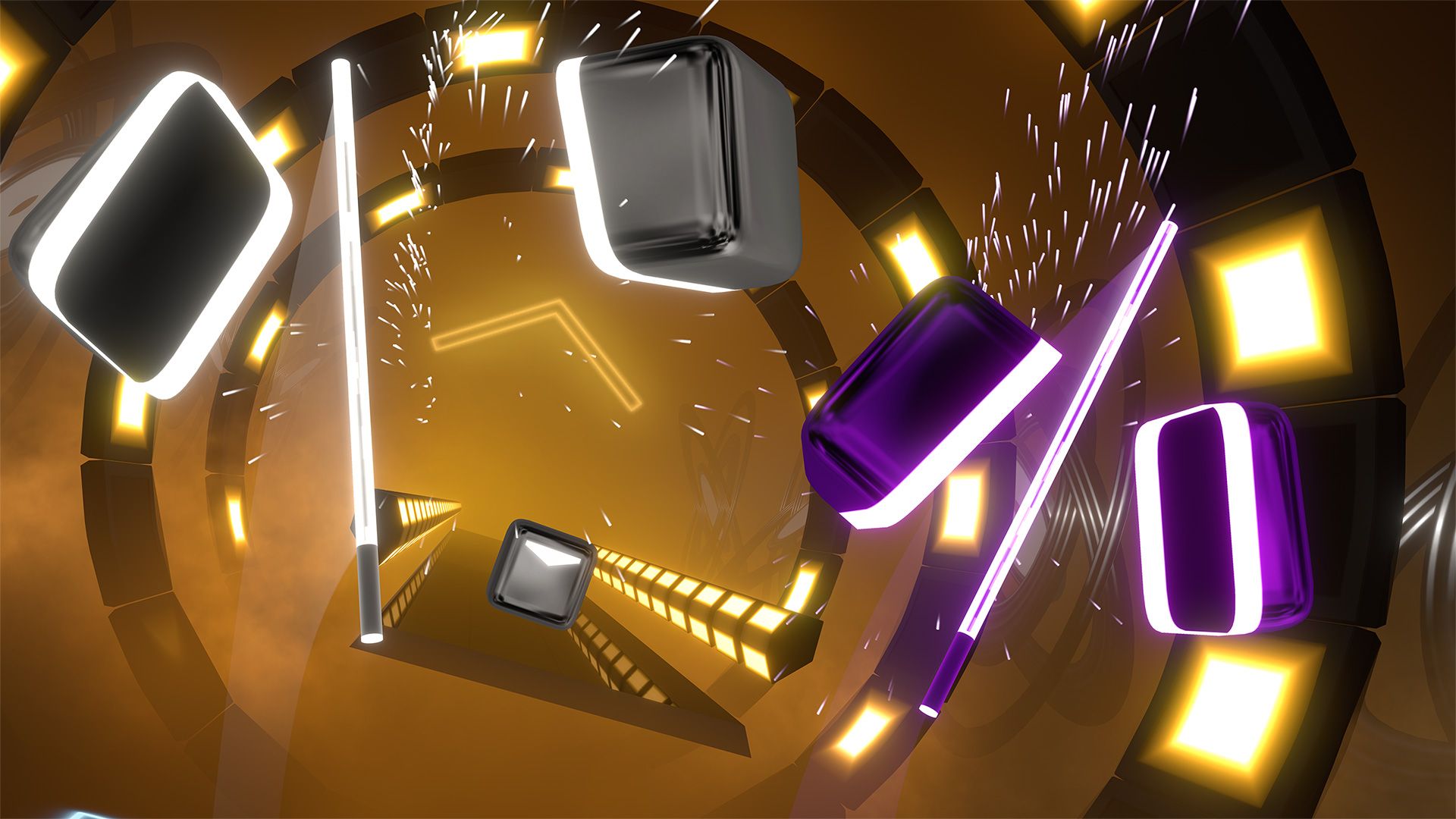 However, the new Queen tracks in Beat Saber are some most joyous and explosive recent selections added to the game. Highlights include some of the obvious hits – Don't Stop Me Now, Another One Bites The Dust, Killer Queen – but it's the band's enduring, chaotic magnus opus that shines above the rest.
Playing Bohemian Rhapsody on Expert difficulty was easily the most fun I've had in Beat Saber in a long time. It's by far one of the best additions (if not the best addition) to the game of all time. The designers at Beat Games match the track's iconic chaos perfectly with a beautiful cacophony of mapping that has you arms alternating from steady beats to overwhelming runs of notes in every direction. It's absolute perfection and a joy to play through.
What makes it even better is the stunning Queen-themed environment included with the music pack. Featuring giant vinyl records along the sides and flashes of the instantly-recognizable silhouette of Freddie Mercury (and the perhaps slightly less-recognizable silhouettes of Brian May, John Deacon and Roger Taylor), it's used to great effect in the entire selection of tracks.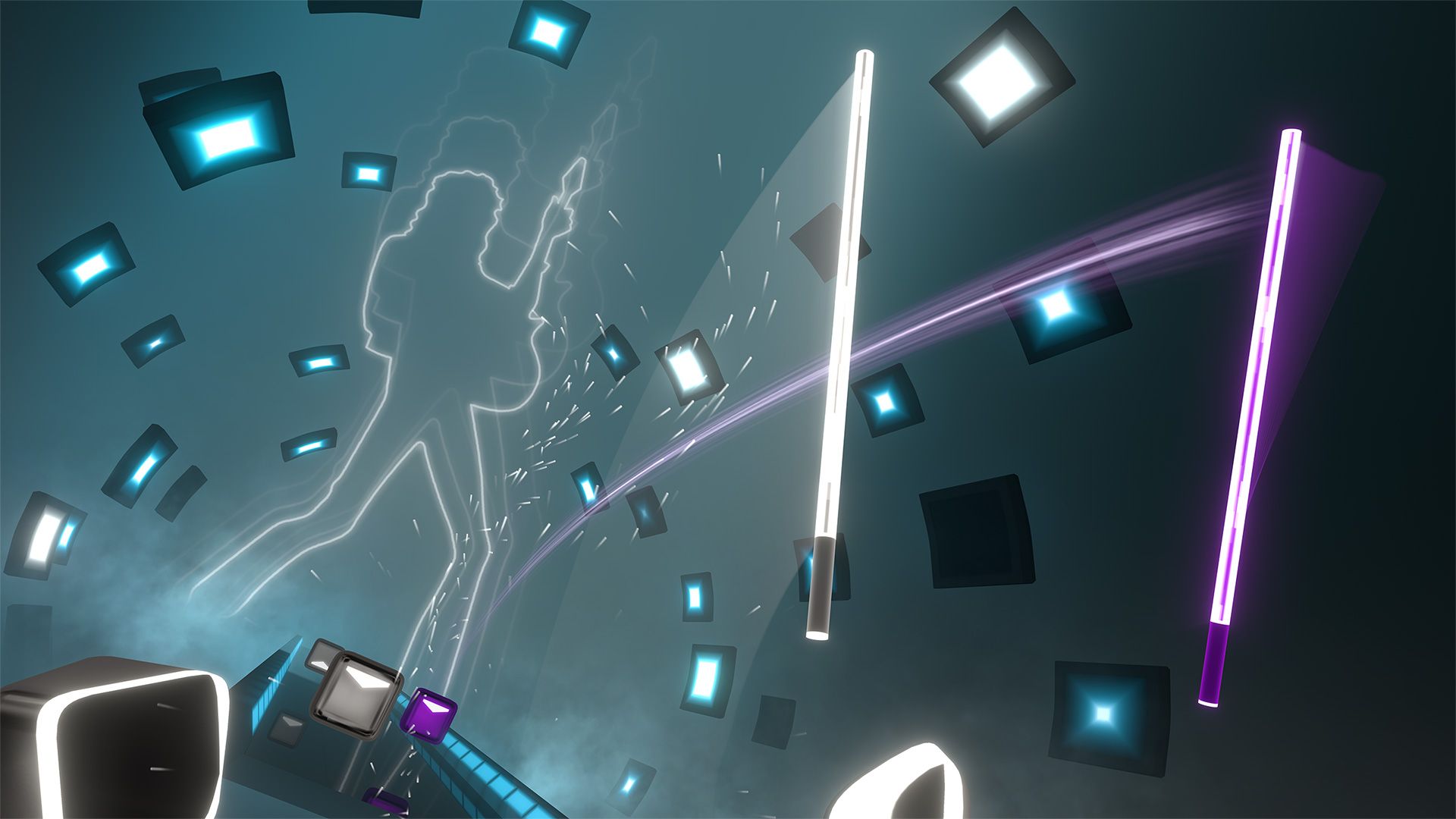 That said, the environment truly shines during Bohemian Rhapsody. The effects, movement and lighting all gradually ramp up in intensity as you reach the mid-song guitar solo, then it all suddenly cuts when you hit the operatic section that follows. The track uses its themed environment and lighting in a way that feels more impactful than almost any other track in the game, perfectly emphasizing the chaos and drastic shifts in mood.
All of this makes Bohemian Rhapsody alone an essential DLC purchase for any Beat Saber or Queen fan. That said, the rest of the DLC pack is still absolutely fantastic and comes highly recommend. It feels like we've reached another turning point for Beat Saber – the VR darling that can seemingly never be stopped. The addition of Queen is a incredibly huge draw. They're a timeless band whose legendary status is only surpassed by a few others.
Who's next – The Beatles? We can only hope.
The Queen music pack is available now for Beat Saber on all supported platforms, including Quest, PC VR, PSVR and PSVR 2.