Skyrocket is set to release two new smartphone-based VR headsets based around two of the planet's biggest franchises, with brand new apps to accompany them.
Several UK retailers have listed Jurassic World and Batman VR headsets made by the company for pre-order. They're sporting the VRSE branding, which was trademarked by Skyrocket earlier this year and is not to be confused with the former name of 360 video platform, Within. Both devices are themed around their respective IP; Jurassic World is green and sports the iconic logo, while the Batman device is black and has the bat symbol on the front. They look like this: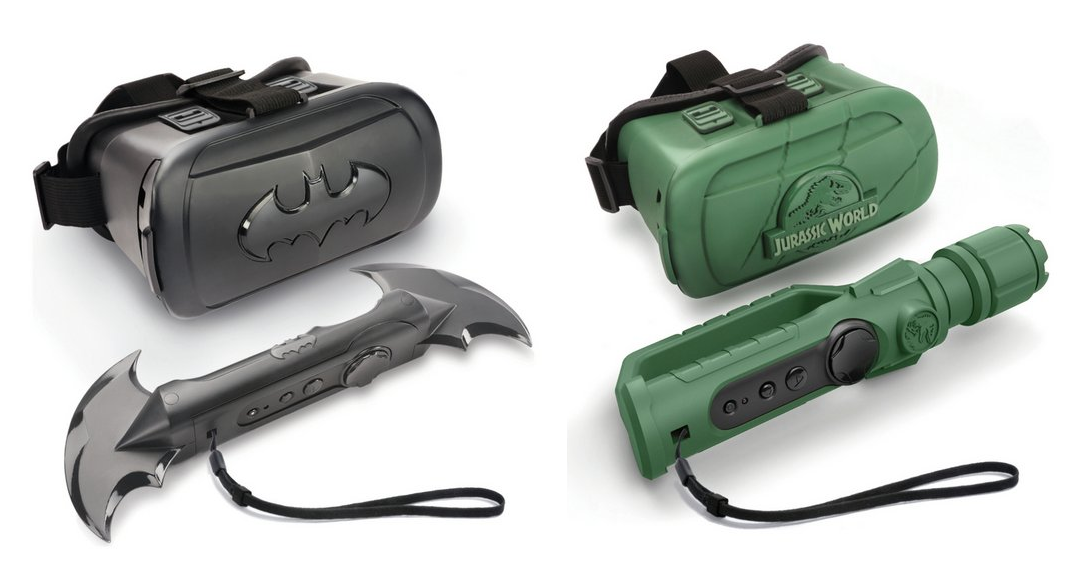 Interestingly, both devices also come with motion controllers. The Jurassic World one has what looks like a flashlight, while the Batman kit comes with a batarang. These controllers sport their own buttons too.
Finally, we've found apps for both kits developed by Skyrocket itself. Each is meant to come bundled for free with its respective headset and you can check out the Jurassic World one in a trailer below. The game has you traveling to the movie's location of Isla Nublar to fight off Velociraptors and other beasts.
https://www.youtube.com/watch?v=CxQbbCoyoGo
The Batman one looks a little more interesting, tasking you with taking down The Joker and promising hand-to-hand combat. Fans that played Batman: Arkham VR on PSVR, Rift and Vive will remember the game featured no combat at all, so we're eager to find out how it's implemented here. Both apps state that they'll only work with their respective motion controllers and are available to download for free on iOS and Android. Based on the images below the Batman app actually looks pretty great.
We can only find the headsets listed for sale in the UK thus far, where they're priced at £54.99 each. Smyths Toys expects them to ship out in mid-September.
We've reached out to Skyrocket to find out more about these devices and will report back with any updates.