My hands are trembling. I have a 12-inch surgery grade needle in my right hand, and a transducer in my left. Without moving anything but my eyes I'm able to look up at a monitor to see an ultrasound image and the daunting outline of a tumor.
"Go ahead, you can do it. Insert the needle directly into the tumor," my guide tells me.
I hesitate, take a deep breath out of fear or embarrassment (or both), and dive right in.
I was off by a long shot. I'm not a doctor by any means. But then, my guide hands me a pair of AR glasses. This time, I see exactly where my needle is projected to go. Within seconds I pinpoint the center of the tumor fearlessly and effortlessly. The AR tech from InnerOptic turned me into a skilled surgeon, and with just one try I was able to locate and inject a tumor.
The instrument of my success was InnerOptic's AIM software running on ODG's R-7 Smartglasses. AIM continuously monitors the positions of both the needle and the ultrasound transducer while simultaneously calculating their projected insertion location. The display is shown in real-time on a 3D stereoscopic monitor. The projected insertion location is represented by a dotted line, and updated with every slight movement of the hand. 3D guidance provides for a safer and more precise injection every time.
My guide for this demo was Luv Kohli, a research scientist at InnerOptic with a PhD in computer science.
"We've heard that certain doctors have been able to take their procedure time from 2.5 hours to just 45 minutes with this guidance system. Also, they're now able to reach targets they may not have been able to. It's less traumatic for the patient, takes less time, and allows hospitals to treat more patients," Kohli said.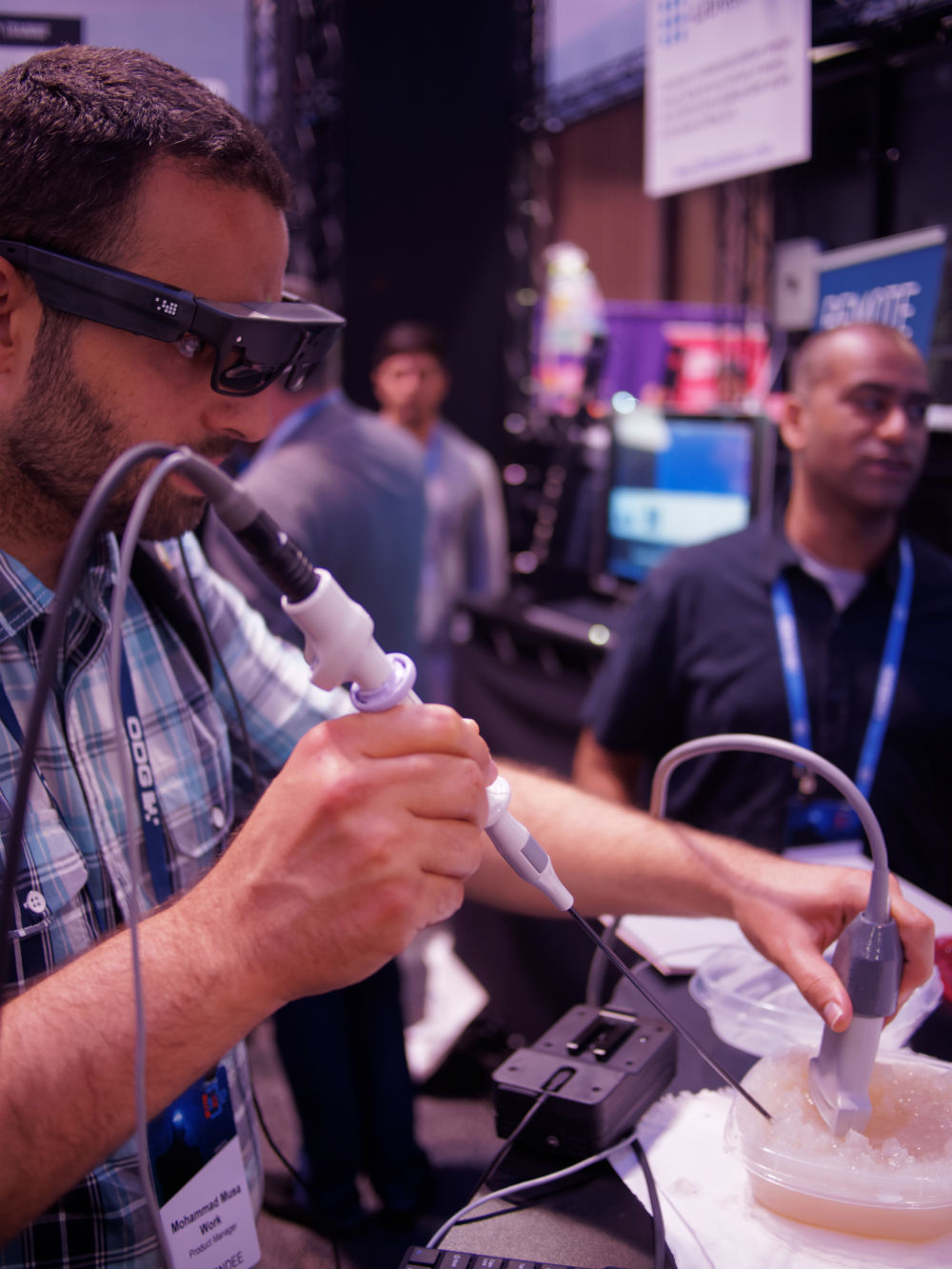 Malpractice claims are a huge expense and a major culprit is errors by needle injection targeted toward biopsies, ablations, and similar procedures. These injuries are a result of the difficulties surrounding the outdated tech doctors are equipped with today. Ultrasound is difficult to interpret, and complex laparoscopic procedures make needle placement extremely challenging. Misplacement results in multiple stabs, correction procedures, patient injury, and incomplete interventions.
AIM has been used by numerous surgeons, helping them improve accuracy, save time, and save hospitals significant amounts of money. In addition, multiple studies and trials have shown that AIM improves surgeon performance. The tech from InnerOptic gives doctors a complete visualization of needle placement and the platform for greater surgery success.