[vc_row][vc_column][vc_column_text]VirZoom pairs VR with an existing stationary bicycle or bike trainer to create workout experiences. Read our full review of using it with Oculus Quest to find out whether it's worth a try.
[/vc_column_text][/vc_column][/vc_row][vc_row][vc_column][vc_column_text]
When we first reviewed VirZoom's exercise-bike VR programs, they had just launched for Rift, Vive, and PSVR. The idea is that you pop on your headset, fire up your stationary bike or load your bike into a bike trainer, and either choose to explore with VZFit Explorer, wandering through Google-Maps-supplied 3D landscapes, or play games in VZFit Play. A sensor tracks your bike's cadence, the rotations your pedals make in a minute, and uses that to transmit speed to your in-game avatar.
This year VZFit moved from those platforms to the Oculus Quest, building in positional awareness of your headset for the first time. It also works on the Oculus Go. In addition, the company announced that it was changing its pricing model, offering VZFit games for free on a rotating basis, one free VZFit Explorer ride, demos of all rides, and reducing annual memberships for premium access to all experiences from $119.95 down to $99.95 per year. (A monthly version for $9.95 remains.) Premium membership includes unlimited multiplayer action.
As of the time of this writing, VZFit is no longer available for any wired headsets.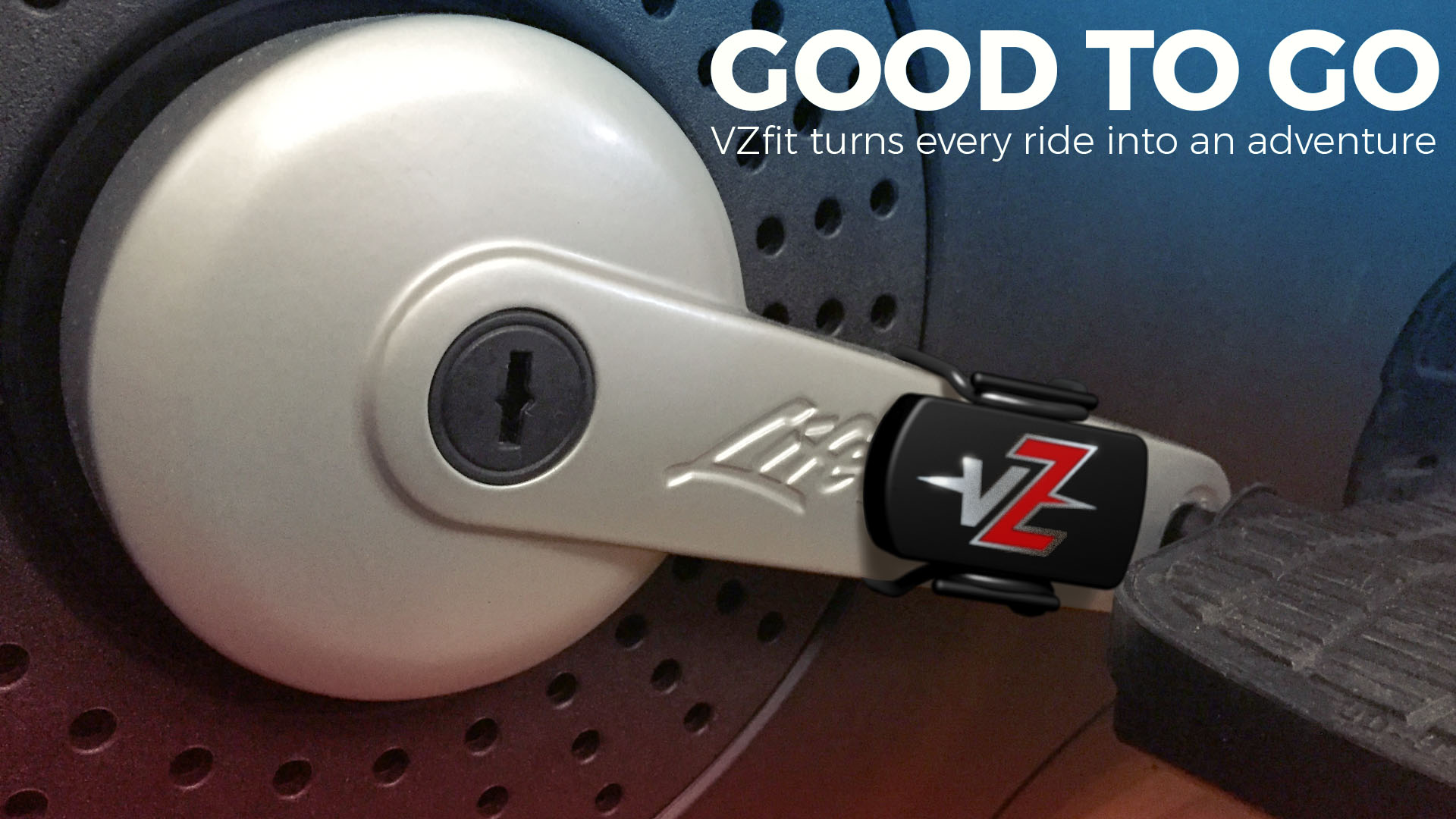 Both VZFit Explorer and VZFit Play use the headset and a $99 VZFit Sensor Kit, which includes a sensor that attaches snugly to one pedal crank with elastic bands (battery life is about 50 hours), and a thumb button that clips onto your handlebars for easy controls while riding. If you're used to using the Oculus UI, navigating menus is a snap. You can opt for an included tutorial or dive right into the games or ride experiences.
VZFit Explorer puts you in the middle of curated rides through Google's Street View, with some provided by VirZoom and some created by Premium users. Selections ranged from the first couple of Tour de France stages to scenic rides in more than a dozen locations including Arizona, snowy wastelands, and Ireland.
Because this is a dynamic recreation of Google's sometimes-wonky Street View 360-degree photography, VZFit Explorer contains some artifacts. Stitching between sections of the landscape around you isn't always fluid, 3D objects are typically rendered as flat when you approach, and the nice trail-of-dots pathing guide that VZFit Explorer puts in to guide you can sometimes seem to lead to a wall right up until the moment you hit that point and everything straightens out.
All that said, this is a surprisingly immersive experience, and it's easy to lose track of time wandering through cool-looking landscapes. Whether you're pedaling across icy tundras or red-rock deserts, VZFit Explorer truly does add something to your workout. Pair it up with your favorite tunes and it's at least as entertaining as those reruns you've been binging on Netflix.
The replay value here is nearly infinite, assuming that VirZoom and other users — or you! — continue to supply routes to take. The only major drawback in terms of usability is that tight turns are incredibly hard to do, particularly if you're using a bike on a bike trainer (where you don't want to lean too far for fear of torquing your wheels). The positional use of the headset means you lean to turn, and the natural thing to do is to lean your body, not just your head.
This means there's a little learning curve (and some neck flexibility) required to handle turning in game if you don't have one of those fancy stationary bikes that lean with you. There was at least one VZFit Explorer map where I gave up midway through because it included a hairpin turn. There was just no way I could turn sharply enough to do more than bump up against the invisible walls at the edges of the encounter without backing up repeatedly.
For more gentle curves, the app does a great job of tracking headset movements, making minor adjustments as you ride. The speed varied with pedal cadence in a way that feels natural, and the overall experience feels easy and fun.
VZFit Play takes this same concept and gamifies it, putting you in nine experiences: for example, in a tank, on horseback in the Wild West, riding a flying Pegasus or helicopter, or driving a race car. These experiences are fun novelties, and crank up the adrenaline of the ride. I especially enjoyed the Pegasus encounter — the horse's transition between gaits and launches into flight were both smooth and visually entertaining.
The best games, like the Pegasus encounter or "Le Tour" (a fun competitive ride with other virtual bicyclists) don't require heavy use of the A button. Even with VirZoom's button clipped to the handlebars, it can be a trial to use for those games where you are required to hold it down for extended periods to aim and shoot lassos or rockets. We especially appreciated the subtle positioning changes made possible by the Quest when doing Le Tour — it made passing or drafting other riders for a speed boost a snap.
[/vc_column_text][/vc_column][/vc_row][vc_row][vc_column][vc_cta h2=""]Comfort:
VR comfort varied widely between VirZoom's VZFit Explorer and VZFit Play experiences. Explorer was typically a small challenge, especially since there is no coasting — stop pedaling and you stop immediately on screen, helpful for when disorienting downhills might get the best of you. For VZFit Play games, anything on land (Le Tour for biking, race cars, Wild West horse riding) poses little discomfort, even for VR newbies. Flying games including the Pegasus and helicopter experiences could be more disconcerting, but were still handled appropriately.[/vc_cta][/vc_column][/vc_row][vc_row][vc_column][vc_column_text]
Some VZFit Play games are more replayable than others (Le Tour, despite being simple, might be one of the most engaging in the long term for exercise), and they all step up the aerobic challenge. I was sweating happily after just a few minutes of giving these games a go, and hour-long sessions flew by in a snap. And truly, that's the point of using VR while cycling — to forget that you're stuck indoors and just enjoy the ride.
Final Say:
Worth Trying
The good:
Interesting, varied landscapes and potentially endless replay in VZFit Explorer,
Positional sensors in the Oculus Quest make turning more natural,
A painless, entertaining way to break a sweat.
The bad:
Google Street View stitching can be awkward,
Tight turns are physically difficult or impossible,
Pedal crank sensor batteries die quickly.
A stationary bike is by definition a restricted experience. But the addition of positional awareness means that steering can often be a more natural endeavor with the updated VirZoom apps, and skipping the wires makes the rides feel more real.
---
VirZoom's VZFit Play and VZExplorer Explorer are available for Oculus Quest and Go. They require the purchase of a $99 VZFit Sensor Kit. Read our Game Review Guidelines for more information on how we arrived at this score.[/vc_column_text][/vc_column][/vc_row]
Note: VirZoom state that technically using the system with a bike trainer stand is not recommended for safety reasons, they recommend using a stationary bike instead. However, this review used a trainer without issues.