During the Index VR headset launch party Valve CEO Gabe Newell stated that the company is "looking into several methods" for making the headset untethered:
"As I said, shipping a product is truly the beginning. There are some obvious next steps. It's simple for us to broaden our distribution from outside the US and EU into other countries. There are obvious ways for us to lower the cost, there are obvious ways to make the product lighter, and to improve the ergonomics. But then we get to more speculative issues. We're looking into several methods to do untethered Index. We have a lot of ideas for kind of revolutionary things to do with the display and optical technology. There are lots of opportunities to continue to improve the volumes that you're tracked in and the simplicity with which you're being tracked in those spaces."
Valve worked with HTC to ship the first room scale VR system in 2016, the Vive. In 2018, HTC released a $300 wireless adapter for the Vive, but there's no indication Valve had any involvement in this project, with HTC citing a partnership with Intel in making it possible.
More Difficult Than Expected?
Back in February 2017, Newell called wireless VR a "solved problem".
"My expectation is that wireless will be an add-on in 2017, and then it will be an integrated feature in 2018", Newell is quoted as saying during a press conference.
Shipping Index as a wired headset in 2019 could mean the company ran into technical hurdles with wireless, or simply that the cost was deemed too high.
But there is evidence that Valve have been working on wireless VR for at least four years now.
Nitero
Back in early 2016, Valve invested a "significant amount" in wireless VR technology startup Nitero. Nitero designed custom chips to deliver better performance and lower cost than other 60 GHz solutions.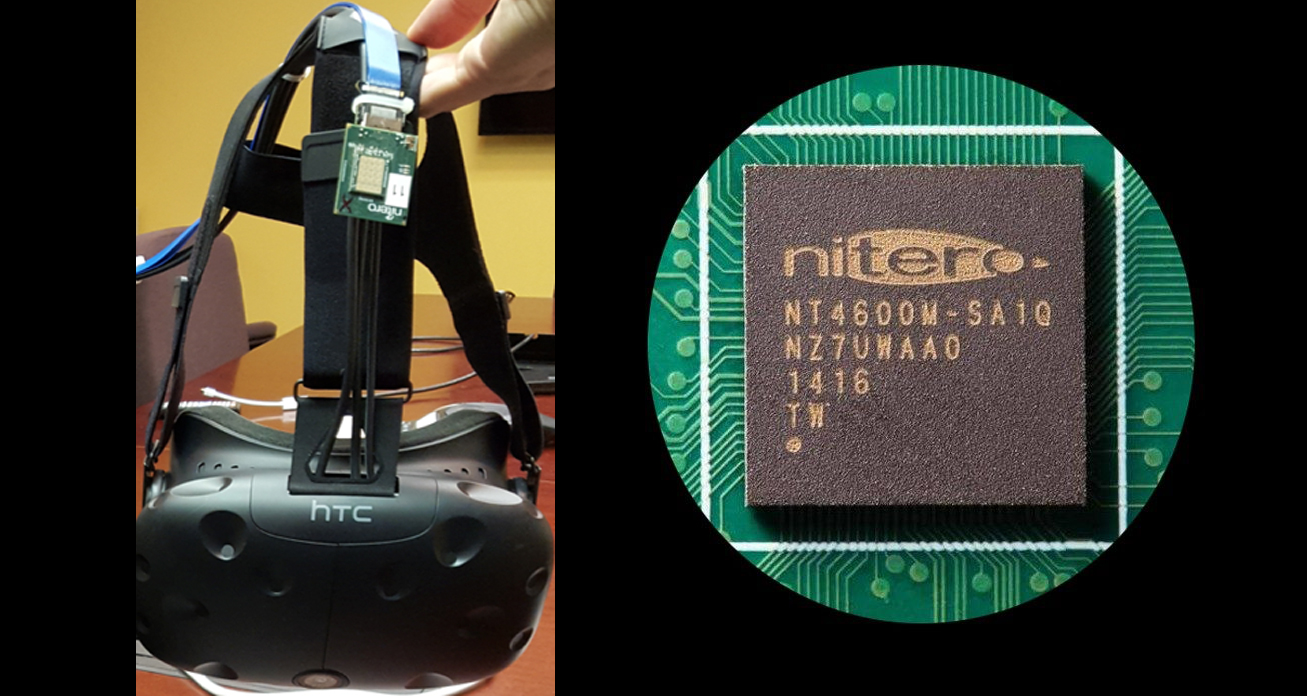 In 2017, AMD acquired Nitero, including all its staff and property. It's unknown how Valve's investment in Nitero was handled in this acquisition, but AMD hasn't said anything specific about wireless VR for the past two years now.
Job Listings & LinkedIn
Back in 2015, Valve added a job listing titled Software Engineer for VR & Hardware. Among the job Qualifications are "Video Compression" and "Wireless Technologies".
In March of this year, Valve laid off 13 employees, including some working on VR hardware. Among these employees was Rob Rydberg. Rydberg's LinkedIn profile states that at Valve he "Developed an FPGA-based VR system architecture, allowing for a tethered or untethered VR experience", as well as "Discussed and refined hardware accelerated video encoding solutions for real-time streaming of high-resolution video".
The mention of hardware accelerated video encoding could mean that Valve will use custom silicon to enable low latency encoding and decoding of a video stream. This also could reduce the cost of a potential adapter.
We'll bring you any updates related to wireless and Valve Index.