I'm standing on the deck of Google's offices in San Francisco, admiring the morning sunlight as it hits the Bay Bridge and water in front of me. The sea breeze blows through the air as I take in a deep breath wondering how they manage to get any work done with this incredible view.
"We took that just this morning with the camera on that phone," someone says behind me.
I set the Cardboard down, returning to the same point in reality – five hours later.
—
Cardboard Camera is Google's newest entry into the VR space, a journey that began with a slab of Cardboard meant to bring VR to the masses. Continuing along with that tradition, Cardboard Camera puts immersive photography in your pocket by turning your phone into a 360-degree 3D still camera.
The app works a lot like a taking a standard panoramic photo, you pan the phone slowly around you turning along with it. The app then processes that data on the phone itself, and within about 30 seconds it spits out a beautiful 360-degree panoramic image with some fairly impressive looking stereoscopic 3D. In addition to the photo, you can choose to record sound along with the image capture, giving you a loop of ambient noise that plays along with the image.
https://www.youtube.com/watch?v=79V2g8bzUVU
Google isn't the first company to explore using the phone's camera in this way. Earlier this year, Emergent VR raised 2.2 million on a similar idea that had the added functionality of being able to inject regular video into a 360-degree still, giving the whole image an illusion of motion. The technique works quite nicely from the demos we tried, but I have yet to be able to try the actual capture process so it is impossible to compare how it works on the creator's side. Right now it is easy to say Google's app has a decided advantage, if only because it is actually out now. Emergent VR's is expected to release a beta of their platform "by the holidays."
Google's app, with a slick and easy to use interface, makes this kind of capture simple and accessible to a broad audience. An audience, Google hopes will eventually want to share these memories with the world. The current iteration of Cardboard Camera does not have the ability to share photos on social media, but the company says that feature is coming in "phase 2."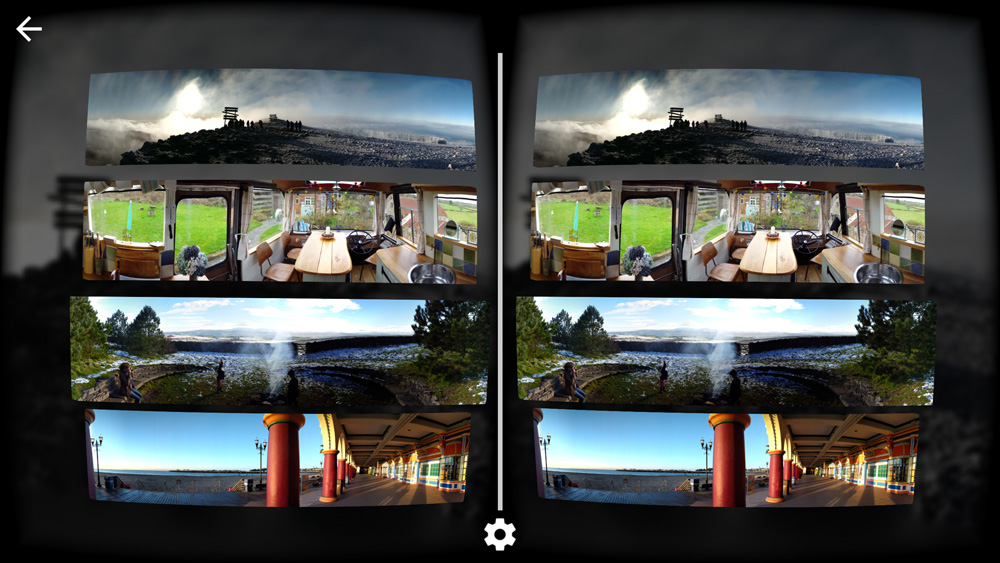 These types of apps are the stepping stones that bring VR into our daily lives. We share thousands of moments online every day in the form of Facebook pictures, Snapchats, and Instagrams, but those pictures only capture a fraction of that moment. Immersive photography elevates that by transporting you into the full scene, especially when you add sound. Recent studies have shown that there are three senses most associated with emotional memory are sight, sound and smell – Cardboard Camera replicates two of those things fairly well, which is enough to transport you back in time to moments past (especially when those moments are your own).
Cardboard Camera is currently available only on Andriod on the Google Play Store. Google says iOS support will come down the road.