Update: Tilt Five cleared its fundraising goal on Kickstarter in less than 24 hours and will continue fundraising until October 28.
Original story: Tabletop AR project Tilt Five is now crowdfunding on Kickstarter with a $299 pledge promising a 31.5-inch square game board and AR glasses to come in 2020.
The pledge tiers for Tilt Five feature a number of hardware configurations aimed at raising the $450,000 goal. The AR glasses feature tracking hardware and tiny projectors which work as part of a "patented 110° field of view optical system" which beams light onto the board that's reflected back toward the eyes. A $359 pledge for a "Tilt Five XE Kit" promises a board that comes with a kickstand and extension so that its 3D AR effect can have some vertical breathing room.
Example is shown here: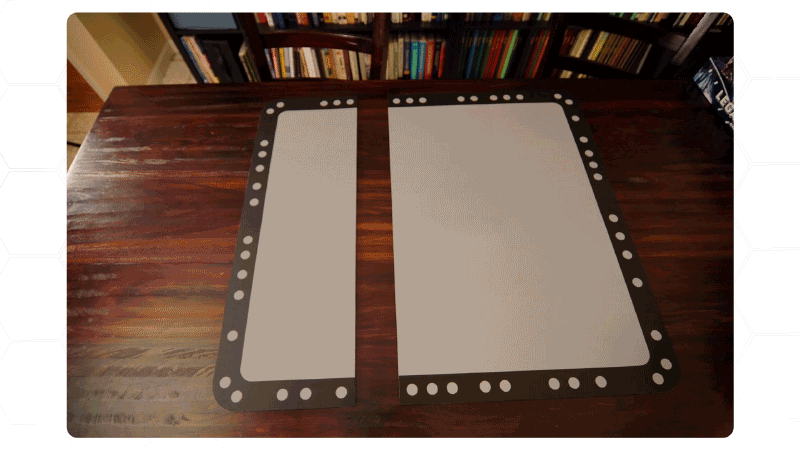 There's also an $879 tier that promises 3 glasses so up to three players can each "connect to the host PC or mobile device as a standard USB3 peripheral" for a shared multiplayer game. The backing tiers also include access to the software development kit so creators can start building for the system.
"We wanted to provide an amazing gaming experience that blends the things you love about video games and board games. And we wanted it to be just as fun when playing solo, together with your friends, or even when you're apart," reads a statement on the Kickstarter page from Jeri Ellsworth, co-founder & CEO of Tilt Five.

The Kickstarter page promises a set of "free introductory " games said to work on Windows and Android devices as well as games from content partners including Fantasy Grounds, a virtual tabletop system that sells officially licensed add-ons for well-loved games such as Dungeons & Dragons.
The following video provided by Tilt Five is said to be "shot through the lens" of the system and we also went hands-on recently.
Tilt Five is the next generation of a novel AR system called CastAR that funded with more than $1 million on Kickstarter back in 2013. That company went through a number of transitions over the next several years and never ultimately delivered but, critically, along that path they offered to refund backers.
Hardware Kickstarters often face challenges and the risk can be higher because the pledge tiers cost more to support. Tilt Five says they've done "extensive prototyping" as well as "multiple pilot runs" and its "risks" section on the Kickstarter page says they "promise to be fully transparent about any issues that come up, and we'll do our best to address and solve them quickly."