In April we reported that Bandai Namco was bringing the largest VR arcade of its kind in Japan's Kabukicho district in Tokyo. Called VR Zone: Project I Can, we didn't have a lot of details on coming attractions at the time but content inspired by anime like a Gundam-esque fighting game looked to be a part of the plan. A new report from the Nikkei Asian Review reveals that something anime related was definitely produced, albeit with a different flavor: Visitors will be able to take part in an experience called Dragonball Z VR: Master The Kamehameha.
The Kamehameha is a powerful ability in the world of Dragonball Z that involves firing a large energy beam from your hands. In Dragonball Z VR you'll be guided by Goku, one of the show's main characters, as you learn to fire a wave on your own. The experience only lasts for a short time but the VR headset along with a vibrating platform deeply immerses those that participate.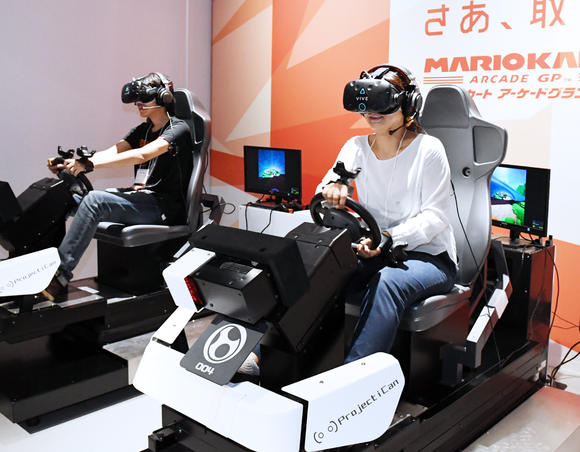 The arcade, which opened last Friday, houses 96 VR machines that are all short experiences like DBZ VR (roughly 7 minutes). Other experiences include Mario Kart VR with a realistic kart for users to sit in and a winged-bike game called Hanechari that has fans blowing on you for a 4D sensation while pedaling. The report details that Japan's amusement facility sales had consistently fallen for eight years up until 2014. 2015 saw a rise and, hopefully, the continued integration of VR in amusement parks will continue an upward trend or inspire an even larger jump.
If you live near or would like to plan a trip to Tokyo to visit the arcade, entry costs 4,400 yen ($38.95) and gives access to four attractions. Over time, various packages will likely come to fruition as the arcade grows in popularity.