A mobile mixed reality headset called Sulon Q is making its debut at GDC 2016. The system promises a combination of virtual and augmented reality and is slated for launch in late spring.
The device, from Sulon Technologies, uses an AMD chip that promises "spatial computing with Windows 10" to power a hefty list of features:
A "spatial processing unite" that uses real-time computer vision to map the environment and track gestures.
AR applications that can transition to VR with a 110-degree field-of-view.
Wireless keyboard and mouse provided in the box.
Redirected walking with some "perceptual tricks."
The AMD FX-8800P processor with 4 compute cores and 8 GPU cores to drive DirectX 12 and Vulkan graphics technologies on a 2560×1440 OLED display. It is also said to work with AMD's LiquidVR.
Spatial audio and dual noise-canceling microphones.
With these stated internals the Sulon Q looks to only boast a fraction of the power that a PC enabled headset can offer. However, It is still a system that is capable of providing an even more robust form of "middle-ware" between high and low end VR headsets than others such as the Samsun Gear VR.
In a press release, Sulon CEO Dhanushan "Dhan" Balachandreswaran expressed confidence in the uniqe abilities of his company's new HDM: 
"At Sulon we're working incredibly hard to make exploring virtual worlds as simple and intuitive as exploring the real one, and the Sulon Q™ headset is a big step towards that. As a powerful and lightweight all-in-one solution that combines VR and AR capabilities with real-time spatial mapping, the Sulon Q™ headset offers an experience that's unlike anything else. As we put the finishing touches on it and ready for launch in late spring, we hope everyone enjoys this sneak peek and is equally excited about the forthcoming headset as we are."
The last time Sulon surfaced the company was planning the mysterious "Cortex" project that was set to ship late in 2015. UploadVR had the chance to go hands on with that headset at CES 2015 and our experience provided less than stellar results in terms of screen resolution, finger tracking, and ergonomics.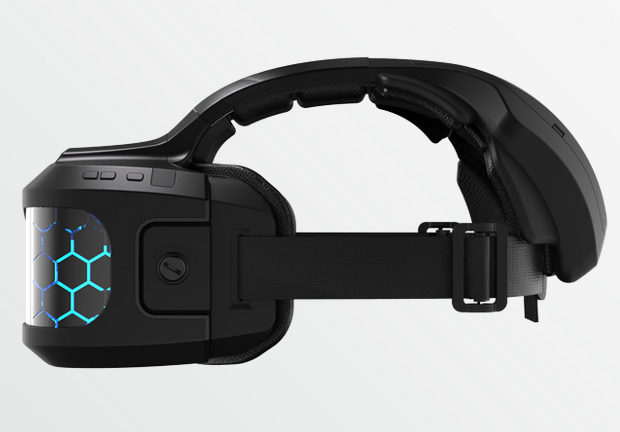 The Q is said to be updated version of that same device and it has hopefully updated its lacking hardware and software to create a more consumer-ready device.  We'll be checking it out later this week on the show floor. It certainly sounds intriguing but until we get our hands on it we can't confirm if it lives up to this impressive list of features.