Labrodex Studios likely isn't a name you're familiar with, but if President and CEO Jim Ivon has his way, that will change very shortly with the release of Scraper, the first project from the developer out of Long Island. The internal team is small but scrappy, and supported by a number of vets with vast experience in interactive entertainment development.
"The goal was to create a unique studio that combined the talent and knowledge of a AAA firm, while maintaining that boutique and hands-on touch of an indie studio," Ivon explains. "I've reached out and talked with dozens of high-level executives in the game industry to get their advice, input and suggestions on how to run a successful studio."
Set in New Austin in 2070s, Scraper is a futuristic VR shooter where the Human Resistance Force (HRF) is fighting to survive against the self-aware android Humechs mankind originally created in order to serve them and make their lives easier. Seeing the unending depths of human greed and desire in a world where resources are scarce, the AI Cifer led a rebellion against humankind in order to curb what it sees as the inevitable self-destruction of the human race.
"I came up with the basic story myself and Ryder Windham really fleshed it out and built a world around it," Ivon shares. Although Labrodex is new to game development, you may have heard of Ryder Windham, a prolific pop culture sci-fi writer who has dozens of Star Wars novels, comics and reference books under his belt.
"Jim's enthusiasm for Scraper is contagious," Windham explains. "I also appreciated that his story doesn't so much limit opportunities for storytelling, but serves as a launch pad for countless adventures. So when he asked me to bring his characters and ideas to life in a prequel novel to the game, I jumped at the chance."
Windham's Scraper: The Rise of Cifer, which should be available later this month, provides not only background on the world but also many of the specific characters, tech and situations you'll encounter in the game. The novel ends right where the game begins with your character — Casey Maxwell — flying to the main reactor building in New Austin in an effort to thwart Cifer's grip on the city.
"Gamers who read the novel first will have a richer and even more immersive experience when they play the Scraper VR game," says Windham.
The HRF use personal hovercraft to navigate the vastness of the megacities, and Scraper supports full locomotion for your armed mechbike. Core gameplay will be familiar to fans of VR shooters as you traverse through levels independently controlling two weapons, including laser blasters, grenade launchers, flame throwers and plasma mini-guns. You'll also find dozens of components, materials and modifiers while playing that you can use to craft new items as well as customize and upgrade your existing gear such as your shields, boost engine, stealth drive and electro-magnetic pulse, which temporarily disables hostile robots.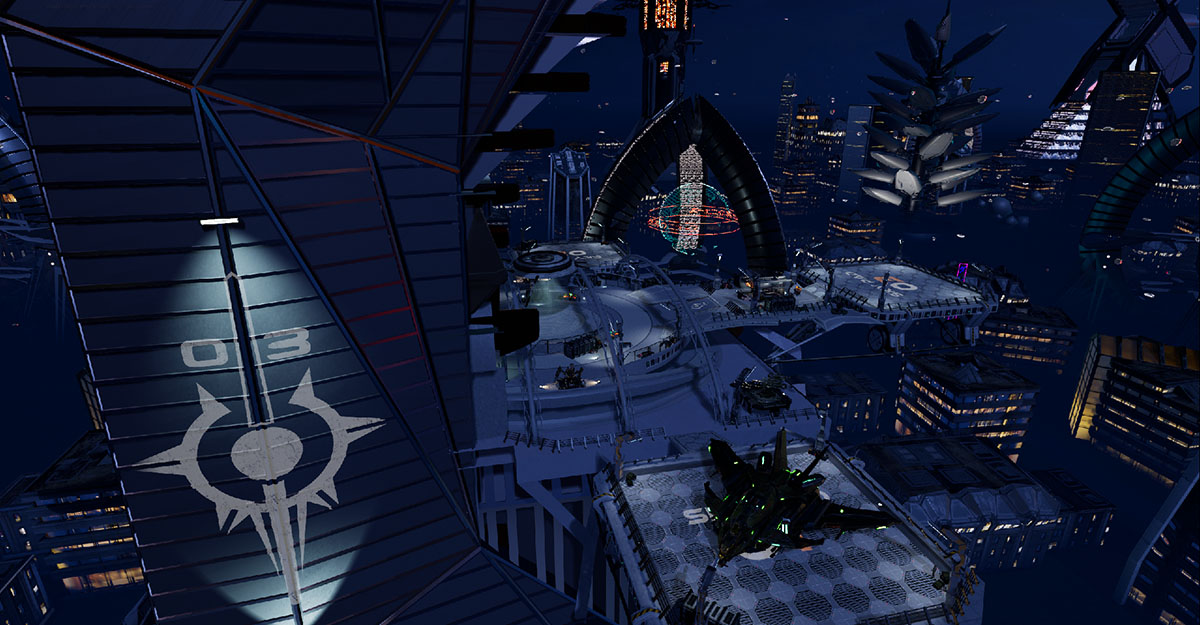 As a big fan of open-world RPGs such as Witcher 3, Fallout 4 and Skyrim, Ivon wants Scraper to be more than just a straightforward VR shooter, so expect plenty of RPG elements and story-driven quests as well as objective-based missions such as disabling generators, defending fuel tanks and opening entirely new sections of the massive buildings you'll explore.
As this is a VR game built on Unreal for the Oculus Rift, the team has put a lot of thought into how to use the Touch controls in a unique and immersive manner. To this end, you can give affirmative thumbs up to NPCs, activate menu buttons and selectors with your fingertips and salute high-ranking officers in the HRF. It all works well to put you in the world and give you a sense of tangibility and interactivity.
While Ryder Windham helped flesh out the story, architectural designer Lawrence Nelson of nvision helped with the realization of the gameworld's look, lending his talents to the project by designing a variety of futuristic, organic buildings that were translated into 3D for the game.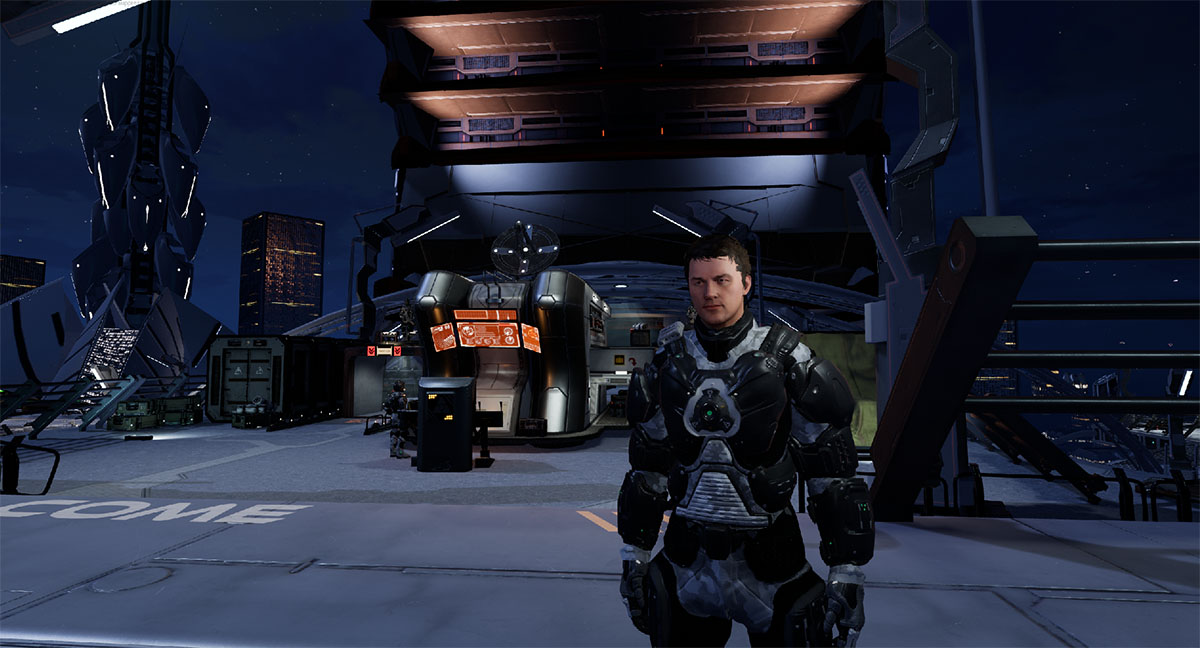 The name Scraper is derived from skyscraper, which fill the megacities on Earth and also serve as the main setting for the game, so it's no surprise that creating unique yet believable high-rise towers was an an important part of the game design. "Larry, designed the buildings and the function of them," Ivon explains. "He also designed the city layout and how things work for the city growth and expansion."
The game will be release episodically, with each chapter comprised of a specific building you're taking back from the Humech forces. As mentioned earlier, the first mission takes place in the reactor, with future episodes taking place in locales built for other functions, such as the medical tower and the agricultural terraforming superstructure.
While there's no definitive release date set at the moment, you shouldn't have to wait too long to jump into the world of Scraper as the first episode should be out sometime in the second quarter of 2018 for the Oculus Rift. For more on the game, be sure to check out the official Scraper site.