Yesterday we attended the Samsung Unpacked 2017 event in New York City where company launched new products including the new Galaxy S8 and S8+ as well as the new Samsung Gear 360 camera. In fact, at the event Samsung gave everyone in attendance their own personal Gear 360 device to record the launch experience together at the same time.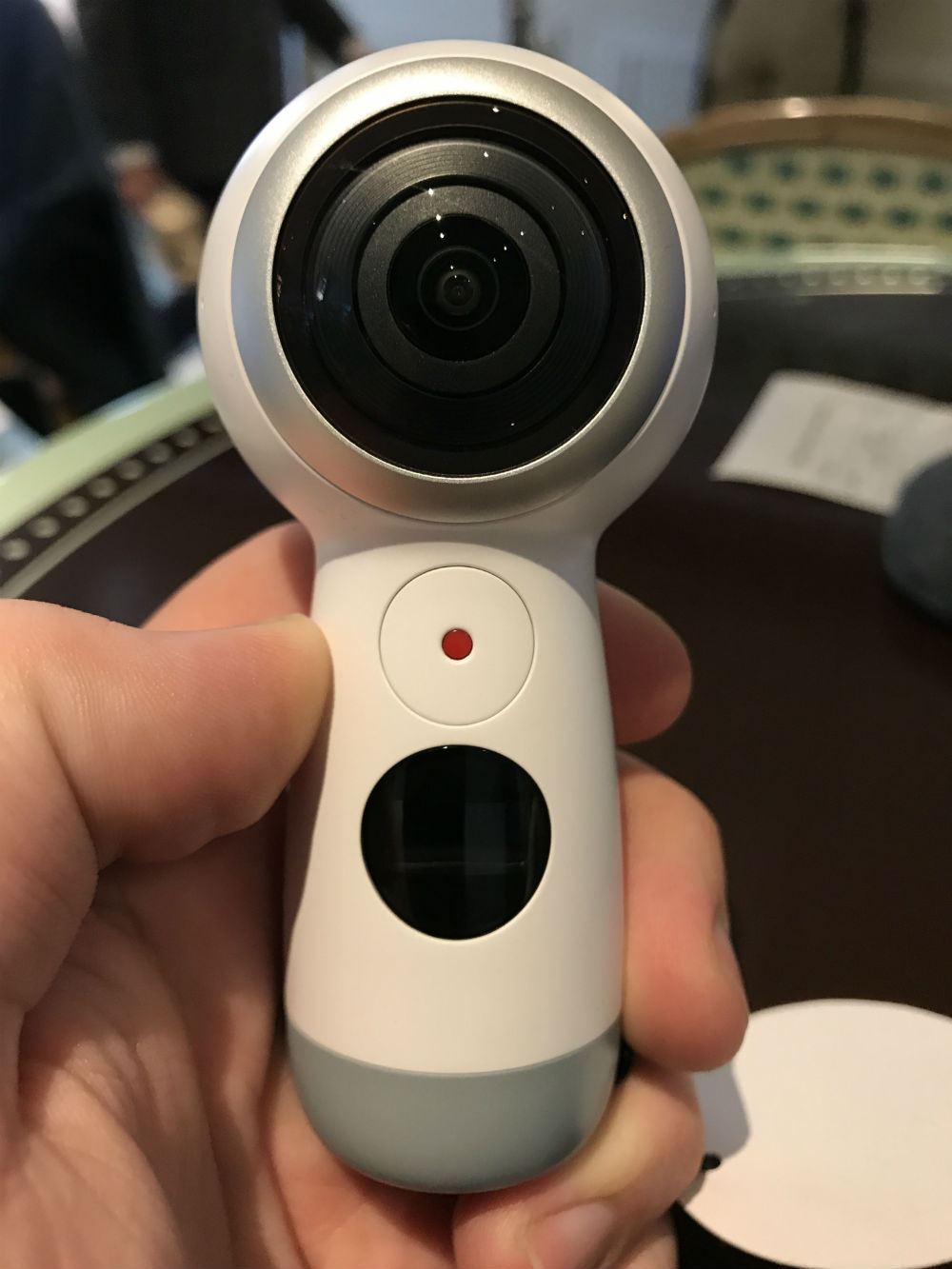 This camera was already heavily rumored in the past and it looks like those rumors were mostly correct. The original Gear 360 camera from Samsung was the company's first attempt at a 360-degree camera and had limited success with its many problems. However, this new version of the Gear 360 seems to address many of the gripes that the previous generation had.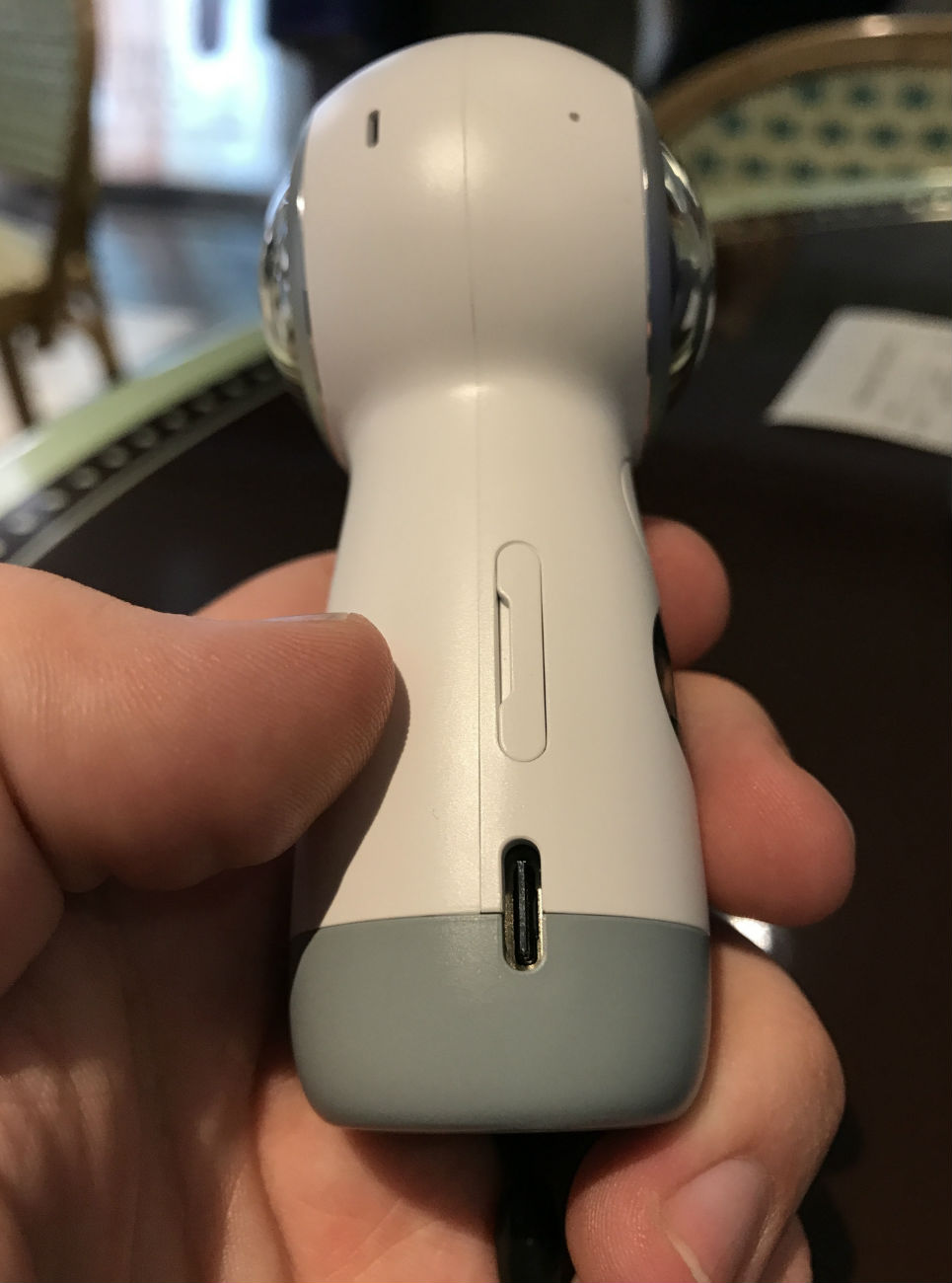 First of all, the new Gear 360 is smaller than the previous version with the lenses being closer together making the stitching look better and the device more portable. The new Gear 360 is also shaped much more ergonomically than the previous generation without the need of a tripod to allow for it to stand up on its own, and with a much smaller footprint. The previous model could stand on its own but it sat almost flush with the surface. The new Gear 360 (2017) also sealed the battery inside the device rather than making it removable. However, they also moved the USB port for charging to the side and switched from microUSB to USB Type-C. The new model also moved the record button from the top of the camera to the base where a user would normally hold it. From our experience this already resulted in a few accidental presses, but they aren't that common or as annoying as having the record button at the top. With the new design, you can use any tripod that you want to mount the Gear 360 and you can mount it almost any way you want.
One of the biggest gripes users had about the original Gear 360 was that it was only supported by Samsung's latest devices. This new version is essentially standalone from other Samsung devices and allows you to hook up even iOS devices since it connects via Bluetooth and Wi-Fi. The current model supports Bluetooth 4.1 and 802.11 a/b/g/n/ac Wi-Fi and microSD card sizes of up to 256GB (double the original) which should be enough. Samsung provided us with a 32GB memory card and at the current settings that yields over 2 hours of 4K footage, 10,000 15 Megapixel photos, three hours of 1/2 second time lapses, three hours of 5 minute video loops and over 10,000 HDR landscapes.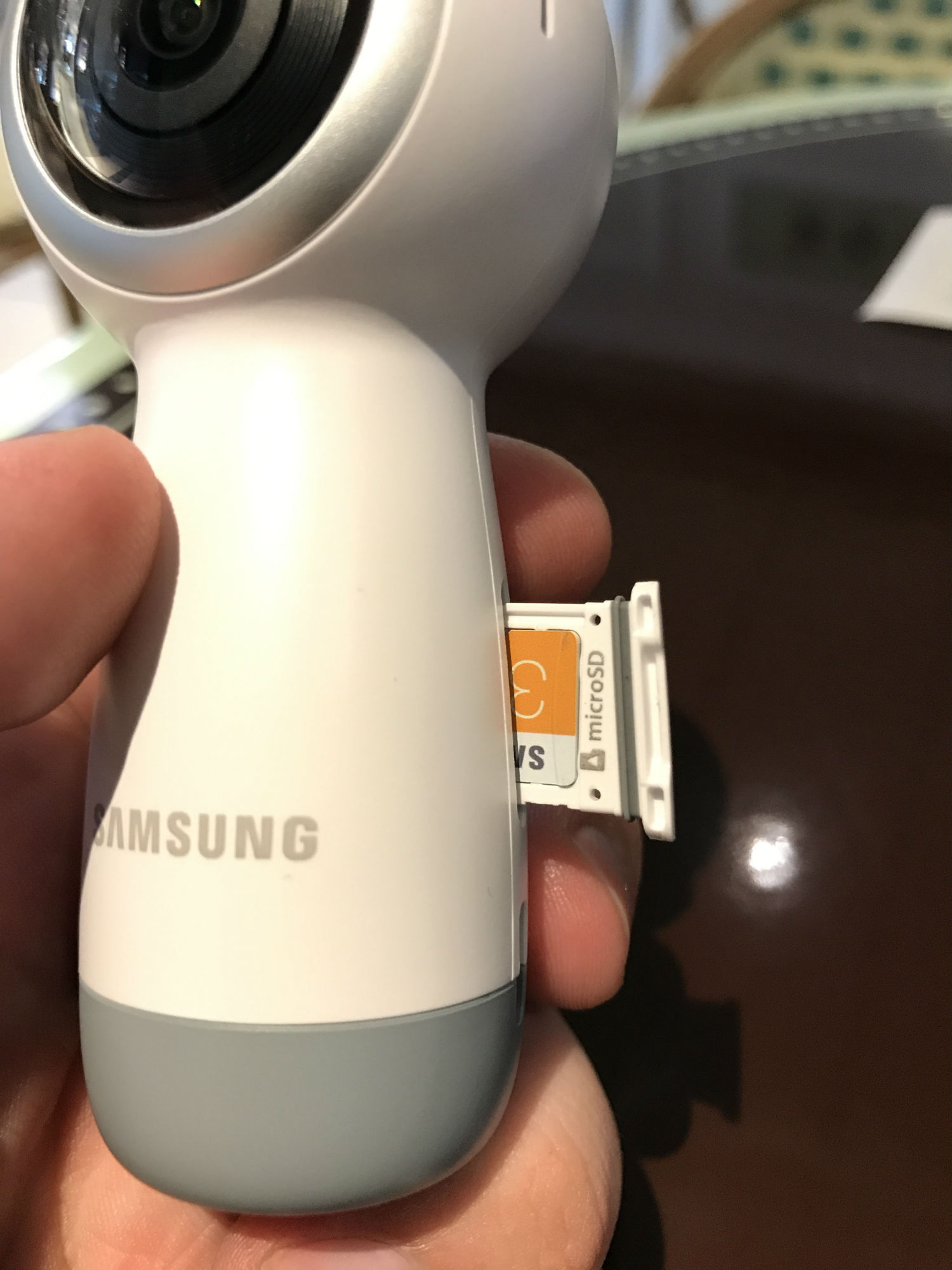 The resolution for video has also been bumped from 3840×1920 at 30 FPS to 4096×2048 at 24 FPS indicating that we probably won't see a huge improvement in image quality. Speaking of image quality, the new Gear 360 only captures 360 images at 15 megapixels instead of 30 which seems to be indicative of the smaller sensors which are 8.4 megapixels as opposed to 15 on the original model. Video is recorded as MP4 files using the H.265 codec much like the previous Gear 360. Below are the supported video formats for the new Gear 360.
Supported Video Formats: 4096×2048 – 24 FPS, 2880×1440 (30 fps), 2560×1280 (60 fps), 1920×960 (30 fps), 1440×720 (120 fps)
They have also reduced the battery size from 1,350 mAh to 1160 mAh, which is also likely why the new camera is so small and makes sense because it uses smaller sensors which should drain less power.
First Impressions
Overall, this new Gear 360 is more comfortable to use and solves the original's biggest problem — compatibility. Samsung realizes that they need users to generate as much content as possible to enable demand for VR and 360 content in general. Without content, VR will never survive and the 2017 edition of the Gear 360 is a step in the right direction.
We are still waiting on official pricing, but I genuinely hope that it comes in under $299 because cameras like the Insta360 Air is already $129 and the Insta360 Nano is $199. Admittedly, those are not for 4K footage, but they are much cheaper. Price is a factor for mass market adoption and $349 for a device that was only compatible with Samsung devices was unpalatable for many. The app for the new Gear 360 (2017) is still in beta and the old app is not compatible with this new Gear 360 (we tried).
We will be following up with a more in-depth review once we've spent more time than a day with the camera. Including multi-device usage and more.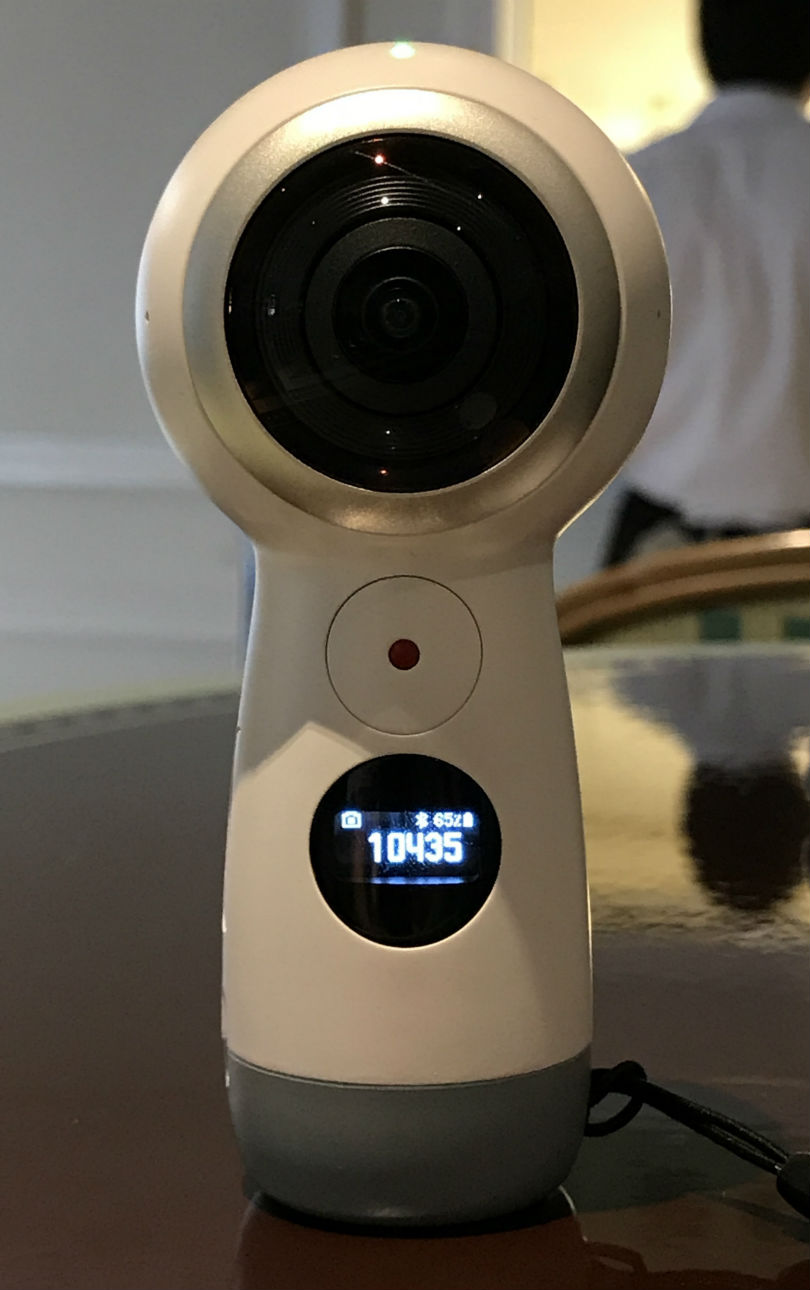 Anshel Sag is an analyst for Moor Insights & Strategy and, like all research and analyst firms, provides or had provided research, analysis, advising, and/or consulting to many high-tech companies in the industry, including Samsung and others. I do not hold any equity positions with any companies cited.
Edit: Device compatibility was corrected to reflect Samsung and iOS device compatibility.