Today we learned that Samsung, the creators of the Oculus-powered Gear VR headset, filed a patent in late December of last year for magnetic VR hand controllers. Based on the description in the patent and the accompanying concept image (embedded below), the controllers would be used to provide more visceral and accurate hand-tracking for the Gear VR.
According to the Abstract, the patent is for: "a method of controlling an electronic device, the method includes, based on a magnetic field generated by a source, obtaining a coordinate of a user's hand; and reflecting the obtained coordinate of the user's hand in a virtual reality environment based on a change of a location of the source due to a movement of the user."
I'm no expert on the inner workings of VR technology, but it sounds similar to me in concept to how the STEM System's Sixense controllers work — although their current status remains a bit of a mystery. Granted, there are probably some very key differences, but the patent language isn't specific enough to clear that up in my head.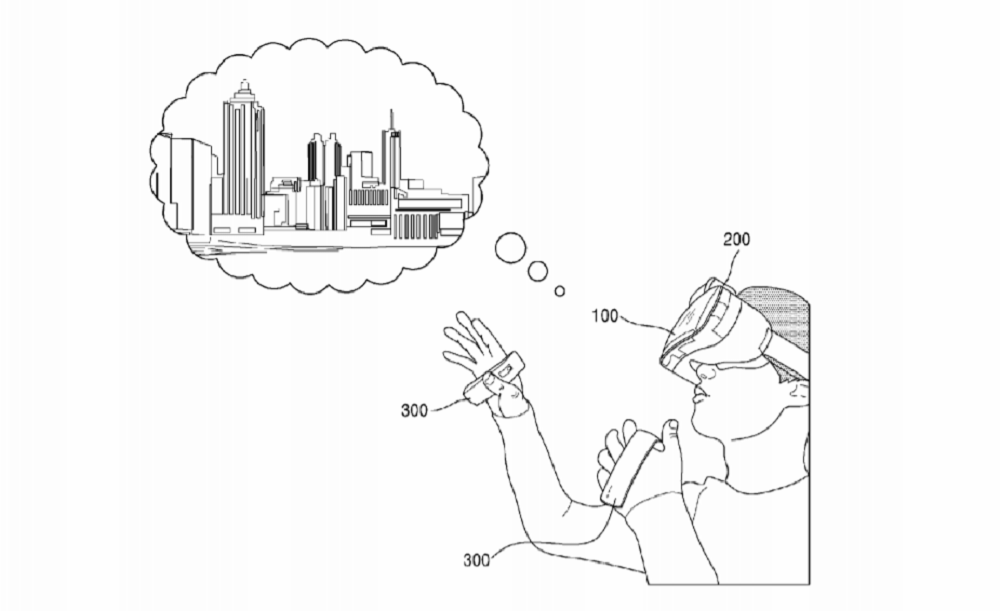 In the concept image above you can see the controllers which appear to be similarly shaped to the existing Gear VR controller, albeit with a new handstrap that attaches over the back of the hand, similar to Valve's Knuckle controller prototype. This would allow the user to move their hands more freely without having to grasp the controller itself at all times.
A magnetic tracking system directly from Samsung would be a big move forward for the otherwise limited Samsung Gear VR. With over 5 million units sold so far it's easily the most widely distributed VR headset on the market, but it lacks positional tracking and its controller pales in comparison to the likes of the Vive, Rift, and even the lackluster PSVR Move controllers.
And of course it goes without saying, but this is just a patent. There's no reason to necessarily believe Samsung is actively working on a magnetic VR hand controller that will actually see the light of day.
What do you think of this patent? Let us know in the comments below!