Oculus co-founder Palmer Luckey took the stage at The Game Awards to announce a team-up with Harmonix bringing Rock Band VR to the Rift in 2016.
A promotional video shows Luckey training to become a rockstar with Dragonforce, the band behind one of the hardest songs in the world to play — Through The Fire And Flames.
The game brings players on stage to perform, looking out at the audience like an actual band. Most important, the announcement video shows what appears to be an Oculus Touch controller around the end of a guitar, meaning it's likely the guitar's position could be accurately tracked while playing in VR. Any crazy movements the player uses to show off their skills would look accurate while wearing the headset.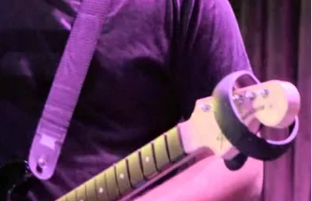 The game is the product of a partnership between Oculus Studios and Harmonix, so the VR version of the game is exclusive to the Rift. The inclusion of what looks like Oculus Touch in the promo video along with the absence of a firm release window other than "2016" suggests the game is likely to arrive sometime after the early 2016 launch of the Rift.
Oculus hasn't yet delivered its social tools to developers and it's unclear what sort of multiplayer features, if any, are included in the game. It's hard to imagine a Rock Band game without multiplayer though.