The July 2019 Steam Hardware Survey might indicate that roughly 10% of VR users on Steam use an Oculus Rift S or Valve Index. The Rift S was released in late May, and the Valve Index was released in late June.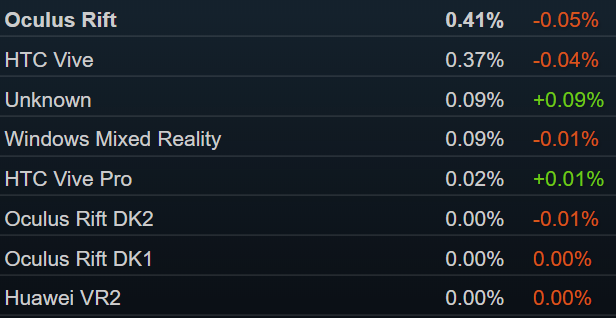 The Steam Hardware Survey is offered to a random sample of Steam users every month. It sends back a report of the computer's components and peripherals to Valve. This data is aggregated into a monthly report showing the percentage of Steam users with a given type of hardware. This data is useful for developers to know what specifications to target in their games.
Among this data is a category showing which VR headsets Steam users have connected. For the past two years the Oculus Rift and HTC Vive have topped this list, with Windows MR headsets (combined) in a distant third.
But this month a new entry, simply labelled 'Unknown', has jumped to equal footing with the Windows MR headsets. Given that the Oculus Rift S and Valve Index both released in the past few months yet are not listed in the Survey, it seems highly likely that 'Unknown' consists of either the Rift S, Valve Index, or both. Valve may not have yet updated the Hardware Survey to support these headsets.
Both the Rift S and Valve Index sold more units than supply could keep up with. The Rift S sold through its first week of stock after just four days of preorders. The Valve Index was backordered for over three weeks after launch.
Worryingly however, these gains did not grow the overall usage of VR headsets on Steam. The 'Unknown' category is balanced out by decreases in the Oculus Rift and HTC Vive. This might indicate that the initial wave of Rift S and Index purchases are mostly from existing VR users upgrading, rather than new VR users jumping in to the market.
For Microsoft and its partners, if the Rift S and Index really did match the usage share of all Windows MR headsets combined after just a few months, this would be disheartening news for the Windows MR platform. WMR headsets, which mostly launched around $399, saw discounts as deep as $200 or even $150 for much of 2018.