Pre-orders for Oculus Touch officially went live today. This is a significant moment in the life of Oculus as a company, and it is also a significant moment in the ongoing virtual reality "console wars." Oculus' biggest rival is the HTC Vive and debate over the superiority of these two headsets has raged since they launched earlier this year. One of the most important features of the Vive's systemsis its ability to do "room scale" VR; meaning it allows users to physically walk, turn around, and otherwise explore in a pre-determined box of space.
Since launch, the Rift has not been able to do this — you can easily lose tracking of your headset if you move outside of the sensor's cone of vision, for example. The architecture of the Oculus constellation tracking system has always seemed to have the potential to achieve room scale in the end. Now, with Touch launching, that potential is being fully realized. Oculus CEO Brendan Iribe has gone on record saying that the Rift will be able to do room scale once Touch is out, but it's a bit more complex than that.
We've put together a list of what you'll need in order to unlock the power of room scale for your Rift. Check it out below:
Step 1: The Controllers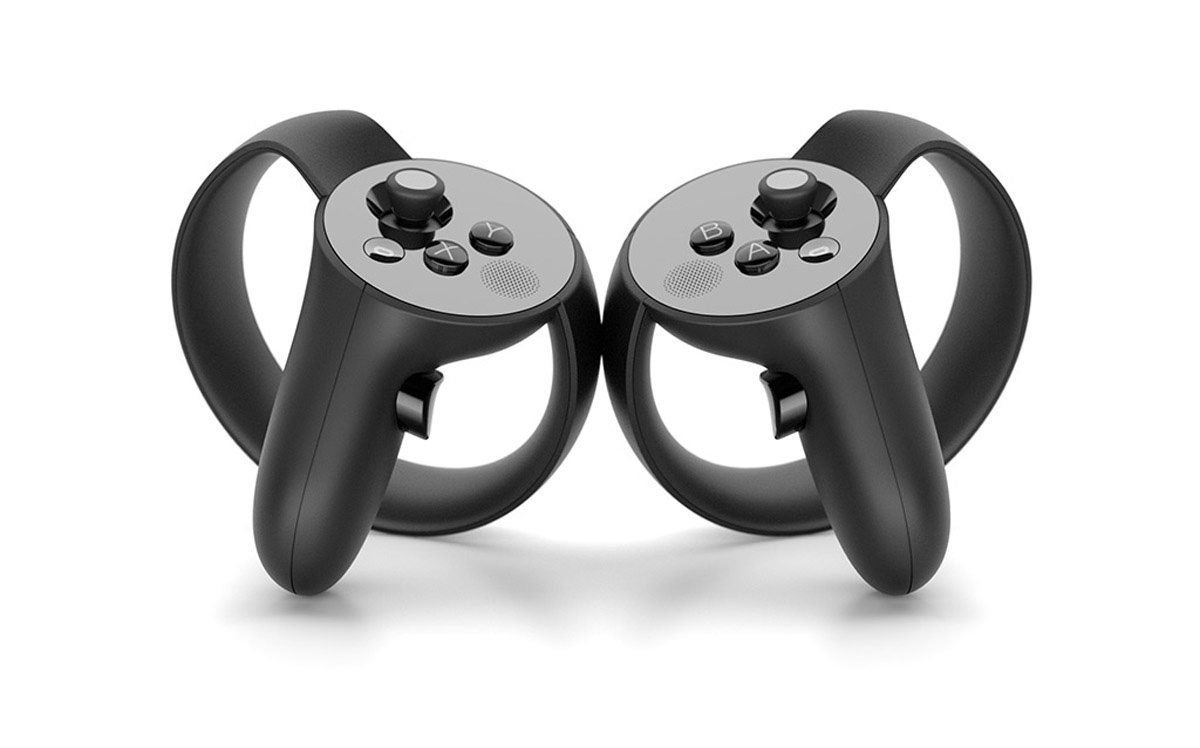 The first thing you'll need in order to accomplish a room scale Rift setup is Oculus Touch. These hand-tracked controllers are marvels of VR engineering and hold up quite well next to their competitors on the Vive. With Touch, you'll be able to pick up digital objects, fire virtual guns, wave to virtual friends, etc.
They cost $199 for a pair and you'll also be getting an extra positional tracking sensor in the box as well. This will put you at two sensors, counting the one that originally came with your Rift. So, as Creed Bratton would say, only one to go.
Step 2: The Sensor
Oculus will soon begin selling their VR tracking sensors as standalone products. Each one will cost $79 and will come with a USB extension cord in the box.
According to Iribe's presentation, it takes at least three Oculus sensors to obtain a true, occlusion-free, room scale experience. To prove it, a number of demos at the recent Oculus Connect 3 conference were running room scale experiences with a three-sensor setup. In theory though, you could connect as many Oculus sensors as you want to your PC and accomplish a massive tracking area for your VR activities.
Step 3: The Triangle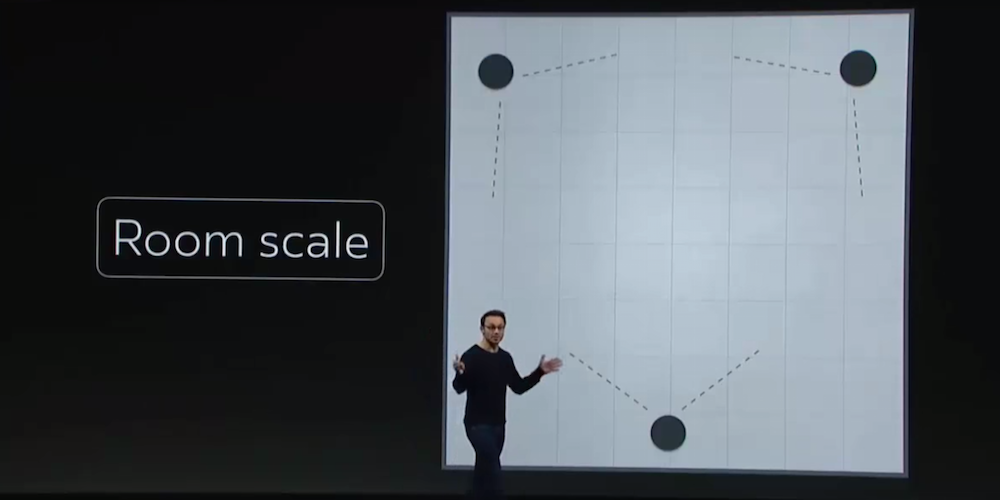 We suspect room scale on the Rift will work best with a triangle set up for the sensors, as shown by Iribe during his presentation. The first two sensors could fit on your computer desk facing in toward each other slightly. The third sensor will be a bit trickier. Ideally, it needs to go directly behind you as you play and so will likely require a custom wall mount or a conveniently placed bookshelf or table. Oculus has not mentioned whether it will include mounting equipment in the box for the standalone sensors.
Materials and Costs
To achieve a room scale Oculus Rift setup you will need:
1 Oculus Rift headset + tracking sensor ($600)
1 Oculus Touch system + tracking sensor ($200)
1 extra sensor ($80)
1 VR Ready PC that meets minimum spec or recommended spec for the Rift ($500 – $1000+)
Up to 7 USB ports:
1x 3.0 USB port for the headset

1x 3.0 USB port for the sensor that came with the HMD
1x 3.0 USB port for the sensor that came with Oculus Touch
1x 3.0 USB port for the third sensor purchased separately
1x 2.0 USB port for the Xbox wireless controller
1x 2.0 USB port for your keyboard
1x 2.0 USB port for your mouse
Conclusion and Considerations
If you're a Rift owner, celebrate! The delights of room scale VR will soon be yours to enjoy. However, high USB consumption, mounting that third sensor, and connecting all of the trackers to your PC are certainly hurdles to be overcome.
According to Oculus, if you require more USB ports you can, "purchase and install a compatible PCI Express USB 3.0 Expansion Card. Click here to view a compatible card."
As far as the physical hassles of wiring the sensors together, that will depend on your personal situations and room setups. It should be noted that the competing Vive headset is considerably easier to set up for room scale VR because the base stations don't need to be physically connected to the computer. Of course, we'll have to wait till we get our hands on Touch and three sensors to do extensive tests of different setups and compare those to the Vive.
Let us know how you plan to set up your room scale Rift space in the comments below.