Following the launch of the Oculus Quest 2 late last year VR developer Resolution Games saw a 500% boost in downloads for their titles, including Angry Birds VR, Cook-Out: A Sandwich Tale, Acron, Bait!, and Blaston.
The news was announced today following a slew of milestone announcements from Facebook regarding their standalone VR headset. In addition to over 60 different Quest apps surpassing the $1 million mark, Beat Saber has now sold over 4 million copies across all platforms and Facebook is rolling out the long-awaited non-store distribution format dubbed App Lab. This is supposedly going to make it easier to get content released on Quest, even if it's unfinished or in Early Access.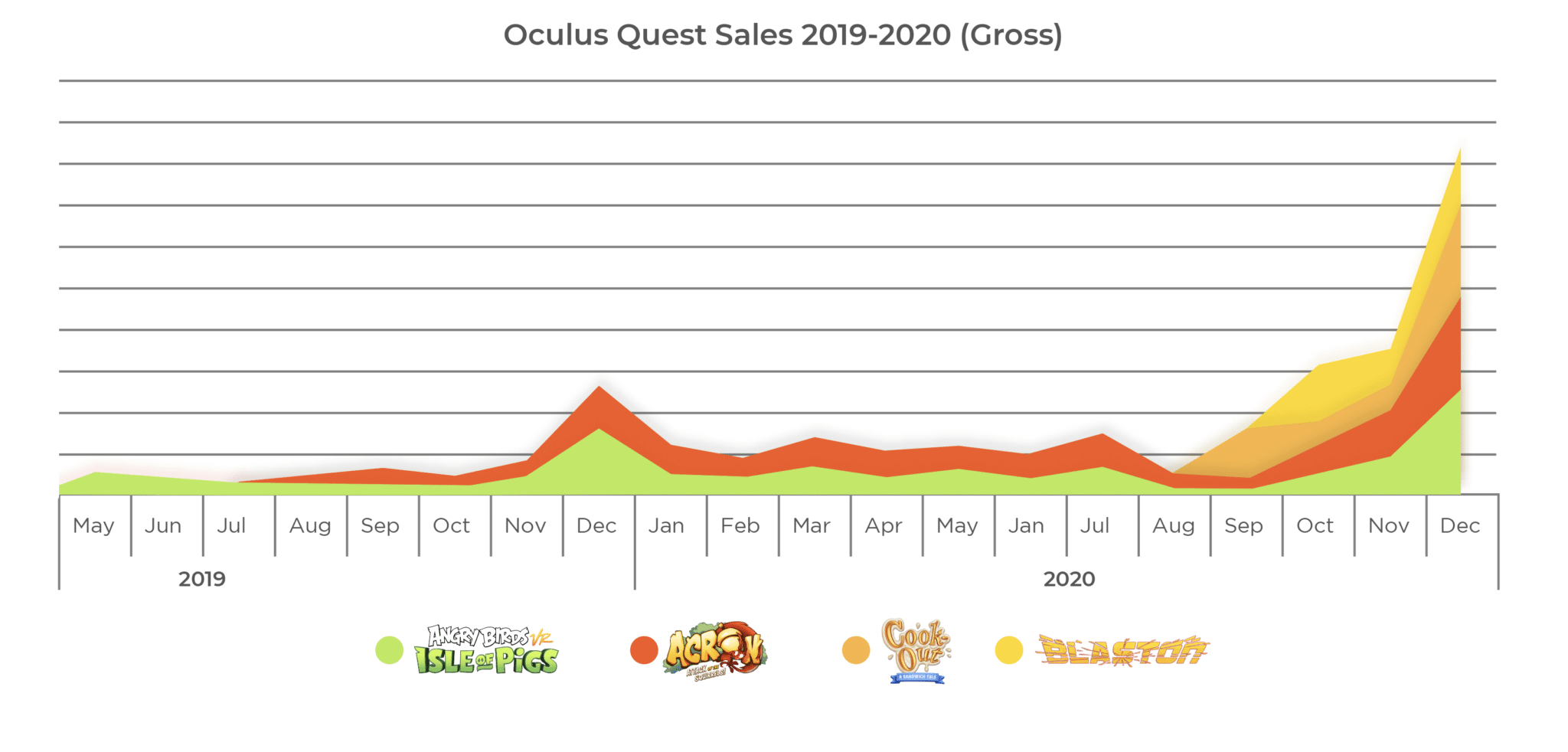 Resolution Game Sales After Quest 2
In the chart above, Resolution Games is demonstrating the massive influx in sales relative to how sales have been going the last few years. The vertical axis of the chart is blank so we don't know how much these games are making, but it still shows a clear and enormous influx of new sales for all of their games.  And in the case of Bait!, a free-to-download fishing game with microtransactions, Resolution Games says it has been downloaded 4 million times across all platforms now.
Since most of the titles in Resolution Games' catalogue aren't newly released the biggest takeaway from a chart like this is simply that a lot of people bought the Oculus Quest 2.
Granted, we knew that already, but seeing it reflect in direct sales and increased revenue for developers is extremely important for the growth of the medium as a whole. Many other developers also saw similar boosts at Quest 2 launch.
"At Resolution Games, we are seeing our titles reach significant revenue milestones more quickly than ever before, and I can confidently say that current headsets are contributing to it," says Tommy Palm, CEO of Resolution Games. "The onus is now on the developers to continue to develop the type of content that more mainstream gamers are used to in order for VR to attract the broader audience that it deserves, which is what we strive for at Resolution Games."
We reached out to Resolution to try and get a number with regard to sales or revenue for their paid titles, but unfortunately they were not able to provide hard figures. However, they did confirm that January actually surpassed December, which is a very positive sign.