Realworld is a newly announced in-development VR app from the creator of Cubic VR that will let users explore the actual world from inside a VR headset while connecting with friends.
Based on that description and the video embedded above if you think that sounds a lot like Google Earth, then you're absolutely correct. However, like Microsoft Flight Simulator, Realworld uses Bing Maps, not Google Maps.
Realworld is coming natively to Oculus Quest with additional plans for support on PC VR, mobile AR, and mixed reality devices. The eventual goal is to make it so that if you visit a location in real life, you can see markups and notes that people left via Realworld, in addition to being able to use AR to look up and see VR users from around the world.
We haven't gotten a chance to try Realworld, but it looks a bit like Google Earth was condensed down onto a tabletop to make rendering that sort of information manageable. Using a "pinch" type gesture with both hands you can zoom the view in and out very quickly.
In the trailer we can even see the ability to "grab" one another, since this is multiplayer, and either shrink or grow each user to get a different perspective on the environment. Since the table is so small, you can start from a space-style continental view and then zoom all the way down to street level very smoothly. But the limited scope of the "table" format seems to rid the experience of the grand scale of things found in something like Google Earth.
Luckily, you can still go "inside" the street view perspective like a 360-photo instantly like you can in Wander. The table becomes sort of like a 3D map with to-scale models of locations and then you can teleport down to see it all around you if you'd like. Realworld will also let you sketch onto the world itself to draw things with 3D pens, drag and drop your own 3D models directly into the world itself which has some amazing possibilities, as well as much more such as built-in streaming support, sticky notes, animation features, and lots of other tools the trailer only hints at for now.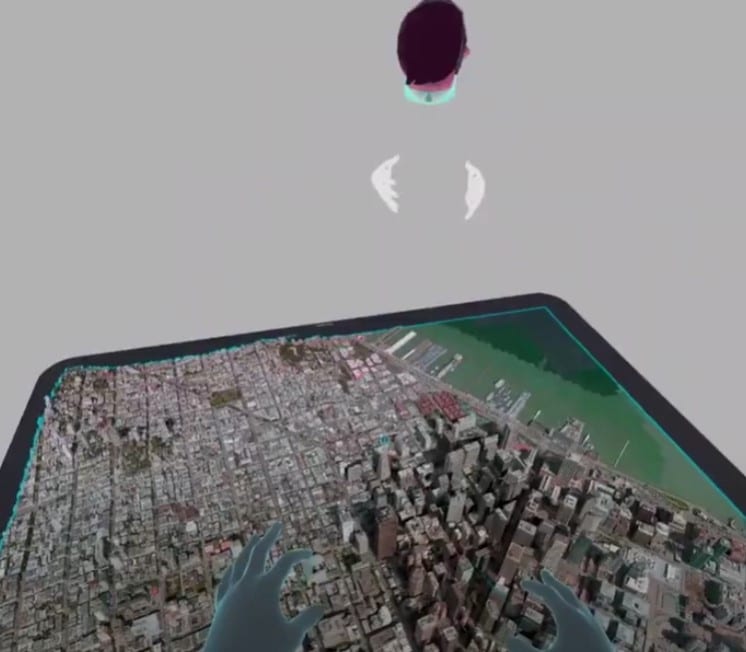 You can go sign up on the official Realworld website to stay up-to-date on details and future information.