UPDATE: this article has been updated with the current preorder availability situation
Facebook opened preorders for the Oculus Quest and Rift S on Tuesday, with an initial shipping date of May 21. After four days of preorders, the website now provides an estimate of May 29 in the USA- indicating that the first week worth of shipping allocation have been sold.
Orders placed early Tuesday still show a shipping date of May 21, so this isn't a delay- it's simply stock being sold to preorders.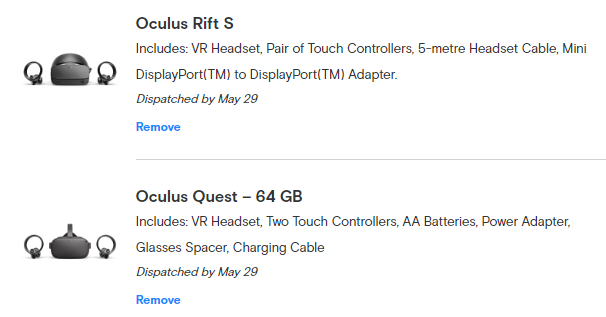 Of course, this doesn't really tell us anything about how well Quest and Rift S preorders are selling. We don't know the production rate or how Facebook has allocated stock between retailers. But selling a week's worth of stock already probably does indicate the launch wasn't a total failure.
Valve announced pricing and specs for its Index PC VR system just before Rift S preorders opened, but the $999 pricepoint means it doesn't seem to have dampened demand for Rift S.
The Oculus website isn't the only place to buy Quest or Rift S of course. Retailers like Amazon and Best Buy have stock available. Best Buy claims they still have launch day stock, whereas Amazon gives individual estimates when placing an order. The Oculus website isn't doing launch day delivery apparently- with Oculus Support telling customers to only expect dispatch by the stated date.
Both headsets will be sold at physical Best Buy stores, but given this stock availability it's unclear how easy it will actually be to pick one up on launch day.