Facebook demonstrated an early version of hand and finger tracking on its Oculus Quest VR headset at Oculus Connect 6.
The intuitive input method is slated for release as an experimental consumer feature in "early 2020" alongside the release of a hand tracking SDK for developers. We tried an early version of the hand tracking software at Oculus Connect and it impressed with the ability to track finger movements and hand signals directly in front of the headset. During the demo they'd convinced me my fingers had turned into the digits of a robot, squid tentacles, and a wolverine-like creature. As I moved my pinky the robot's smallest digit moved. When I made a fist, claws extended from my knuckles.  The tentacle fingers were the most interesting because, as memory recalls, they seemed to flop around in a much different way than my real fingers, there were only four digits per hand, and yet I felt as if they were mine anyway.
There were plenty of ways to break the tracking. If I put my fists together my hands could disappear. If I turned my head to the side and then looked back at my hands it would take a second for them to pop back into existence at a spot where I expected them to be. If I moved my hands too fast they could disappear. If I touched my pointer fingers tip to tip their virtual representations still showed a slight gap between them before quickly correcting themselves to a more believable position. All of these I would characterize as momentary lapses during deliberate attempts to break the tracking rather than just enjoying the things for me to do in the fantasy demo world.
Watch Our Impressions Here:
There's still months left to improve the hand tracking software before Facebook's release window and, given Facebook's previous efforts to gradually improve VR headset tracking over time, it should see further improvement way beyond its first "experimental" release. Facebook markets Oculus Quest as a gaming machine and its Oculus Touch controllers, with physical buttons to press and vibrating haptic effects, as potentially the dominant VR input method for decades to come.
What is this kind of input good for then? Well it seems reasonable that many of the things Facebook is doing with its Facebook Horizon network of virtual worlds (coming in early 2020) may be possible with this input method. There's of course all the easy-to-do hand signals you can throw to express yourself to other people  — thumbs up, I love you, peace, or maybe the middle finger — as well as places you could visit by pushing your hand through big virtual buttons floating in the air. Maybe you could even play some simple games built around hand-only gestures, like closing your fist around a virtual object to grab it.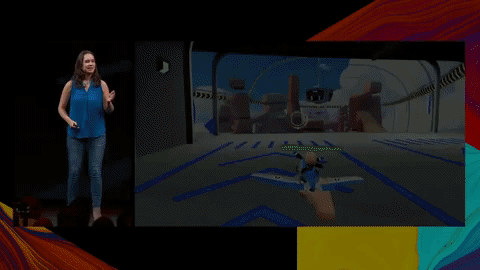 What I felt like I experienced was an early version of an input system for communication and simple media consumption in VR that — even in its early state — felt more interesting and comfortable to me than Oculus Go's 3DOF controller and headset.
Facebook sells Oculus Touch controller replacements for around $138 for a pair. If you subtract that hardware cost from the $400 entry level of the Oculus Quest you're closing on the price target of Facebook's earlier Oculus Go $200 headset. Facebook said it would be "bringing a variety of popular Oculus Go apps to Quest" and "we'll also offer free upgrades for owners of paid Oculus Go apps, so you can get the Quest version if it already exists."
So Facebook is porting Go apps to Quest and wiring Rift apps to Quest and, with hand tracking, giving itself an affordable, comfortable all-in-one communication and media consumption device without controllers. With controllers added, though, Quest could transform into a powerful and flexible gaming machine with access to hundreds of fun games.
Facebook's software development kit for hand tracking is still months away and we don't really know what the company is planning long term. The nature of that SDK and how it interfaces with everything Facebook and Oculus have done before remains a huge unknown. Still, the addition of hand tracking to Quest could have lasting implications for Facebook's VR product line come 2020 and beyond.