PlayStation VR2 or PSVR 2 is officially confirmed and it's not long before you can finally get your hands on it.
We originally published this overview of PS5-powered VR all the way back at the beginning of 2020 and have been updating it periodically.  This latest update in late January 2023 comes just a few weeks before the headset's release on February 22, 2023.
Following the PS5 launch in November 2020, Sony confirmed its future plans for VR in February 2021. Very little was known at the time, but Sony gave us our first look at PlayStation VR2 (PSVR 2) at CES 2022, alongside an announcement trailer for Horizon Call of the Mountain. A gradual trickle of new information followed and since then, we've now got the full rundown on specifications, pricing, the controllers and more, alongside a large list of confirmed PSVR 2 games.
There's a lot of information to get through, so we've rounded up these details and other bits of info to help fill in the picture. PSVR 2 is shaping up to be a key aspect of Sony's plans for 2023 and beyond, so here's everything we know about PlayStation VR2.
PSVR 2: Everything We Know About PS5 VR
PSVR 2 Design Revealed
After a year on from its initial announcement, we finally know what PSVR 2 actually looks like. The headset boasts a sleek white look with a white shell similar to the PS5 console's faceplates (and not too far off from a Meta Quest 2). Take a look below.

Not bad, right? We're keeping the halo strap design from the original and you can see four front-facing cameras on the visor for inside-out tracking. The motion controllers also now have the same white shell (you can see the initial designs in black below). But let's get into what all of this actually means.
PSVR 2 Release Date
PSVR 2 will release on February 22, 2023. Confirmed through a PlayStation Blog post last November, there had previously been considerable speculation about whether it'd launch in 2022 or 2023.
In a separate PlayStation Blog post in February 2021, CEO Jim Ryan confirmed a new headset is in the works. Then, at CES in January 2022, Ryan confirmed the device would be called PlayStation VR2 (it had previously been referred to as 'the next-generation of VR on PS5'). During a recent developer conference, the company reportedly codenamed the headset NGVR, or 'Next-Generation VR'.
There was some uncertainty about if PSVR 2 could ever happen. In the weeks leading up to launch of the PS5, Sony delivered some mixed messages about the future of VR. In an interview with The Washington Post in October 2020, PlayStation CEO Jim Ryan said the future of the platform was "more than a few minutes away", and the recent closure of Sony's VR-dedicated studio in the UK didn't inspire much confidence. Now, we can rest easy that those fears were unfounded: PSVR 2 (or PS5 VR) is nearly here.
PSVR 2 Specs: Near-4K Resolution, Wider Field Of View And A PSVR vs Quest 2 Comparison
Official PSVR 2 specs have now been announced and confirm UploadVR's report of the first reveal details in May 2021.
The headset features a massive jump in display resolution over the original with 2000×2040 per eye and retains an OLED display with HDR support. It's also got a 110 degree field of view and new features like eye-tracking and in-headset vibration. Below is the spec sheet stacked up next to the original PSVR's specs and a comparison to Meta's Quest 2, too. You can also read a much larger comparison between Quest 2 and Meta Quest Pro right here.
| | | | |
| --- | --- | --- | --- |
| Specs | PSVR 2 | PSVR | Quest 2 |
| Display Per Eye | 2000×2040 |  960×1080 | 1832×1920 |
| Display Type | OLED | OLED | LCD |
| HDR? | Yes | No | No |
| Refresh Rate | 90Hz/120Hz | 90Hz/120Hz | 72Hz/90Hz/120Hz (limited to only some apps) |
| Field of View |  110°, direction undisclosed | Estimated around 95 degrees horizontal, 111 degrees vertical | Up to around 96 degrees |
| Lens Separation | Adjustable and fit can be guided by eye tracking | Yes | 3-point adjustable |
| Eye Tracking? | Yes | No | No |
| Hand Tracking? | No | No | Yes |
| Headset Vibration | Yes | No | No |
| Microphone? | Yes | Yes | Yes |
| Audio | Headphone jack | Headphone jack | Built-in speakers, headphone jack |
| Controllers | Bundled Sense controllers with buttons, sticks, capacitive touch sensors, high fidelity haptic feedback, trigger resistance  | Support for DualShock 4, PS3-era PlayStation Move controllers and rifle-shaped Aim controller | Bundled Oculus Touch controllers with buttons, sticks and capacitive touch sensors |
PSVR 2 Will Run On PS5 Via A Single Wire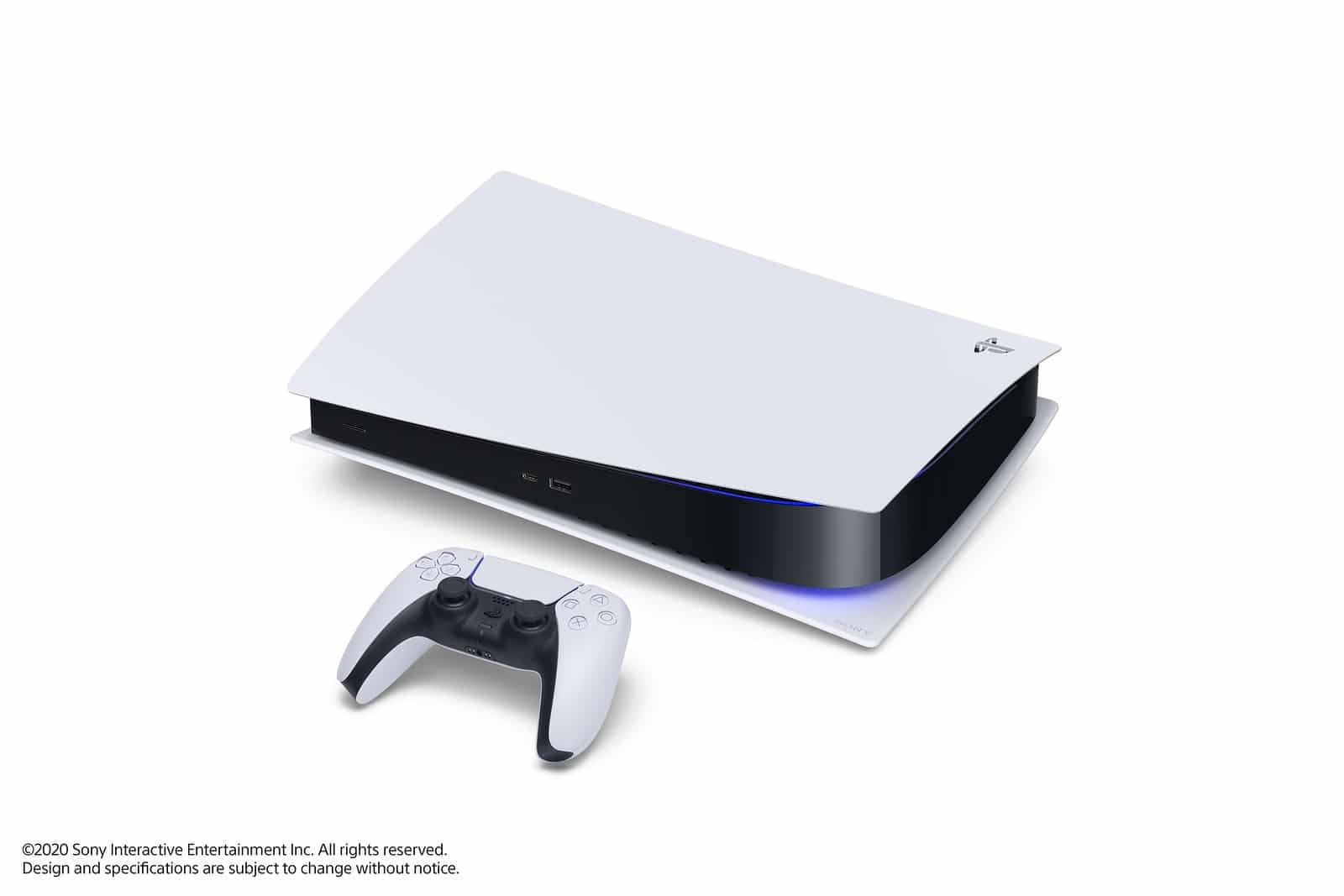 This one's a bit of a no-brainer but, just in case you didn't know; PSVR 2 will run on PS5. Sony's latest console saw a global release in November 2020 and, although supply has been an issue due to the semiconductor shortage, stock levels have since improved.
In February 2021's blog post, Ryan confirmed that the new headset connects to the console via a single cord, meaning a much simpler setup than the mess of wires included in the original PSVR. There's no confirmation of any possible wireless connectivity just yet, but we'll come to that in a bit. Either way, the added processing power of the PS5 should go a long way to improving the PSVR experience. Again, more on that further down.
PSVR 2 Has Inside-Out Tracking – You Won't Need A Camera
The original PSVR had a camera-based tracking system that required you to place a PlayStation-branded camera in front of your play area. It allowed for full positional tracking when facing the lens, but there was a lot of drift and motion controls would be lost if their lights were obscured from the camera, so no turning your back around. PSVR 2 won't have this issue – cameras on the headset will track the controllers and thus give you a much easier setup and a much greater degree of freedom.
PSVR 2 Features Include Eye Tracking, Foveated Rendering And More
Beyond the PSVR 2 specs, the headset will have some big new features. The kit will be able to track the direction of your eyes, for example, to use a technique called foveated rendering. This is when an experience only fully renders the area of a screen you're looking at; the rest isn't fully rendered but this should be noticeable in your peripheral vision. This should help dramatically improve performance on PS5. It can also be used to mimic your eye's gaze on a virtual avatar. It'll also have a lens separation adjustment dial for people to find the clearest image possible with.
Eye Tracking Comes From Tobii
In 2022, Tobii confirmed it was in negotiations with Sony to be the eye tracking supplier for PSVR 2. In July, the company confirmed a deal had gone through and that the company's eye tracking tech will be integrated into the headset. Currently you can find the company's solution in other headsets like the HP Reverb G2 Omnicept Edition and the Vive Pro Eye.
It's Got Haptics… In The Headset
Another interesting feature is the haptic feedback within the headset itself. This apparently isn't as advanced a sensation as the haptic feedback seen in the new DualSense controllers. We'll need to test out the effect it has on immersion and comfort across a number of apps to really get a good sense of how important it is to VR gaming.
The First PSVR 2 Game Has Been Announced
Sony's CES announcement wasn't just for a name – we also saw the first-ever PSVR 2 game confirmed. That game is Horizon Call of the Wild, a spin-off to Sony's popular open-world series set in a post-apocalyptic world with robot dinosaurs. It's been developed by Firesprite, the studio behind The Persistence that Sony acquired in 2021, with help from Horizon developer Guerrilla Games. You can see the first trailer for the project above – you won't be playing as series protagonist Aloy but you will meet her as you take on the role of an entirely new character. It should be out at launch on February 22, 2023.
…And Others Have Been Confirmed
We're keeping a list of all confirmed and rumored PSVR 2 games and right now, over 30 titles have been confirmed for the launch window alone.
Alongside Horizon, that includes a Firewall Zero Hour sequel, Firewall Ultra, Gran Turismo 7, Beat Saber, Resident Evil Village, Among Us VR and plenty more. Rumor-wise, Half-Life: Alyx leads the charge, but no official confirmation yet.
PS5 Specs Show Promise For PSVR 2
The PS5 is an absolute powerhouse, capable of delivering native 4K games with stunning graphics. Meanwhile, the specs promise PC-like power in console VR. Here's a chart outlining the specs for the console stacked up against the PS4 and enhanced PS4 Pro, whipped up by our own David Heaney.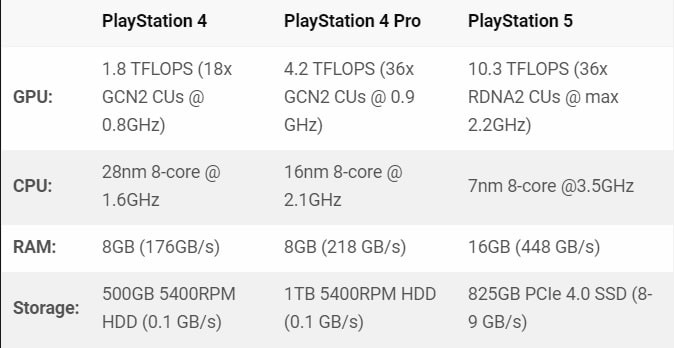 Based on these specs, PS5 is comparable to Nvidia's RTX 2070 Super in terms of GPU power, and six times more powerful than the standard PS4. That will enable a huge leap forward for console VR games; hopefully no more blurry PSVR ports at the very least. In fact we've already seen as much; while No Man's Sky is getting a native PSVR 2 port, the PS4 version can tell it's running on PS5 via backwards compatibility and delivers much clearer visuals than on PS4 (see below).
Plus the console boasts an on-board solid-state drive (SSD) that Sony says reduces load times to near-instant. Again, that could have a big impact on crafting believable virtual worlds.
PlayStation VR 2 Sense Controllers Are Inspired By DualSense
Another piece of official information Sony has revealed about PSVR 2 so far is for the controllers. Earlier in 2021, it revealed these orb-shaped devices, which look like a huge step up from the now decade-old PS Move controllers used with the first PSVR. Sony has since revealed these are officially called the PlayStation VR 2 Sense controllers.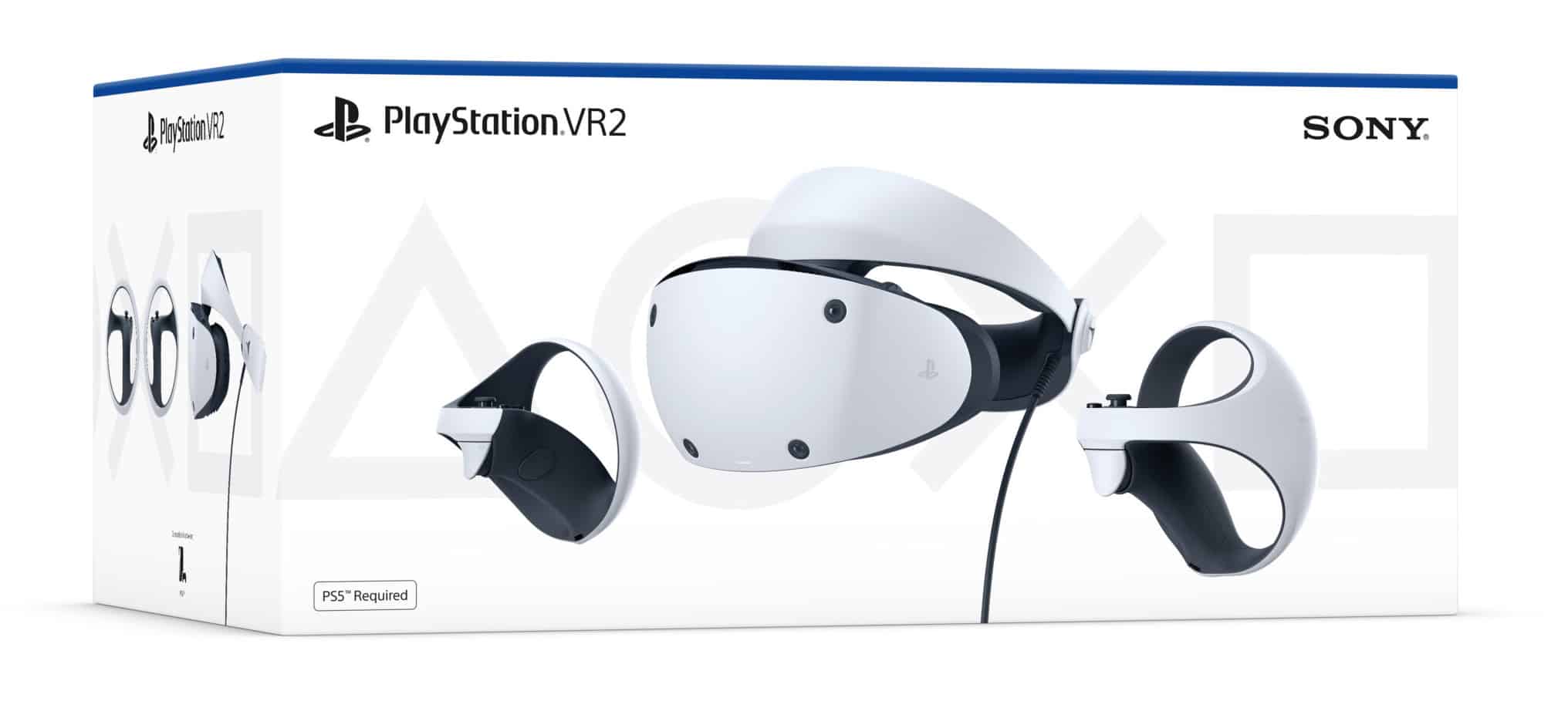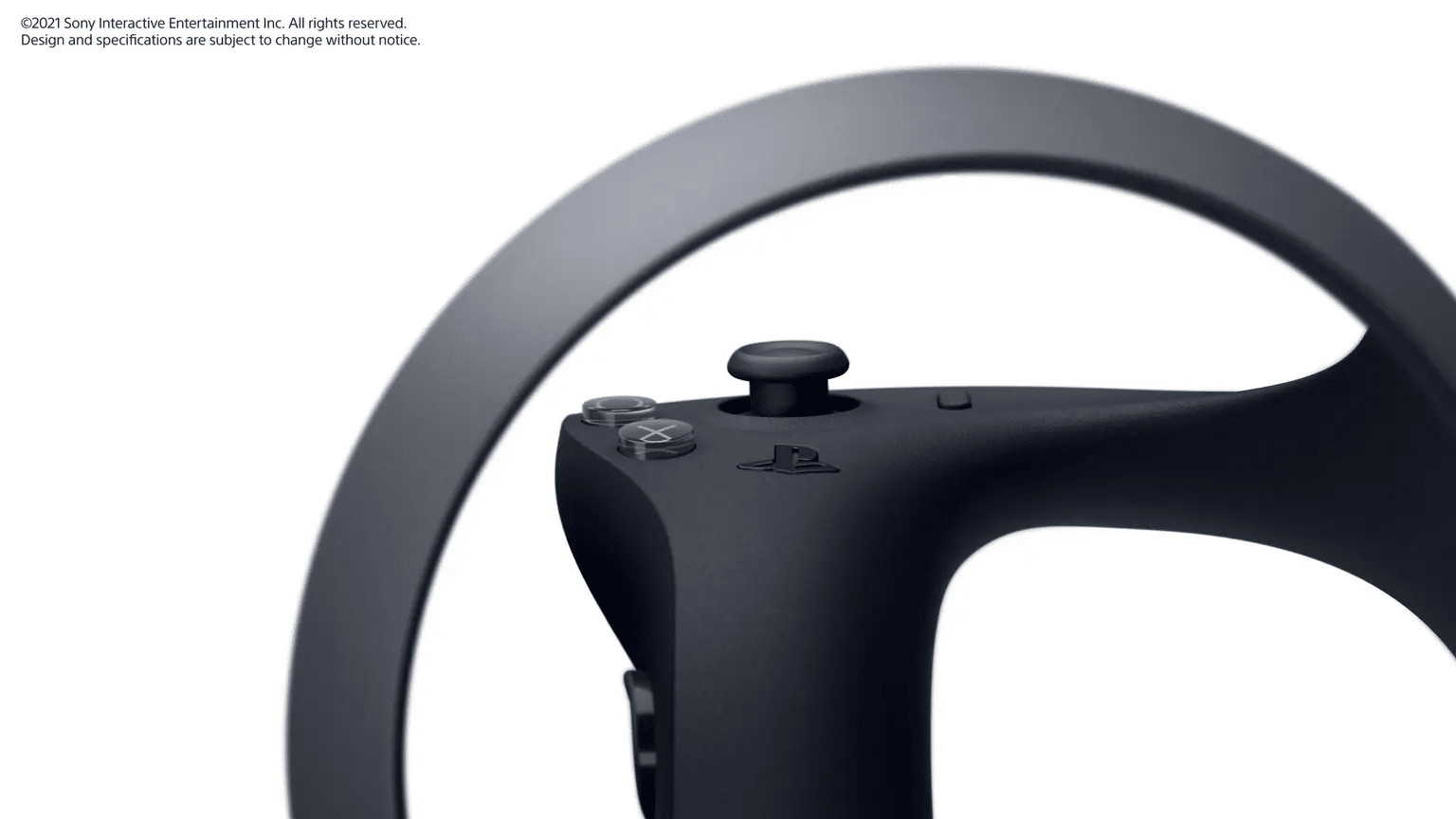 Sony confirmed the Sense controllers will even implement features seen in the PS5 DualSense controller. This device iterates on the DualShock 4 with advanced haptic feedback technology and trigger resistance, two features that seem ideal for future VR support. If you haven't, give Astro's Playroom a try and marvel at the feel of Astro's footsteps across different surfaces, or the push-back you can feel when controlling him in spring mode. They give you plenty of hints about what to expect from the VR controller.
Finally, no more Move controllers.
Wireless, Resolution And More: Sony Research Suggests Possibilities For The Future
Sony's research into a successor headset for PSVR 2 dates back years. In mid-2019, Sony's Vice President of R&D, Dominic Mallinson gave a talk outlining what to expect from the next generation of VR headsets.
He outlined devices that boast 'roughly double' the pixel count of then-current headsets (PSVR, Rift, Vive) and support for high dynamic range, which brings a wider array of colors to the screen. Plus Mallinson pointed toward a wider field of view to see more of the virtual world, and optional wireless support.
Granted, PSVR 2 connects to PS5 via a single cord, but that might not be the whole story. Mallinson's quotes pointed toward the possibility of two models, or maybe that wire being an option. This was just a prototyping phase, of course, and there's been no indication of a wireless model coming anytime soon.
There's also been a steady stream of revealing patents for a potential PSVR 2 over the past few years. We've seen filings for new tracking tech, systems for local multiplayer VR and more.
While You Wait, PS5 Supports PSVR For Backwards Compatibility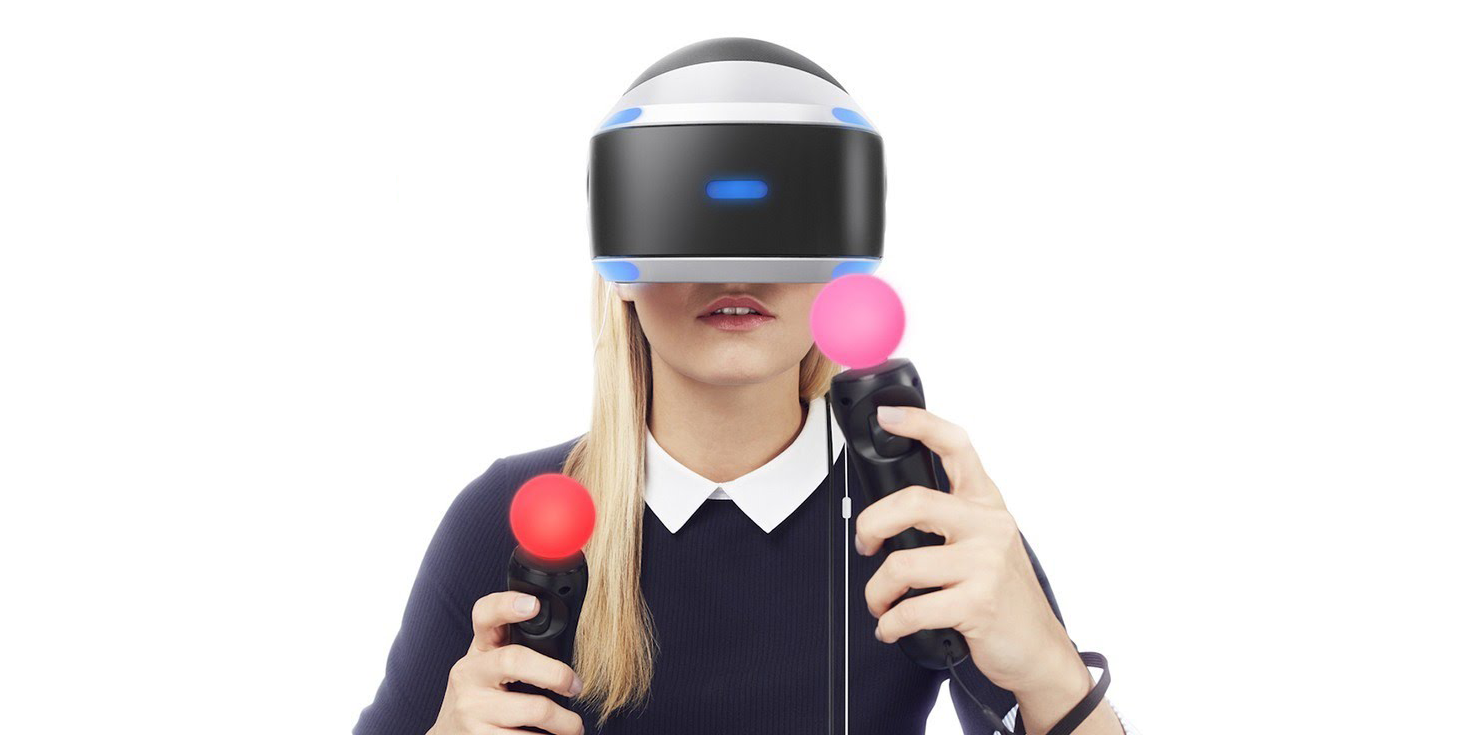 Not only is PS5 backwards compatible, but the console also supports the original PSVR, too. That means you can play original PSVR games on the headset, but you'll need a special adapter to attach the PS4 Camera to your PS5. You can't use the new HD Camera for PS5 with the headset, but Sony is sending out the adapter for free and bundling it in with new units. You'll need to use all of your existing controllers for PSVR on PS5, though gamepad-supported games that don't use tracking like Resident Evil 7 can use the next DualSense controller.
We also know that PSVR developers can update their titles with PS5-specific features, perhaps improving the visuals and performance of existing games. Along with the No Man's Sky visual upgrades, Blood & Truth has improvements as does Firewall: Zero Hour. Bear in mind that not every PSVR game is compatible with PS5. Sony says the 'majority' of PS4 games will work on PS5, but we do know Robinson: The Journey from Crytek isn't compatible with the new console.
…But PSVR Can't Be Used With New PS5 Games
While backwards compatibility support for PSVR seems robust, one thing you can't do is use the headset with new PS5 games. That means cross-generation games with PSVR support on PS4 like Hitman 3 and No Man's Sky don't support PSVR on PS5. You need to run the old versions via backwards compatibility for it to work.
---
What's your take on PSVR 2? Are you looking forward to the headset? Let us know in the comments below!
Note: This article was originally written and published by former UploadVR Editor Jamie Feltham. It has since been updated and maintained by UploadVR Staff Writer Henry Stockdale.