Population: One developers BigBox VR announced that the game will be going free-to-play on Meta Quest 2 and Meta Quest Pro from March 9.
Update: This article was republished on March 9 with an updated title to reflect the move to free-to-play. The original article, published February 28, continues below.
After launching in late 2020 for $29.99, Population: One will be free-to-play for everyone on the Quest platform from next week. Existing owners of the game (or those who buy and open a copy before March 9) will receive the 'Original Banana Bundle' as compensation, which includes the legendary PJ (Potassium) character, the Prestige Arsenal (four legendary characters and 14 rare guns), an exclusive spray, 1000 gold and more. You can check out the full details in the graphic below.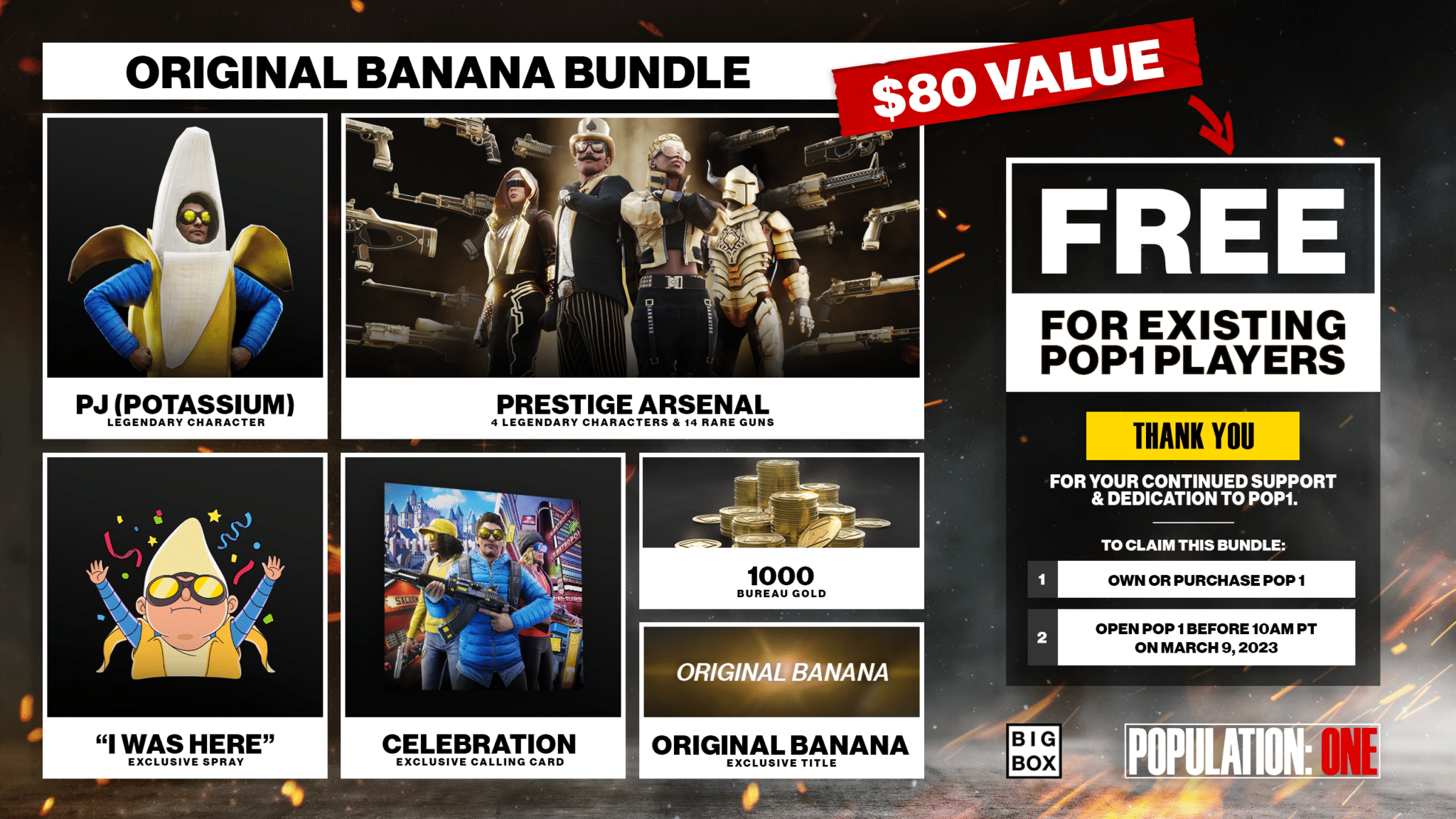 After March 9, new free-to-play players will be able to earn experience and unlock rewards up to level 10 on the progression track. Those who want to continue unlocking rewards will have to pay for 'All Access', which will cost 750 in-game gold (available for $14.99 in the Quest store at the time of writing).
Population: One is also available on Rift and Steam for PC VR, but will not be going to free-to-play on those platforms and will see a price reduction down to $19.99 instead. BigBox says that "similar to other games, the value price on those [PC VR] platforms will be used to prevent potential cheaters from making a new account on Steam/Rift easily." However, those who purchase the game on PC VR will receive 1200 in-game gold, equivalent to $19.99 in value.
The move to free-to-play on March 9 also comes alongside a game update that includes sandbox changes, a new single-player mode with dynamic bots, map changes, balance changes and a graphics update featuring improved resolution and real-time shadows.
BigBox says that more modes, features and maps are planned for the rest of 2023.