PlutoSphere is a new VR streaming platform for people without a gaming PC to play high-end SteamVR content on headsets like Oculus Quest.
It's from the same team behind Pluto, the SteamVR extension adding persistent avatars with voice chat, letting you see & talk to your friends or coworkers even while navigating different VR experiences. This feature also exists on PlutoSphere, and Pluto is working on expanding the idea to enable use cases like running web-based AR apps on top of VR apps, eventually becoming a platform in itself.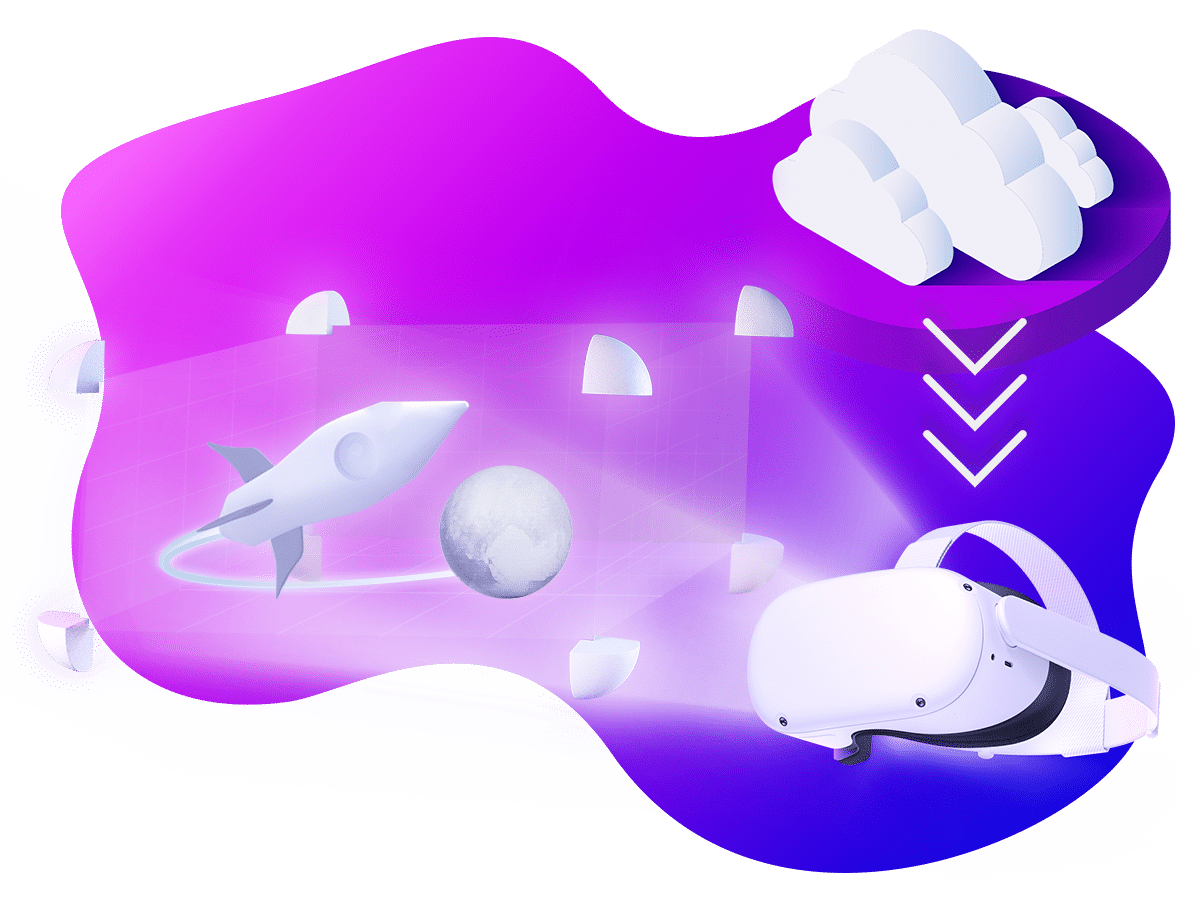 Standalone headsets like Oculus Quest are significantly less powerful than gaming PCs, and can't run more than one app at a time. Pluto hopes to help its customers overcome both of these limits.
Some people already play PC VR games through cloud streaming via Shadow PC and the app Virtual Desktop, which supports remote PCs. But Shadow hosts its own machines, so scaling the service is slow and new customers have to wait. Pluto says its experimenting with multiple cloud providers to use their existing GPU hardware, including Amazon Web Services (AWS).
First Impressions
I was given a short demonstration. Pluto spun up an AWS instance in Ireland close to me. I measured my home internet connection at 70 Mbps just before the demo, and I turned off my other devices.
I'm quite sensitive to latency. Over the past decade I've used VR headsets with end-to-end latency as low as 15ms, and as high as 300ms. How much latency you can tolerate, or even notice, varies from person to person, but it's generally accepted it needs to be below 20ms to fully convince your brain.
The audio quality & latency remained excellent throughout the entire demo. Even during loading screens there was none of the crackling or distortion you typically hear from other VR streaming tech when the CPU is under load.
Unlike Virtual Desktop there's no video bitrate setting. I could notice the bitrate dynamically adapt throughout the demo. It never hitched or stuttered, the adaption was remarkably smooth.
So how's the latency? It essentially felt identical to using Virtual Desktop on a local network with a PC. If you're fine with that kind of latency you'll probably be fine with services like PlutoSphere. If you're not, you'll want to sit out cloud streaming for a few years (at least).
Requirements & Business Model
PlutoSphere requires a WiFi 6 router and you need to be connected to the 5 GHz band with at least 50 Mbps bandwidth. Pluto tells us the connection from router to headset is the most delicate part of the whole chain, recommending being in the same room as the router.
Pluto isn't yet revealing pricing. They're exploring a subscription model and billing for exact usage. You'll be able to access your purchases from Steam or Epic Games, similar to NVIDIA's GeForce Now non-VR streaming service.
Facebook doesn't allow VR streaming on the Oculus Store, citing the inability to guarantee good performance. Pluto currently plans to launch on SideQuest, the alternative Quest app store based on automated sideloading. They're keeping a close eye on Virtual Desktop's App Lab submission too. Future standalone headsets from other companies may have more generous policies for streaming.
Pluto is opening up early registration for the service, you can visit http://www.plutosphere.com/ to try to reserve a spot.