A new image shared in the Pavlov Discord server indicates that the Quest version of the game, Pavlov Shack, is in the final stage of review for an App Lab release.
We first learned that the game would shoot for an App Lab release in February, shortly after Facebook announced and launched the App Lab service. Earlier this month, a moderator on the game's Discord server said that "Oculus has given feedback on Pavlov and there are only a few small issues they want fixed, and then it'll be up to Oculus standards and on its way to applabs [sic]. Devs are already working on the issues and will hopefully be done in the next few days."
It was confirmed this week that Pavlov Shack has now passed the "content review" phase and is in "publishing review", and according to messages on the Discord server, we should expect to see the game available on App Lab "in a few days." You can see a screenshot of the message sent from Oculus to the development team below: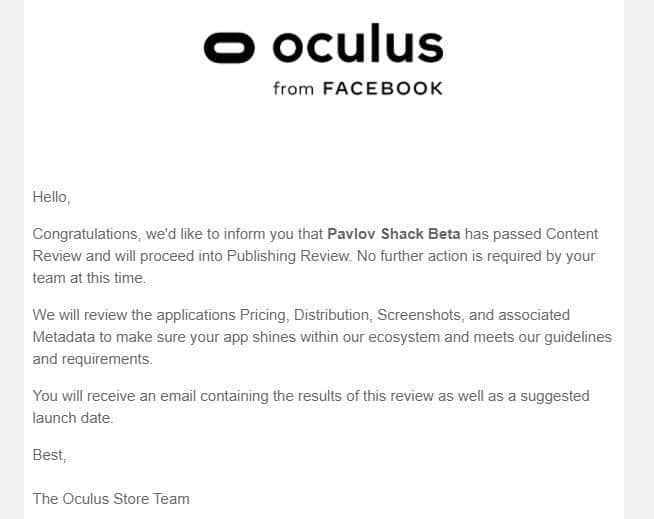 Pavlov Shack is a scaled down version of the original PC VR Pavlov, designed to run on the Quest's mobile hardware. Shack is already available through SideQuest, but requires sideloading to install onto your headset. An App Lab approval will mean a much easier install method for Pavlov players.
According to the developer, davevillz, on Twitter, the App Lab release will be free for all players, just like the SideQuest version.
In terms of a full Oculus Store release, davevillz said that he wouldn't rule it out in the future. "We haven't submited [sic] in a long time to the store so is technically our choice not to be in there," he wrote. "However now with App Lab we are not pressure [sic] to have a QA passable build anymore, we will take as long as it needs before we ask for player money."
Will you be playing Pavlov Shack when it drops on App Lab? Let us know in the comments.