The developers behind more Oculus Quest VR titles shared with us additional indications of success with the standalone VR headset from Facebook.
Previously, we've seen reports from the creators of Superhot, Red Matter, Job Simulator, Space Pirate Trainer, SculptrVR, and Virtual Desktop each of which pointed to very strong reception on Facebook's $400 all-in-one VR headset.
Now we've heard from the makers of Richie's Plank Experience, The Exorcist: Legion VR, Acron, and I Expect You To Die and they are echoing the sentiment shared by the other Quest developers. To understand the responses, here are the two questions we've put to all these developers:
1.) Can you give us a sense of your sales performance on Quest after 1 week and 1 month versus those same launch periods on other platforms you've released? You can be as general or specific as you like.
2.) Also, more broadly, how is Facebook's Quest curation strategy working for you?
These questions, of course, allow developers to self-select what information they want to release. Very few developers are willing to release actual numbers showing their specific units sold, or revenue, and we wouldn't be surprised if we heard Facebook's developer relations people got inundated by developers asking what they can say in response to these questions. Overall, that means these reports aren't representative of every app on Oculus Quest nor is it representative of the average developer experience in trying to get through the strict curation process instituted by Facebook for release on the headset. This process forced at least one approved developer to move an unapproved feature to the SideQuest system.
We're still interested in trying to understand what the process means to all devs. Whether you were approved for release on Quest or not, you can DM me on Twitter or write to ian@uploadvr.com if you want to go on the record explaining your experience.
Richie's Plank Experience
Toast VR, the developers behind Richie's Plank Experience, reached out after our first story and said "I can't share our specific data, but I can say that we sold more copies of RPE on Quest in it's first week than our total sales on the Rift in our first two years."
I followed up with Toast to send the creators our direct questions. They sent back this chart: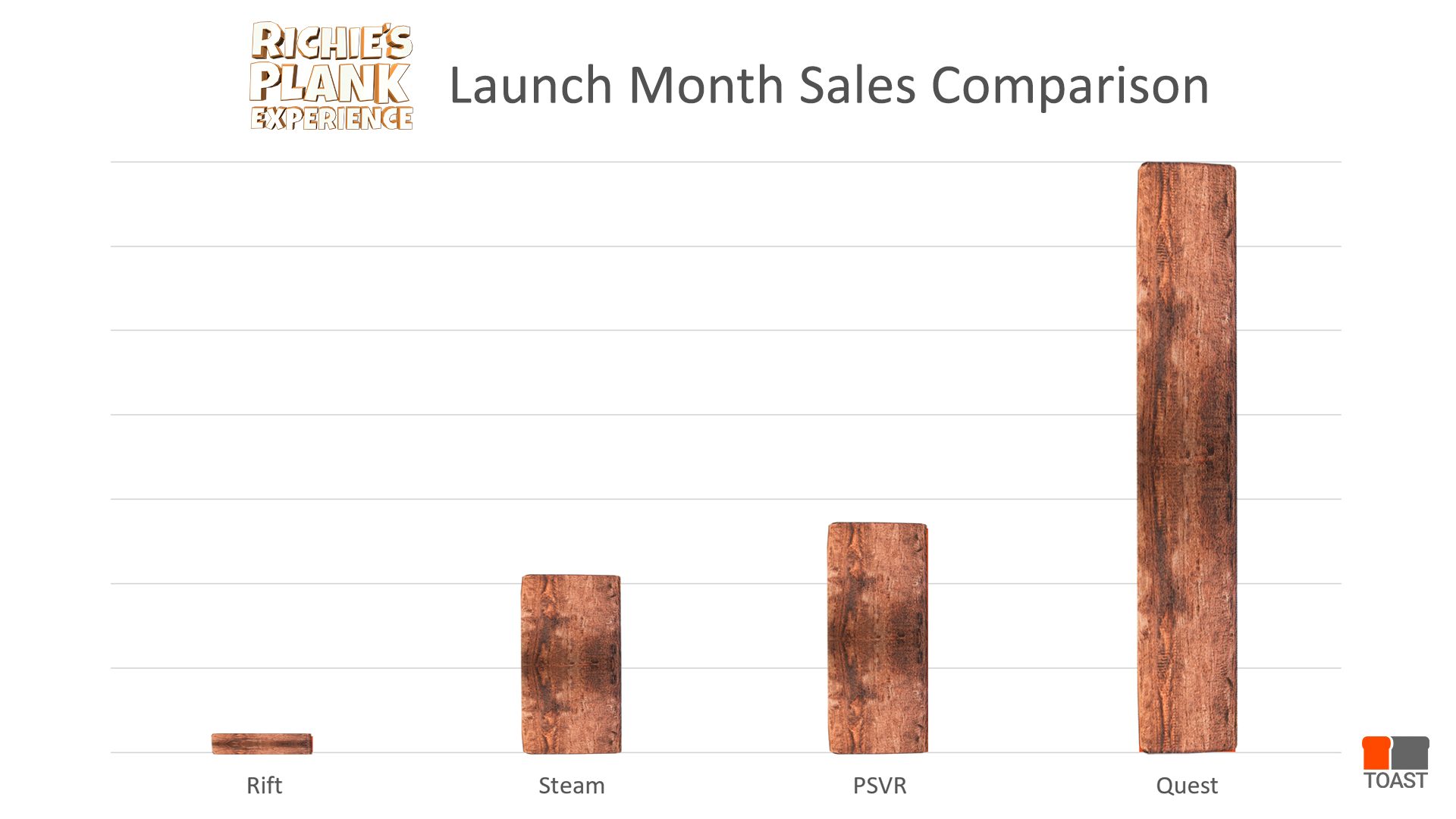 "This is after 1 month…Without giving away the actual numbers I think this gives a good indication of what we mean when we say Quest blew all our other launches out of the water; keeping in mind that it was our most recent, so it benefited from all the other positive media and brand awareness that was generated by the previous launches."
Notably, Richie's Plank Experience was initially rejected from release on Quest.
"While we were upset that we were initially rejected from releasing on the Quest store, we understood the reasoning," according to a statement from Richard Eastes, co-founder and CTO. "It pushed us harder to create a better product than we thought we could and it has certainly paid off in the long run. Although it's harder to get on the Quest and it requires more work, the rewards are there and it creates a process that customers trust."
The Exorcist: Legion VR
The Exorcist: Legion VR is published on Quest by Fun Train, Inc, and they said, "Our Oculus Quest launch of The Exorcist: Legion VR exceeded our expectations and has continued to surprise us even months into release. It is performing nearly as well as other established platforms such as PlayStation thanks to a very faithful port by Wolf & Wood."
"I feel that any strategy which emphasizes quality over quantity is a good thing," an email from Fun Train reads. "The Oculus team has been very direct with us regarding what type of content they feel best suits the Quest platform. For example, our episodic release of Tarzan is an ongoing conversation.  Whatever the result, that dialogue is greatly appreciated. Not every platform has such open lines of communication or a clear vision of the type of content they would like to see."
Acron
Resolution Games is the studio behind several VR games including Bait!, Angry Birds and their latest cross-platform multiplayer joy, Acron (Review 8/10).
We "can confirm that Quest is a very healthy platform for us in terms of downloads and sales and that we are very optimistic about the market potential the device is creating," an email from Resolution Games co-founder Paul Brady states. "Quest is where we are seeing the most downloads for both Angry Birds VR: Isle of Pigs and Acron: Attack of the Squirrels! Exceptionally so for the latter…"
"As for the second question we don't have a solid opinion there other than to say we've always felt that quality of content is more important on VR than any prior platform (especially for new users)," Brady explains. "And, with VR being young we have a chance to start fresh when it comes to ensuring discoverability doesn't encounter similar pitfalls as we have seen in the past with other platforms. We of course can't speak to how, or if, the curation process for Quest will impact that one way or the other."
I Expect You To Die
Lastly (for now at least) we also received a brief statement from Schell Games. The studio behind spy game I Expect You To Die (Review 8/10) and swordfighter Until You Fall has a founder, Jesse Schell, who predicted in January that Facebook would sell at least 1 million Oculus Quests in 2019.
"We are happy to report that since Quest launched, it is our top-selling platform week to week," reads a statement from the studio.