Oculus Quest's latest software update, v25, adds resizable browser windows alongisde support for bluetooth mouse input.
I typed this article inside Oculus Quest 2 with a YouTube browser window on my left playing some relaxing music, my Twitter window on the right showing responses to my tweets, and my WordPress article in a stretched out widescreen view in the middle of my room. My cat is visible through passthrough mode sleeping on the couch next to me and there's a cup of tea visible to my left. I'm using the Logitech K830 keyboard with integrated trackpad. Two finger scrolling is supported on the trackpad so I can navigate Web pages vertically.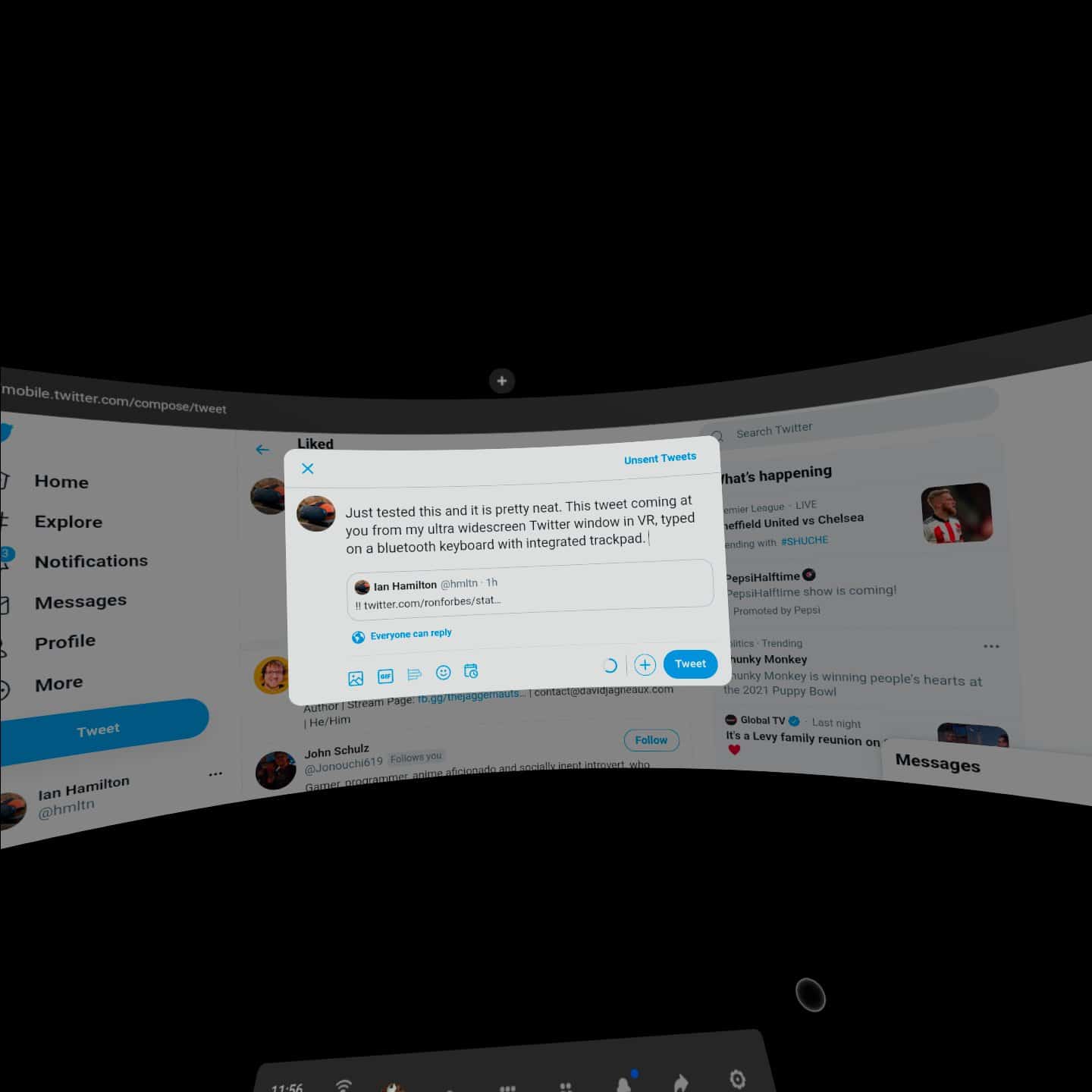 The feature is an initial "experimental" implementation that's likely to improve over time. The two-finger scrolling isn't perfect, for instance, but the combination of keyboard and trackpad input seems to work pretty effectively. A product manager at Facebook suggested using a multi-device mouse to easily switch between a PC desktop and Quest:
With #OculusQuest v25, you can pair a Bluetooth mouse & keyboard to navigate Oculus Home, including multi-window, freely resizable Browser, so people can get things done in VR. Pro tip: use a multi-device mouse so you can switch between your desktop and Quest in a single click.

— Ron Forbes (@ronforbes) February 7, 2021
In October, productivity app Immersed added initial support for keyboards in VR on Quest with a manual calibration that would need resetting if you change your guardian or the keyboard's position. Facebook is planning its own "Infinite Office" set of features which will likely build on this integration for an even more robust hand-off between input systems.
You can activate the Bluetooth mouse feature in v25 of the Oculus Quest software by getting your mouse into pairing mode and then inside your Quest go to Settings > Experimental Features > Bluetooth pairing.