The Oculus platform is getting its first official integration with the existing social network, Facebook, built by Mark Zuckerberg. Soon, owners of the Samsung Gear VR headset can connect their Oculus account to their Facebook account to personalize a 360-degree video feed and share reactions from within the Oculus Video app.
Zuckerberg famously bought Oculus in 2014 to build a new computing paradigm that could follow PCs, the Internet and smartphones. When the purchase was announced, he wrote "this is really a new communication platform. By feeling truly present, you can share unbounded spaces and experiences with the people in your life. Imagine sharing not just moments with your friends online, but entire experiences and adventures." Most recently, he said "VR is going to be the most social platform " at Mobile World Congress in Spain.
The integration is a preliminary step toward connecting the roughly 1.5 billion people who use Facebook on traditional computers to the new immersive worlds Oculus is creating.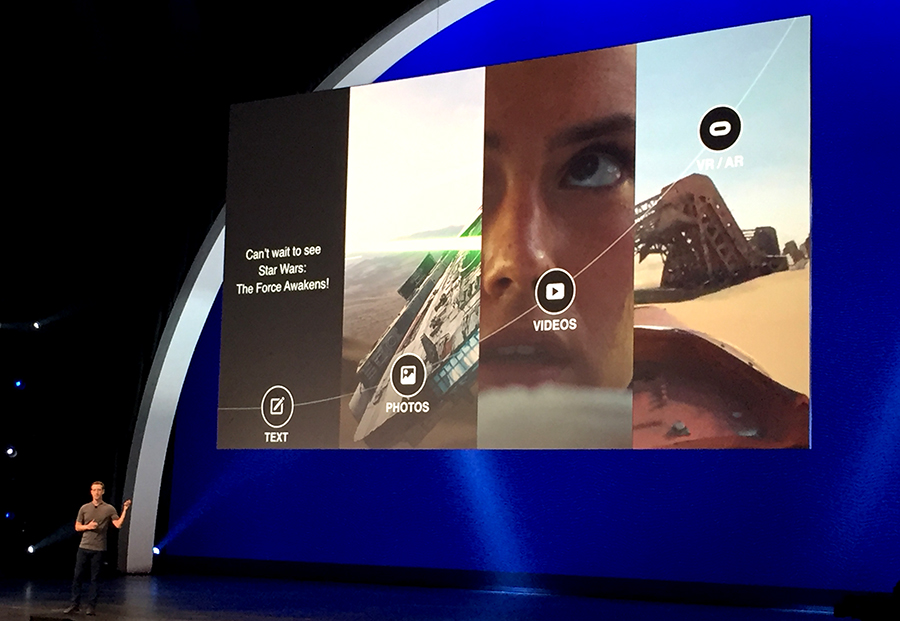 Facebook just added to its platform new buttons including "love," "haha," and "wow," alongside the classic "like" reaction. It seems those reactions will be coming to Oculus when you hook up your Facebook account and share videos from within VR.
When Facebook acquired Oculus, vocal fans of the startup co-founded by teenager Palmer Luckey reacted strongly. They expressed concerns about the privacy implications of Zuckerberg's existing Facebook business, which depends on using highly personal information to provided targeted advertising. In VR, even more personal information is available. Gaze detection, for example, could record how long a person is looking at something that interests them in VR. Such data collection could be used to "personalize" a VR experience, but it could cross into a dangerous realm if a person is unknowingly influenced by this kind of tracking.
Note there's no evidence any of this has happened already and the fact that Oculus requires a separate user account from Facebook offers an optional firewall between sharing your identity on Facebook with the one on Oculus. Nevertheless, with the Rift set to launch later this month and the Oculus-powered Gear VR potentially heading to millions of people through a free promotion from Samsung, this Facebook integration is a big step for the social media giant that should be watched closely by Oculus customers.