Oculus Go on Monday shot to #3 on the Amazon Best Sellers list across all video games.
The entry level VR headset was helped by a lightning deal that saw the all-in-one VR system priced at just $120 for a limited time, down from a broader discount — priced at $150 — that lasted several days across multiple retailers. Released in 2018, Oculus Go was the first standalone VR headset from Facebook and it has been typically priced around $200 since it debuted. You can read our full review for our assessment at the time it released.
Now plenty of readers probably already skipped to the comments to complain that I called Oculus Go "Facebook's Worst VR Headset" to defend its idealized use cases in bed or on plane flights. True, the device may find repeated and regular usage among a subset of buyers who want a private 3D media viewer and nothing more, and Oculus Go removes the dust-behind-the lenses and phone-draining-battery issues which plagued the even earlier Gear VR.
For Facebook, Oculus Go was a necessary and intriguing step forward in a play toward mainstream VR, but it is also an older gadget offered alongside more capable hardware that confuses buyers and gives plenty of people headaches. Its 3 degrees of freedom — meaning it tracks head rotation movement only while ignoring even the slightest shifting of your head's position — can make some people uncomfortable far too quickly.
Perhaps most damning, though, is that Facebook deactivated built-in social features on the headset recently in advance of Facebook Horizon's launch early next year. We don't even know if Horizon will run on Go yet — Facebook only lists support for Quest and Rift on its official Horizon page. This is what people see if they try using the Oculus Rooms social feature that's still listed on the Oculus Store: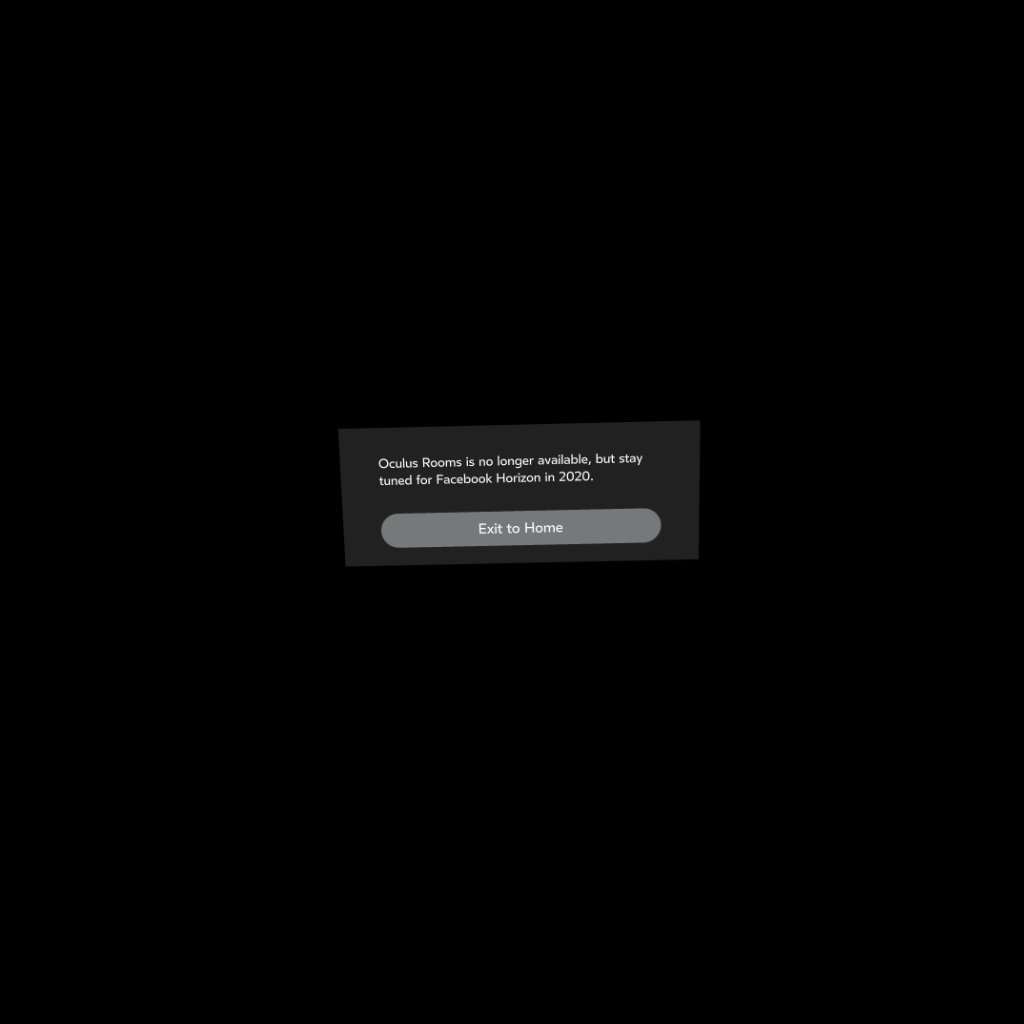 Read this tragic review of Oculus Rooms posted on October 9 and found helpful by 22 people:
I have a Go. I only want a Go. I'm old enough where it was enough for me to listen to good jazz, sit and watch the city nights from my penthouse and sip a nice drink. It was good to unwind. I don't want this social crap they have with this new platform, and I think it was a really low blow to just steal this from me. The art on my walls all had meaning. One of the paintings was from an artist friend of mine that passed in August. I liked my rug, and the floors. It was a nice little space of pure solace. It was one of the major things that kept me using my Oculus. I can do almost everything else like watching movies from my desktop. Not happy.
And there are these comments spotted on an ad on Facebook: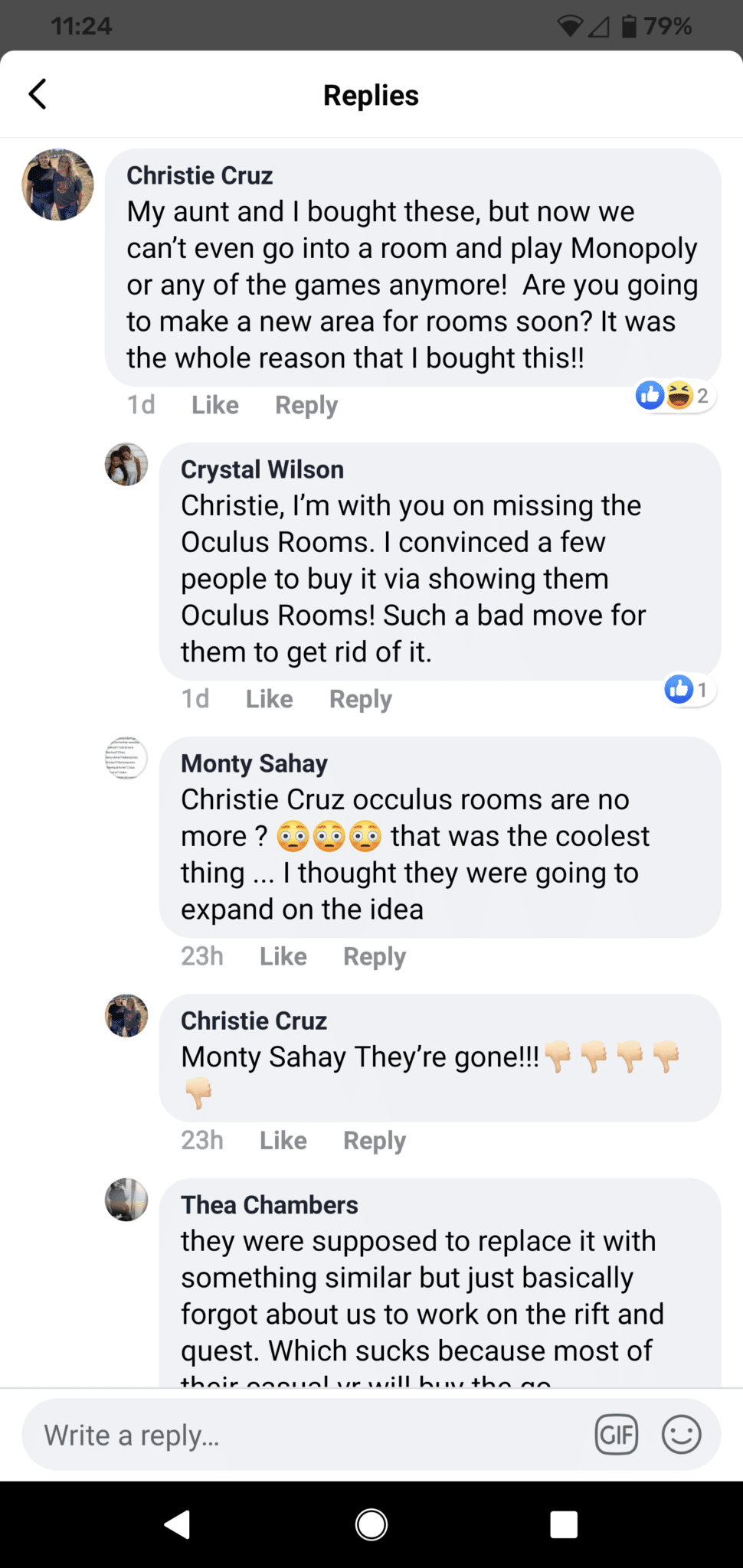 By all appearances Facebook is clearing out Oculus Go stock and moving its focus to the $400 Quest and the upcoming Facebook Horizon social app. Many Oculus Go games were brought over to Quest recently and the Oculus Link Beta mode converts Facebook's higher end standalone into a wired PC VR headset. Early next year, Quest will also get an experimental hand tracking mode as well that'll allow its system functions to be controlled with open air hand gestures.
To be clear, the reason this is giving us headaches is that we highly doubt many first time VR buyers — the kind of people who are likely picking up Oculus Go — are fully aware of its severe limitations before purchasing. While people like consulting CTO John Carmack insist that Go retains users better than previous headsets we still believe many of these devices collect dust when purchased by people who don't know what they are getting before they buy it. And still more of these headsets will collect dust now that certain features don't work and the focus is shifting to other systems.
I should add that we believe it likely future versions of Oculus Go will solve many of the complaints listed here and it was, again, both a remarkable device for its time as well as a niche-filling gadget that may be loved by some of the people who purchase it. But Go is enough of a let down to anyone who thought they could play incredible (and well-advertised) games like Beat Saber or Vader Immortal on it, or could use its one big feature in Rooms, that we hope the device is retired fairly soon so those headaches can become a memory of the past rather than a Christmas Day surprise in 2019.