No Man's Sky added much-anticipated VR support to PC and PS VR today. Many users, however, across all PC VR headsets are reporting performance-related problems with the game.
UPDATE August 15: a patch has been released which resolves many of the crashing issues, including on WMR headsets. Sean Murray also issued a statement to UploadVR below.
We tested Hello Games' Beyond update today with our PCs at home on Oculus Rift S and Valve Index with graphics cards including a 980TI, RTX 2070 and RTX 2080 using a range of settings both inside the game and in SteamVR. With an RTX 2070 we were only able to maintain 80 FPS with most of the game's graphics settings on their lowest and temporal anti-aliasing turned off. On Valve Index with an RTX 2080 it took lowering the render resolution to 70% to get the framerate up to 80. On a 980Ti with Rift S, we had SteamVR resolution settings at 100% with all in-game settings at their lowest and experienced occasional framerate drops and re-projection that became jarring after a while.
Unlike gaming on a monitor, even dropping one frame in virtual reality can be a jarring experience because it means you're no longer getting a correct image for your head's position in the virtual world. While VR platform runtimes include features such as Asychronous Spacewarp and Motion Smoothing to help compensate for this, there is no substitute for having enough system resources — CPU, GPU and RAM — to draw frames at a consistently high rate.
On the Valve Index subreddit multiple users are reporting performance problems with even NVIDIA's flagship 2080 Ti. On the Oculus subreddit users are complaining about the same issue. Windows MR headset owners are having even less luck with the game. Though Hello Games doesn't list support for Windows-based  "MR" headsets, sometimes games work anyway through a compatibility mode. No Man's Sky, though, crashes on launch. Indie game programmer Bernhard Schelling released a custom open source driver on GitHub to overcome this problem. It works by reporting WMR headsets to SteamVR as HTC Vives. Even so, two Upload staffers using VR headsets with official support are reporting frequent crashing in and around the Space Anomaly's new social hub.
UPDATE: We reached out to Hello Games about the performance issues and received the following statement from Sean Murray:
"We regularly release hotfixes to solve the most common issues. After Next released, we were publishing hot-fixes often daily, and sometimes releasing to our experimental branch on PC even more often than that.
With the high number of players we are seeing, even rare issues become very important to us, and there is an unprecedented number of VR players turning on their headsets today.
Already today we have brought together a build for some of our statistically more important issues on XBox and PS4. Similarly on PC we expect to get changes to experimental on PC very soon after release.
In fact we just pushed our first build to experimental for PC just hours post release, to deal with the most common crashes and issues we are seeing. This will make its way to users on the live branch very soon.
We are tracking a number of performance related issues. These fall into three potential categories. Some are related to bugs which we will resolve, some are related to players hardware setup and settings which in many cases can be resolved through support or improved defaults and others are related to unexpected scenarios in the game which will be further optimised."
Recommended Settings
If you're experiencing low performance in the game when playing in VR mode, we recommend trying these graphical settings or lower: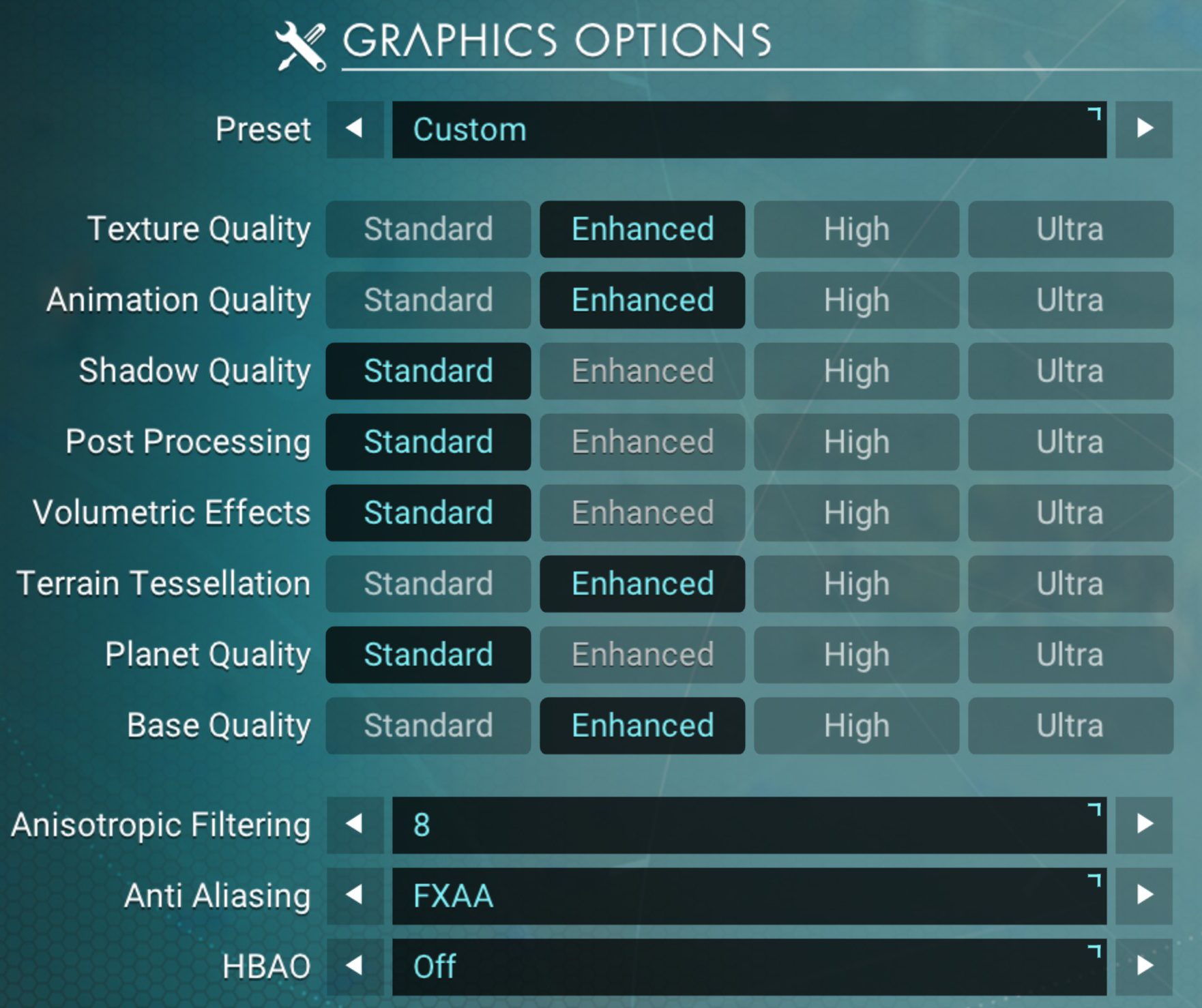 Increasing settings beyond these values, in our limited testing, seemed to increase the frame render time far beyond what's required to achieve a comfortable and consistent rate. Changing the install location of the game from a hard drive to a solid state drive, closing background apps and turning off unnecessary startup apps could also have an effect on performance.
If you've tried the game on PC please share in the comments what specifications and headset settings you used and how the experience is working out for you.