Meta is testing dramatic discounts for Quest Pro just three months after release.
Quest Pro debuted in late October 2022 for $1,500 with self-tracking controllers, partial light blockers and a charging pad included in the box. The headset is a first-generation device in a new high-end product line for Meta targeting mixed reality developers, early adopters, developers and businesses. Facing inbound competition from the likes of the Vive XR Elite priced at $1,100, some of those early adopters may be feeling the sting today at seeing Quest Pro matching that price in the United States. The $400 price drop is so significant that if early Quest Pro buyers had waited just three months they could have bought a Quest 2 and a Quest Pro together for the same amount of money.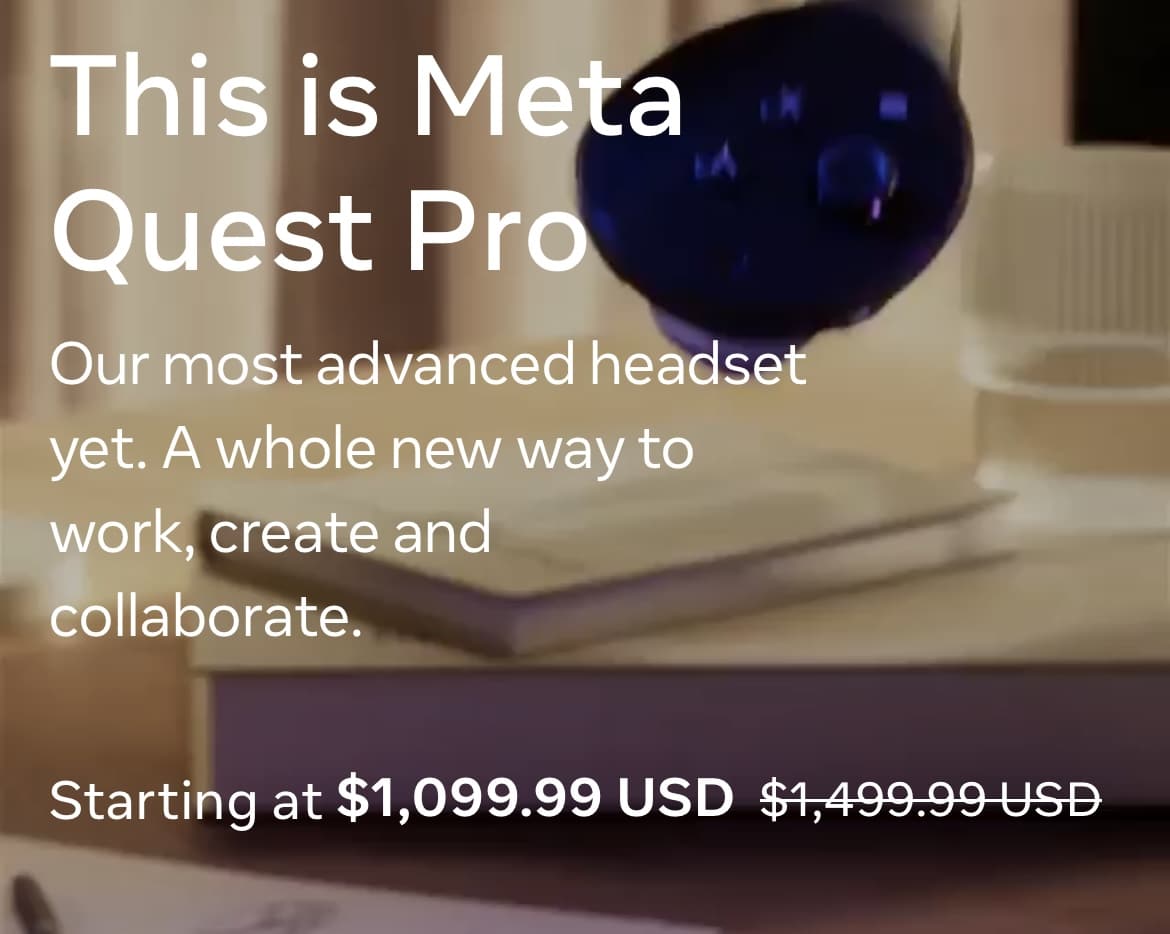 Store listings in the United States for Quest Pro now show the limited time discount to $1,100. In the United Kingdom, the price is £1,300 with tax included. The high-end mixed reality headset features color passthrough and pancake optics for a slimmer visor. It also moves the battery into the cradle at the back of the head for a more balanced design. For buyers, Quest Pro runs all the same games compatible with Meta's $400 market-leading Quest 2, while developers can test out new features like the embedded face and eye tracking sensors. We've had issues with the Quest Pro's microphone and, to fully block light for immersive VR gaming just like Quest 2, Meta separately sells a "full light blocker" for $49.99.
The upcoming Vive XR Elite features a slim visor design as well as modularity that can accommodate swappable batteries. It doesn't feature face and eye tracking sensors as part of the core package, and while that could come with future add-ons we haven't seen any VR developers using those features in ways that hugely benefit users. The face and eye tracking sensors on Quest Pro are optional and off by default. Apple is reportedly readying a super high-end standalone mixed reality headset expected to release this year, and Meta faces resurgent competition in standalone VR from TikTok's China-based parent Bytedance, with the Pico 4 line of standalones competing in some European markets.
Meta is expected to release the Quest 3 headset later this year to replace the aging Quest 2 in the same price range. The new entry level headset is likely to run on a much more powerful next-generation chip that could bring significant graphics upgrades over all current standalone designs. While Quest Pro runs on a modified XR2 processor with access to more power than the one inside Quest 2, the likelihood that an XR2 Gen 2 processor from Qualcomm could be such a major upgrade may end up shortening the shelf life of the Quest Pro.