There are a lot of VR desktop simulators on the market already. With the likes of Virtual Desktop, Bigscreen, Envelop, and Microsoft's forthcoming Windows Holographic, as well as plenty of others, it's quickly becoming one of the most hotly contested niche markets of the virtual reality landscape. The idea of being able to do all of your work, inside your VR headset, is incredibly enticing for a lot of people. Many of these apps have small differentiating features, such as Bigscreen's social integrations, or Envelop's enclosing design of a 360-degree desktop.
Today, a new challenger enters the ring by the name of LightVR. I got the chance to see an early build of the program last week from CEO and Founder of MyDreamVR, Allison Huynh. She explained that LightVR is being positioned as much more than just a screen simulator in VR, as they want you to actually feel like you're sitting in a virtual office space, that it's real room around you. Not just a floating screen in front of your face. They also made a handy comparative guide highlighting what they identify as the biggest differences.

This was underscored by the demo I tried, which featured a fully 3D-modeled desk, with my duplicated desktop screen floating in front of me. The room even had chairs in realistic spots and a floor tile completed the simulation I was in a room of some sort. You can see an example of that in the featured image up above.
While you may initially be thinking that Bigscreen does something very similar by letting you hang out in multiple different environments as well, those aren't editable. In LightVR, you can actually pick up and move objects. You can bring up a dial on one of the Vive's controllers and spawn new items to place in the world around you. In fact, they'll even feature Steam Workshop support, allowing users to upload their own creations into the system.
You can also create new screens in a simulated 360-degree VR desktop, in which each screen can host its own web page, essentially like a browser tab. They won't be able to individually run their own applications, though.
Finally, one of the most impressive features that LightVR will launch with, is the 'blended reality' camera integration. As you may know, the camera on the front of the HTC Vive headset can be accessed by developers, and the LightVR team let you trigger it when you point your head downward. This allows you to visually see your hands as they type on the keyboard, solving the "I can't see what I'm typing" issue that a lot of people face with most other virtual desktop applications. A similar feature is coming to Envelop as well.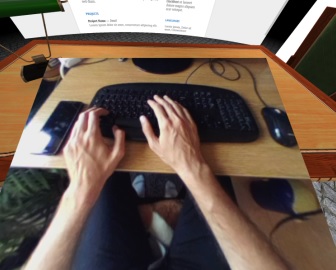 LightVR is still in very early stages, as the team at MyDream hinted towards several future updates they'd like to make, such as being able to create multiple predefined rooms that you can save. That would allow you to decorate one room as your 'gaming room' with posters and objects around, as well as a big TV for playing games inside LightVR, while another room might be simpler with a desk and plants as your office. Once the community starts building and releasing their own creations on the Steam Workshop, the possibilities will surely expand significantly. They also want to create multi-user social features as well.
Starting next week, LightVR will be available on Steam Early Access at a base price of $13.99, but will be on sale for $6.99 throughout its first two weeks.