Following its PC VR release last year, Kayak VR: Mirage now arrives on PlayStation VR2. Developed by Better Than Life, how does this visually stunning physics-based sim fare on the new PS5 headset? Here's our full review.
Kayak VR is my biggest surprise among the PSVR 2 launch titles. In a line-up dominated by Horizon Call of the Mountain and older ports, Better Than Life's latest game offers a simple premise with a solid execution as the Sense controllers become your rowing paddles. To test this out, you can mess around in a swimming pool and getting started is relatively easy.
Diving into the free roam mode, I was immediately taken with Kayak VR's presentation. Watching the ripples while paddling demonstrates some incredible water physics; light reflects impressively on the water's surface and the resolution remains sharp throughout. Objects react realistically as well, such as when you push away small blocks of ice or prod the rubber ring flamingo in the swimming pool.
[vc_row][vc_column][vc_cta h2=""] Kayak VR: Mirage Review – The Facts
Platforms:  PC VR via Steam, PSVR 2 (Review conducted on PSVR 2)
Release Date: Out Now
Developer: Better Than Life
Price: $22.99
[/vc_cta][/vc_column][/vc_row][vc_row][vc_column][vc_column_text]
You can explore four beautiful locations, each with day and night variants. Exploring Papagayo lets the gulf's beauty shine through, realistically bringing the scenery and its fish to life. Antarctica's chilly waters are a favorite when paddling through the broken ice and whale watching from a distance. Navigating Bjørnøya through stormy waters offered a dramatic change of pace, while Australia's canyons offer a certain serenity. Each level feels alive through its dynamic wildlife too, ranging from flocks of birds to cute little penguins.
Kayak VR takes its pleasing experience even further on PSVR 2 using haptic feedback. The Sense controllers add gentle resistance when paddling alongside simulated rain, creating an amazing sense of depth across the rough waves of the Bjørnøya storm variant. Headset haptic feedback also kicks in during collisions, creating immersion in unexpected ways. It's all complemented by realistic sound effects using 3D audio and an atmospheric soundtrack.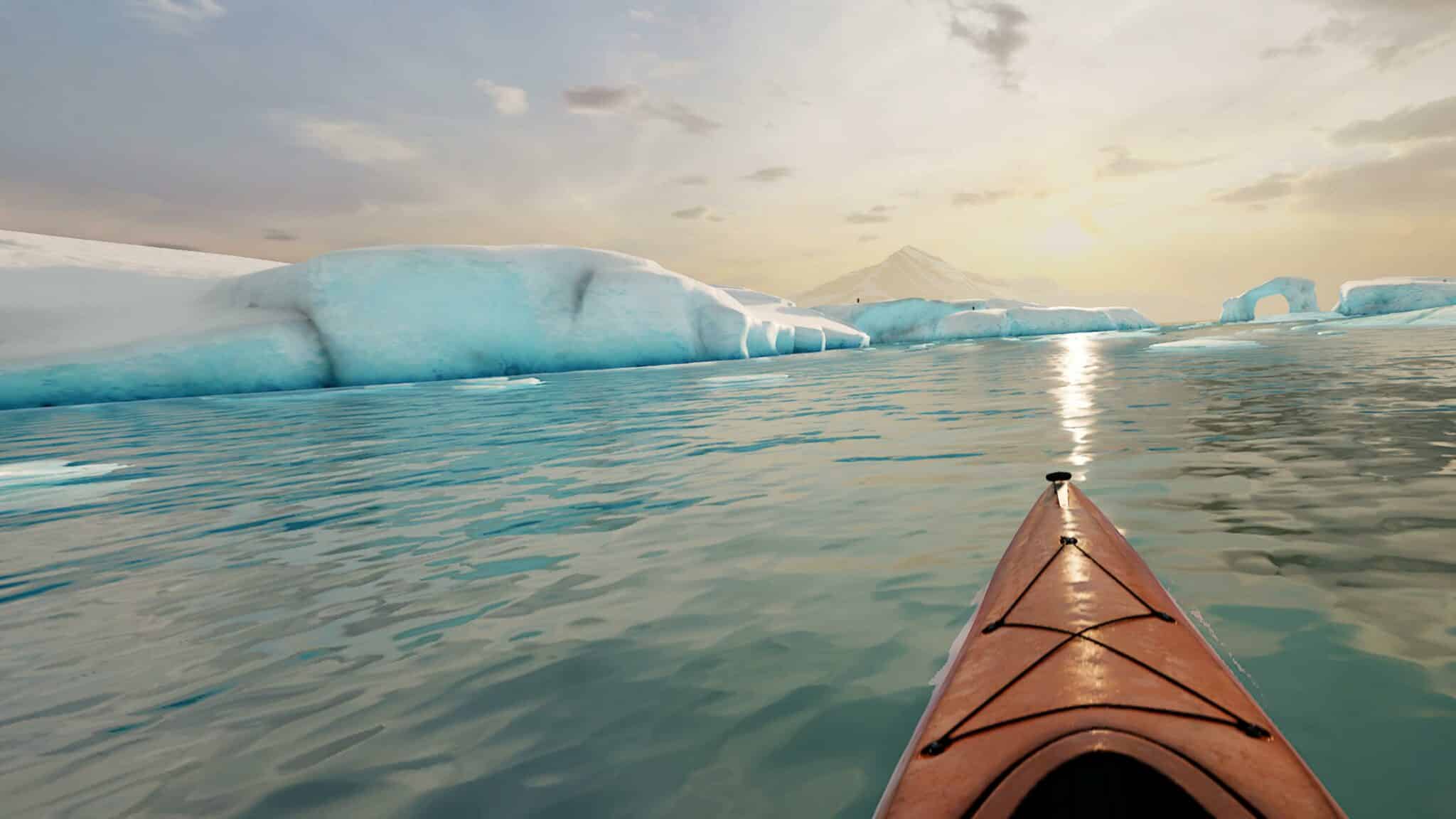 I've rarely felt this relaxed in VR and free roam is where I spent most of my time, exploring at a comfortable pace to see what each location has to offer. If you prefer something even more casual, Kayak VR now includes a controller-less 'Tour Mode' that takes care of movement for you – a great way to de-stress. With headphones on, I sat back on my sofa and let Kayak VR take me down a predetermined route. I could sit in this mode for hours; it's very therapeutic.
By comparison, races feel out of place. If you prefer something more competitive, each location lets you race other players' ghost data through asynchronous multiplayer, using their previous best times as you rank for position on an online leaderboard. This offers a challenge for high-score chasers, though I personally didn't find the mode very appealing.
[vc_row][vc_column][vc_cta h2=""] Kayak VR: Mirage Review – Comfort
This isn't an intense experience, so there aren't many comfort options. Movement vignettes are available for turning, during collisions or as a permanent feature. There are also stability options to keep your kayak at a comfortable angle. For those after realism, you can choose 'simulation' controls instead of the standard 'arcade' option. Haptic feedback intensity is also adjustable.
[/vc_cta][/vc_column][/vc_row][vc_row][vc_column][vc_column_text]
You don't need long to see everything that each level offers, but that's fine. Kayak VR is a game best experienced in smaller sessions; there's no end goal or objectives. You'll gradually earn in-game currency as you explore — no microtransactions here — which unlock new items like kayak designs, headwear and paddles for extra customization.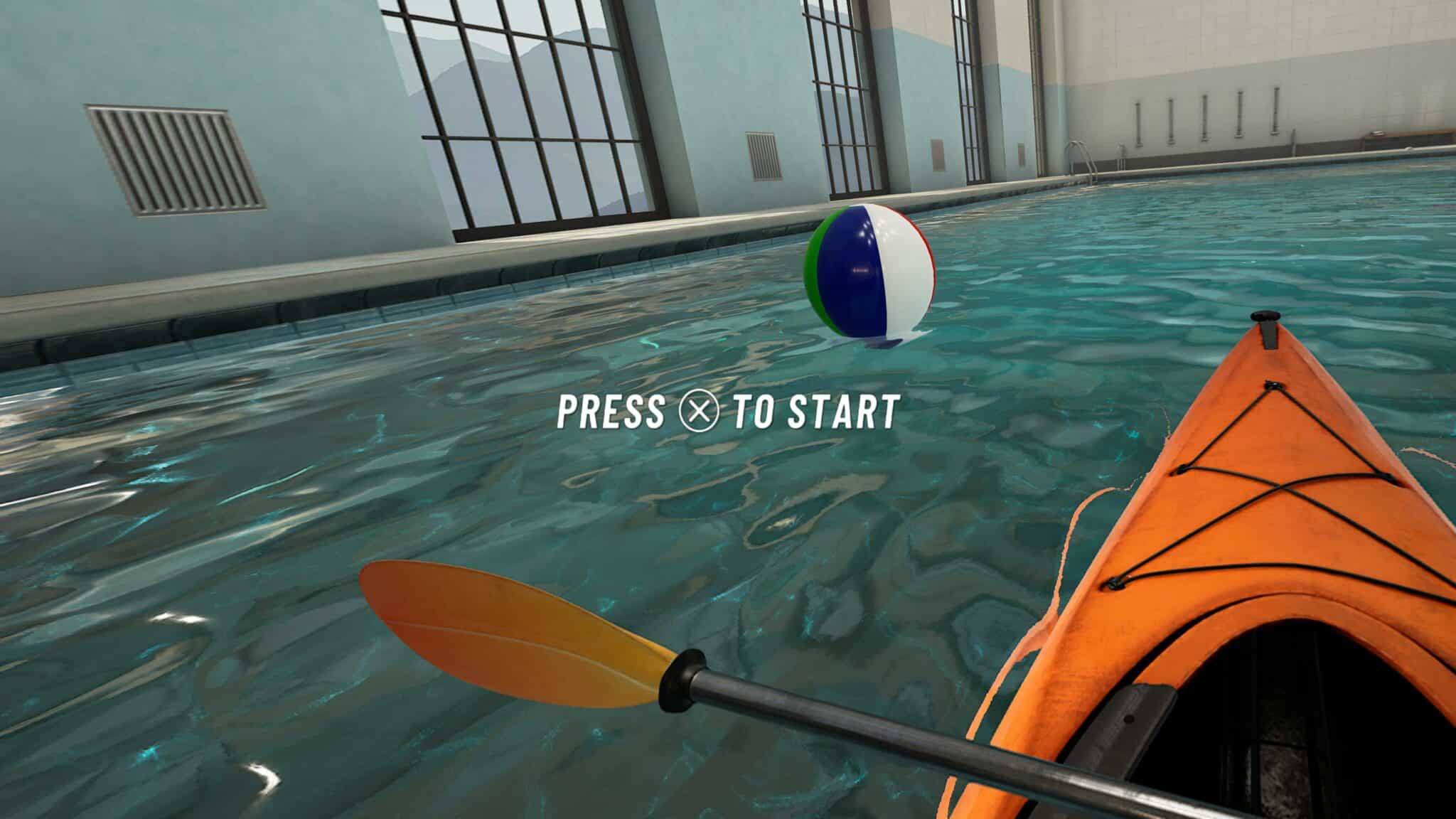 Kayak VR: Mirage Review – Final Verdict
Kayak VR: Mirage is a quiet highlight of the PSVR 2 launch window and thrives in its free roam mode. The competitive multiplayer won't suit everyone and seeing everything doesn't take long, but the realistic physics and stunning presentation will keep me coming back for a long time. This is easily one of the most relaxing games I've ever experienced.
---
UploadVR focuses on a label system for reviews, rather than a numeric score. Our reviews fall into one of four categories: Essential, Recommended, Avoid and reviews that we leave unlabeled. You can read more about our review guidelines here.