Insta360 has seemingly been on a non-stop clip when it comes to introducing new products. I remember when they showed me their Insta360 Pro camera and let me use it for a couple weeks. I was so impressed with the overall image quality, but it had a lot of things that needed improving, especially at a $3,500 price point.
The Insta360 Pro was not a consumer camera, but it also wasn't quite a professional camera either. That's why it fell into more of a prosumer category. But with the introduction of this new Insta360 Pro 2, we're starting to see Insta360 get more serious about the target market.
The new Insta360 Pro 2 can now do 8K 3D video at 30 FPS, which was previously limited to 6K 3D in the original Insta360 Pro. The new camera can also do 8K monoscopic  at 60 FPS, 6K 3D at 60 FPS and even 4K 3D at 120 FPS. The Insta360 Pro 2 also features in-camera HDR to help reduce the number of highlights because of variance between light sources and camera sensors. The Insta360 Pro 2 also adopts Insta360's FlowState stabilization technology, which first made its introduction of the Insta360 ONE and is some of the best stabilization I've ever seen to date. This helped to solve one of the biggest problems with recording video in 360, camera shake is immersion breaking and causes VR sickness and you can't have it. That's why Insta360 basically had to implement this future moving forward. The 12K super high-res still capability remains the same.
One of the biggest problems that I encountered with the original Insta360 Pro was trying to capture shots without having myself be in the shots. This was incredibly difficult with the original Pro because it had a limited range of about 20-30 feet before you lost signal. To remedy this issue, Insta360 is implementing a new antenna technology called FarSight that gives the Insta360 Pro 2 a range of about 300 meters, according to Insta360's own specs. However, I only witnessed it working at 100 meters, which is still a great improvement over the previous generation. Insta360's Wi-Fi technology operates at 5.18 GHz which should hopefully interfere less with other 5 GHz signals, and Insta360 claims a ground to air distance of up to 1KM (when used on a drone). FarSight comes standard in the first shipping models of the Insta360 Pro 2, but will eventually be optional in the coming months with a price reduction of $500 if you opt not to get FarSight.
Insta360 also improved the workflow for their cameras with the Insta360 Pro 2, with their integrated Premiere Pro workflow that allows for the use of proxy files to speed up the editing process without having to stitch until the final edits are complete. This is an extension of all the capabilities that the Insta360 Pro already has in Premiere Pro, an application that Insta360 only had support for after the launch of the initial Pro camera. With more Premiere Pro features, the Insta360 is becoming more of a professionally-focused camera than ever before.
Insta360 has also changed the physical workflow of the Insta360 Pro 2, with six (6) microSD card slots and one SD card slot for a total of 7 memory cards. Each MicroSD card will record footage from each camera sensor while the SD card will capture stabilization and low-resolution proxy files for quick Adobe Premiere Pro editing. This is different from the past, where a single high-speed SD card was necessary and would capture each camera sensor into its own folder within the single SD card directory. While I'm not sure that this workflow will be optimal for people traveling with a professional 360 camera, I understand where this thought process is coming from and hopefully Insta360 has an easy way of getting the footage off the camera.
Insta360 is also introducing a video codec called CrystalView. This codec is able to play back high resolution 8K video files on devices like the Oculus Go and Gear VR at full quality without having to down-sample to 4K and lose image quality. Insta360's own video player, Insta360 Moment, will dynamically render these files to show the full 8K video fidelity based on where the user is looking. I believe this feature will eventually become standard in nearly all video players in the future, especially as eye-tracking becomes more popular. I still strongly believe that 8K is the best video format for viewing 360 videos and that Insta360's Pro 2 has some of the best footage I've ever seen. That includes this new ClearView technology which I saw for myself recently in a Samsung GearVR, and once again set the standard for high-quality video footage for me.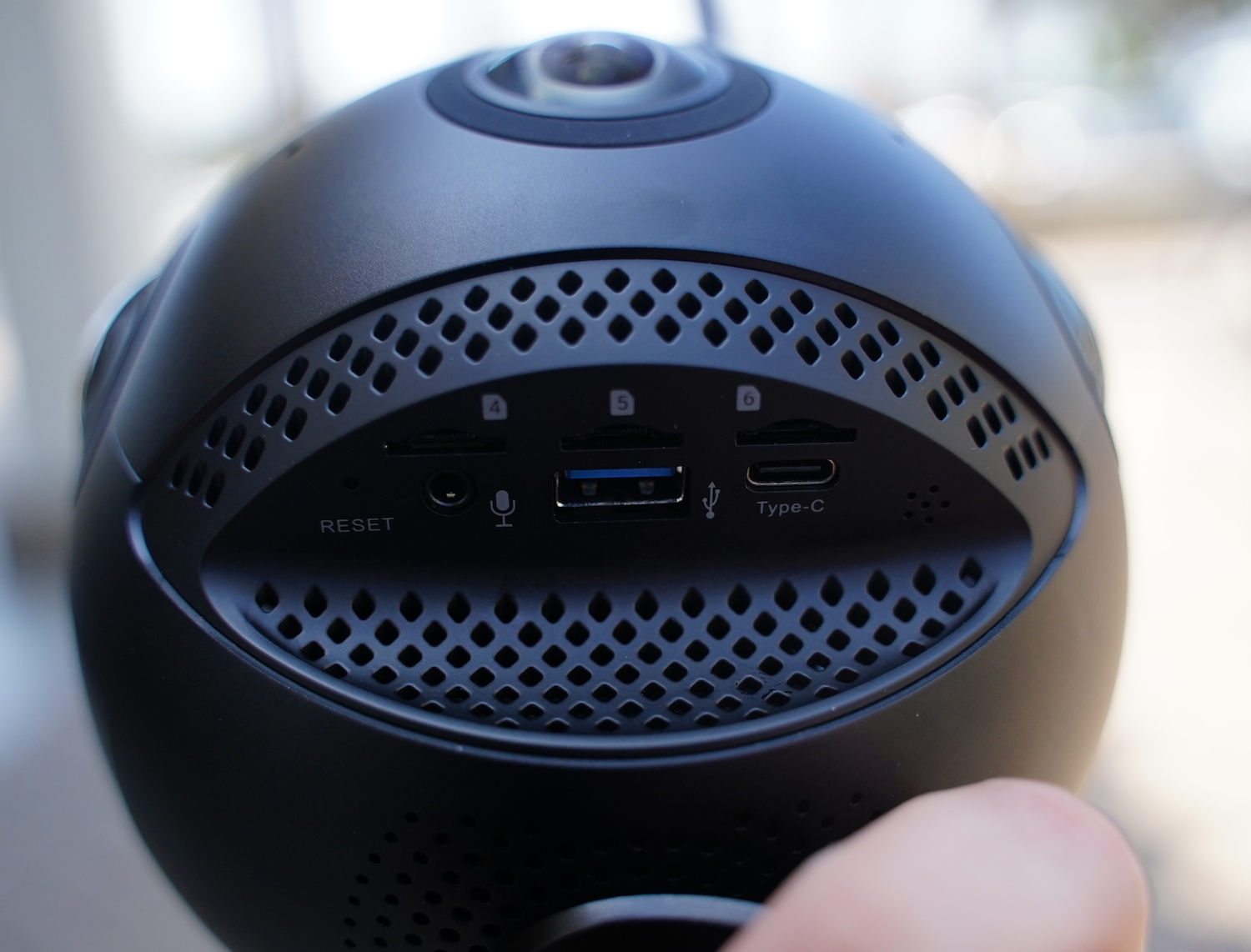 Because the Insta360 Pro is capable of simultaneous local recording and live streaming, it comes as little surprise that Insta360 made an upgrade in this area as well. The Insta360 Pro 2 is now capable of live streaming 4K footage in both stereoscopic 3D and monoscopic formats while also saving 8K source files on the microSD local storage. Previously, it was impossible to do 4K 3D and record 8K local files, but with this new version of the Insta360 Pro, professional users can and they can do it with GPS data included. The new Insta360 Pro 2 has a built-in GPS antenna on the top of the camera that makes Google Maps Street View contributions extremely easy. Not to mention other professional applications where GPS data is valuable for a user to have when capturing their shots.
The new Insta360 Pro 2 weighs in at 3.42 pounds, including battery and antennae which still makes it very friendly for hand-held shoots or shoots with a drone. All these capabilities and convenience come with a price, though. The new Insta360 Pro comes in at a nearly 50% more expensive price of $4,999, which includes the FarSight wireless technology. This price hike is unlikely to make a significant difference to some potential customers, but it is out of reach for prosumers that aren't using these cameras for their jobs. I would be interested to see if Insta360 will consider an upgrade program to get more of their professional users using the new Insta360 Pro 2 instead of the older less-capable model.
The company says that the new Insta360 Pro 2 will start shipping September and can be acquired through the company's site or B&H Photo Video as well as select retailers worldwide.