Update: This article was originally published on February 2, 2017 and has been republished now to coincide with the news that the (surprisingly good) Justice League VR experience will be available for people to enjoy later this year at its locations.
Original: We don't know yet if VR arcades in the United States are going to find success, but it is looking like IMAX VR is going to give it a great try.
We went inside the big-screen company's flagship VR center in Los Angeles this week, and got a good look at their plans for arcade roll-outs this year including centers spread across the globe. In short, I saw a series of well-designed spaces equipped with some of the best virtual reality hardware and software available.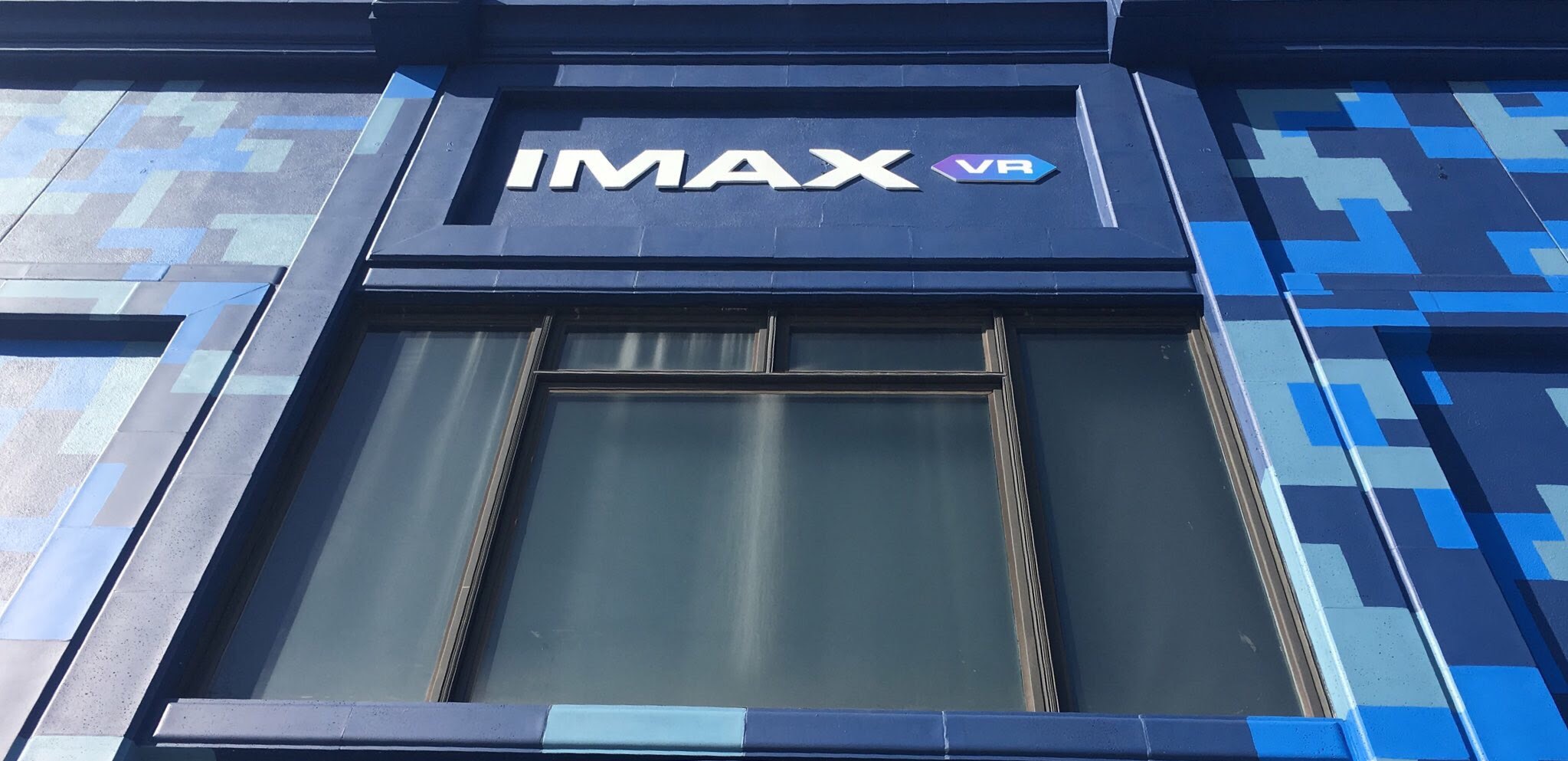 Visiting virtual worlds in the center costs about $1 per minute right now ("Each experience is approximately 5 to 15 minutes long" and "featured experiences range between approximately $7-$10"). That could change as more content is introduced to the location over time.
The first arcade in Los Angeles is not connected with a multiplex, but future IMAX VR centers in Los Angeles, New York and overseas will be connected to movie theater locations. The idea is you'll head out to the movies and before or after the big show you'll visit the VR arcade for a few minutes.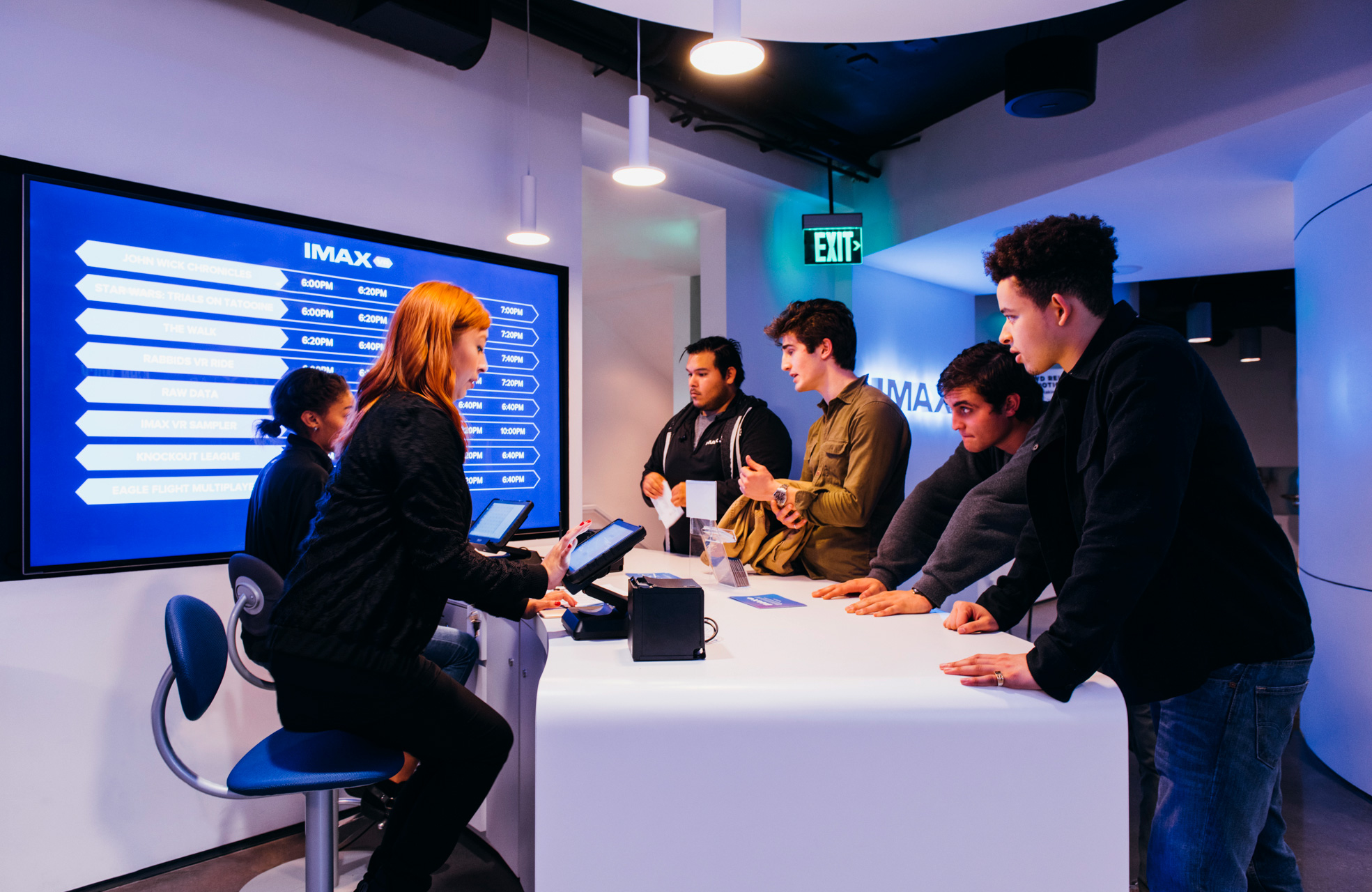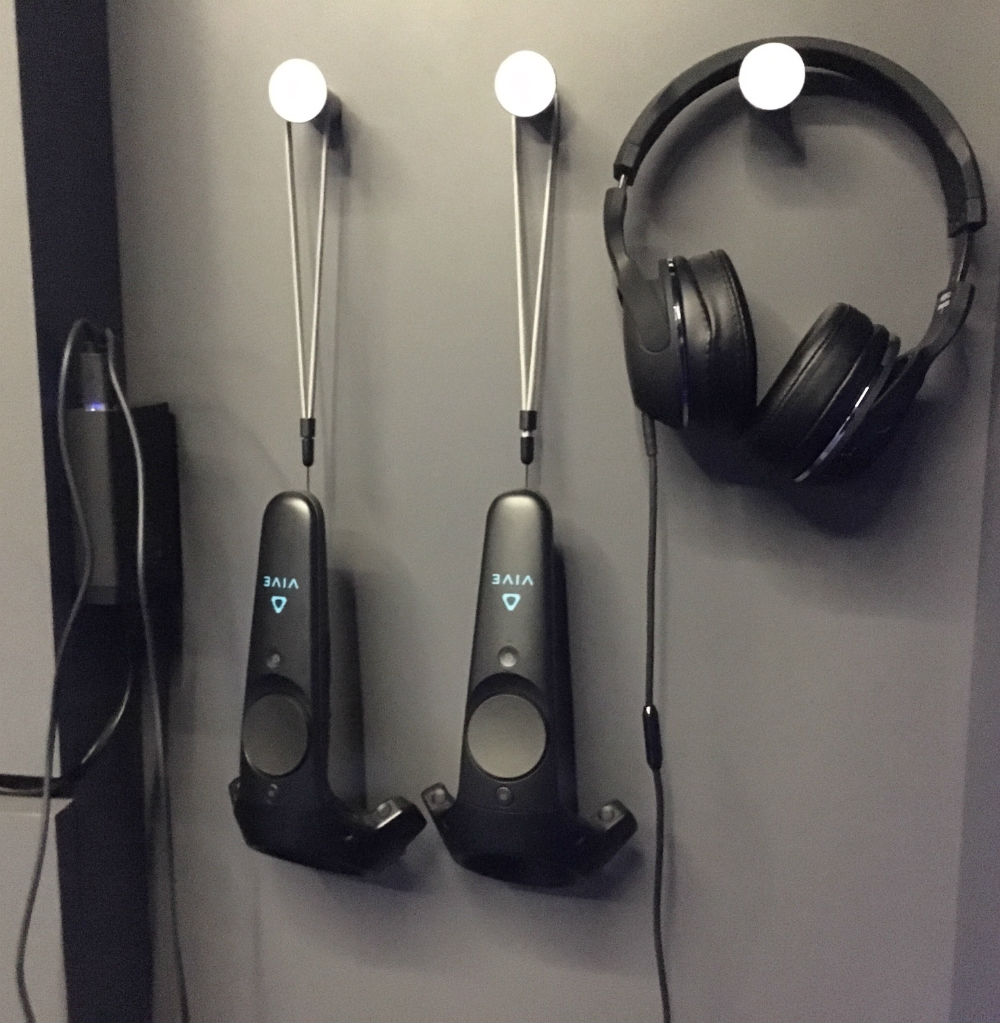 HTC is betting big on VR arcades in China. An arcade version of its Viveport VR content store is designed to make it easier for groups to set up a location equipped with a variety of worlds to visit. There's an assumption that out-of-home VR experiences are going to be very popular in Asia where many people have less space and money to install their own equipment. It remains to be seen whether similar arcades in the United States and elsewhere will find success, but IMAX is looking to make a strong go of it.
"This will be a breakthrough for the U.S. I think," said HTC's Viveport President, Rikard Steiber.
A lot of thought clearly went into the design of this first flagship IMAX location, and it is equipped with hardware which should exceed or at least rival the setups early adopters have at home.
For VR enthusiasts in the Los Angeles area looking to introduce friends, family or coworkers to VR — this center should be strong competition for anything you've set up personally.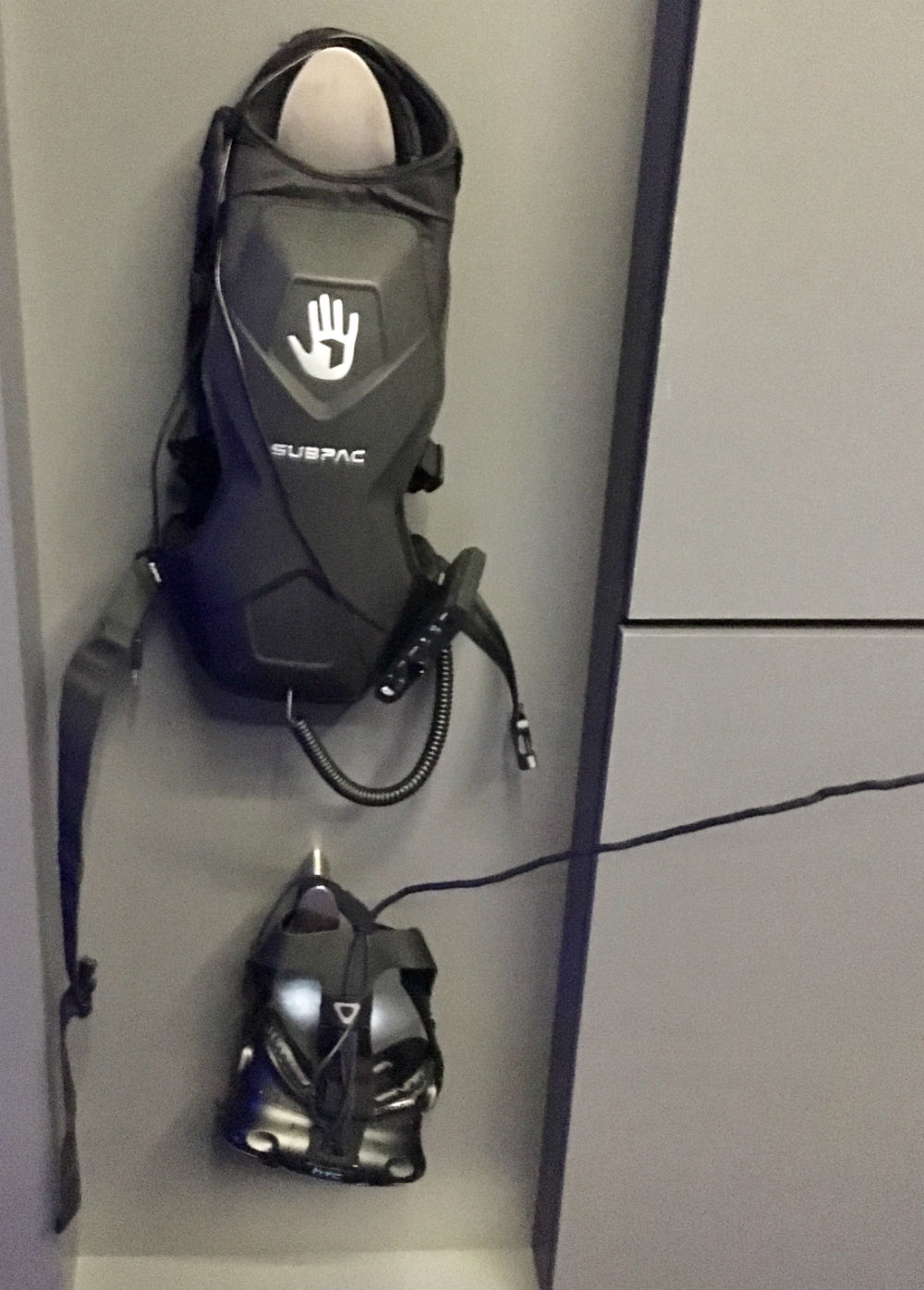 [gfycat data_id="SpotlessPlaintiveBlackfly"]
IMAX is making clear it is providing a premium experience partnering with the HTC Vive for a series of room-scale pods complemented by Subpac haptic vests and a D-Box motion chair. Powerful PCs are stored out of sight overhead with wires running down on "balancers" meant to manage the wires and keep them out of the way while moving freely around the room.
Here's the roll-out plan for the next pilot centers:
IMAX has signed agreements to open an additional five IMAX VR centres in the coming months, including a pilot Centre in the UK with ODEON & UCI Cinema. The Company is also currently in conversations to open additional pilot centres in Japan, the Middle East and Western Europe. These pilot locations will test several factors including the overall customer experience, pricing models and the types of content featured. If successful, the intent is to roll out the concept globally to select multiplexes as well as to commercial locations such as shopping centers and tourist destinations.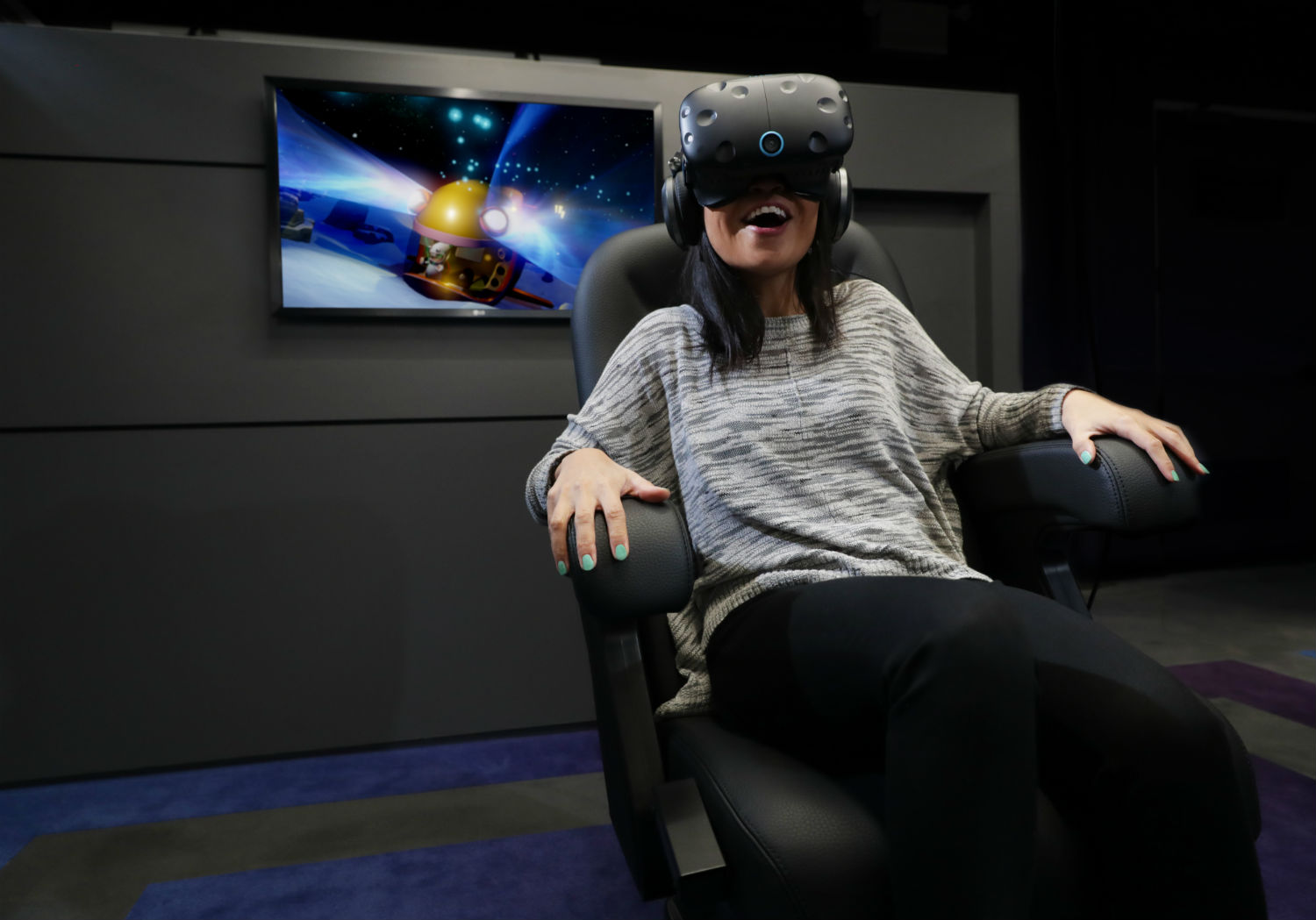 While most of the pods were equipped with HTC Vives, a pair of StarVR headsets were also at the IMAX location, powered by some of the beefiest graphics cards available hidden away in computers overhead.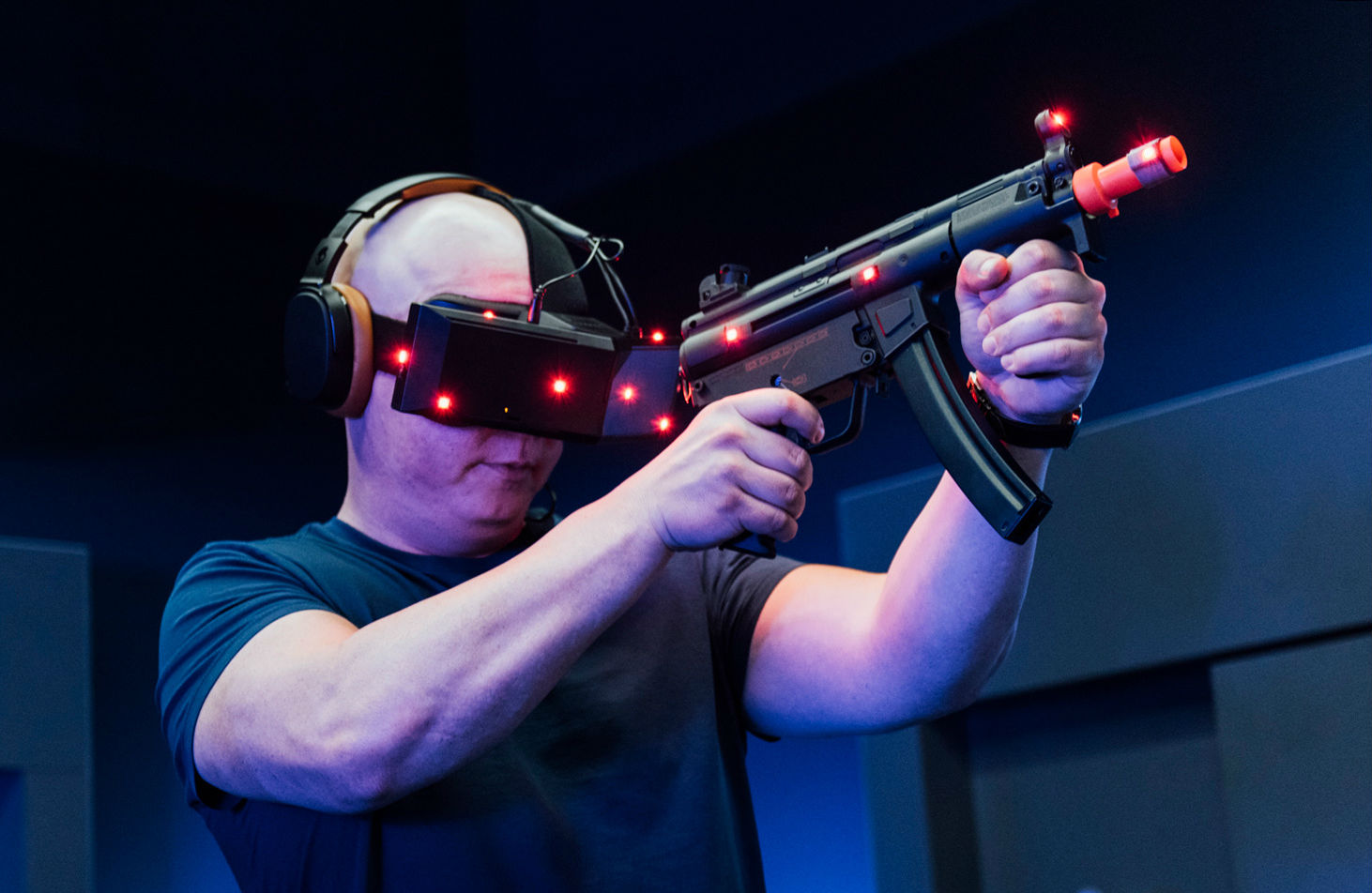 StarVR is a headset from Starbreeze that features an ultra-panoramic view compared to the first headsets you can buy for your own home. It is still very much a developer kit, though, and only runs at 60 frames per second (FPS) compared to the Vive's 90 FPS.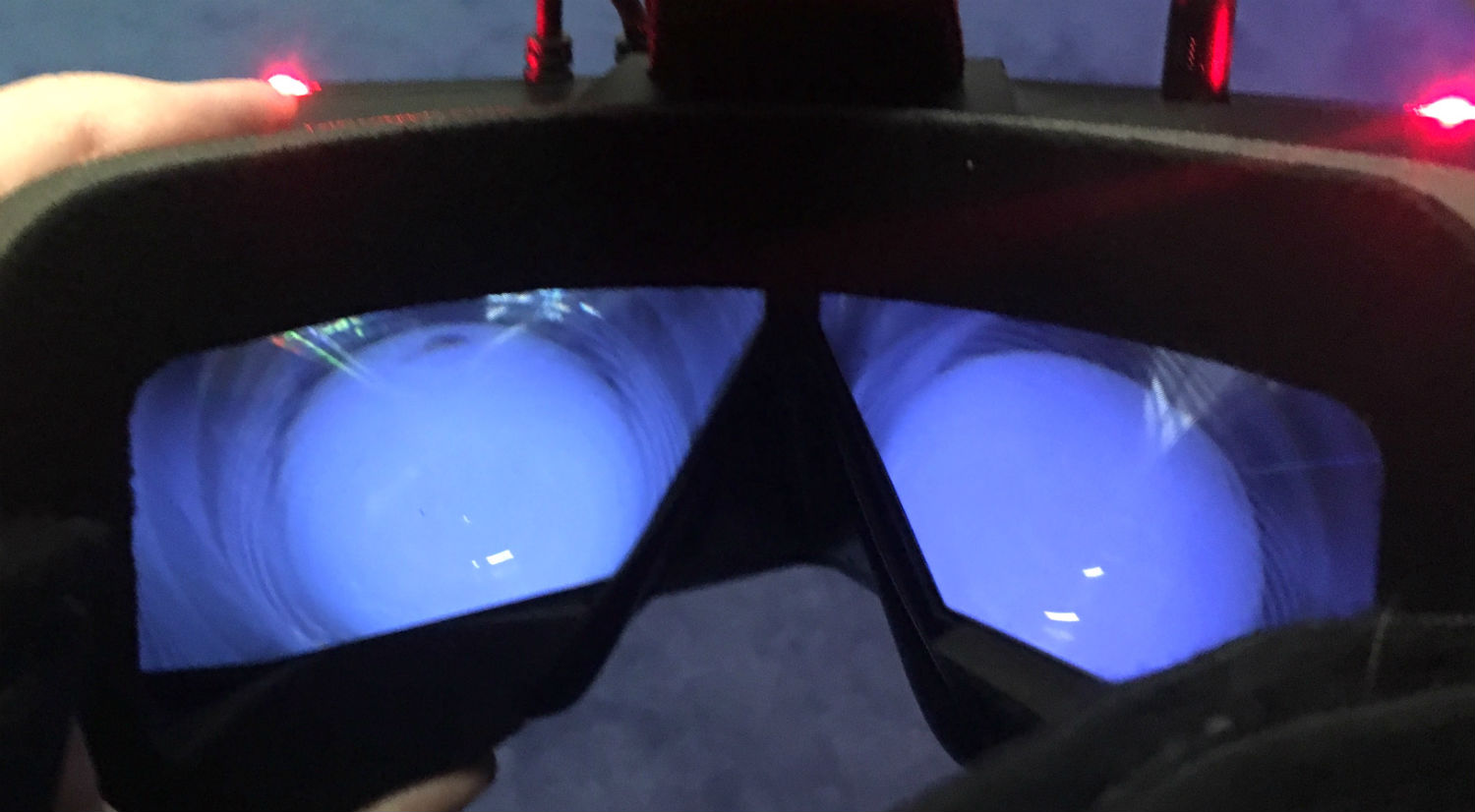 StarVR should probably come with an "experimental" sign so visitors to the center know it is not at the same level of polish as the Vive. I tried a rooftop assault version of the John Wick Chronicles VR game in the headset with a realistic gun accessory tracked using PhaseSpace.
[gfycat data_id="FrankShorttermBeardeddragon"]
I delighted in a moment when I spotted an attacker coming from my left, in my periphery, who would have been completely unnoticed if I had been wearing a Vive. But the combo of software and hardware — which uses different optics and screens compared with the Rift and Vive — lacked a level of smoothness I've come to expect from room-scale VR.
The same cord management system is used for both the Vive and StarVR systems, relying on a pair of "balancers" to keep the cord out of the way but let it extend when taking a step.
So What Can You Play?
The waiting area includes poster-size displays previewing experiences and breaking them down by available times and intensity.
According to IMAX, the company "established a $50 million VR fund together with strategic investors such as Acer, CAA, China Media Capital, Enlight Media, The Raine Group, Studio City and WPP" to "help finance the creation of at least 25 interactive VR content experiences over the next three years for use across all VR platforms, including in IMAX VR centres." The center currently features content from ILMxLAB, Sony, Lionsgate, Starbreeze, Survios, and Ubisoft.
There's also a sampler that allows visitors to try out a great cross-section of introductory VR experiences.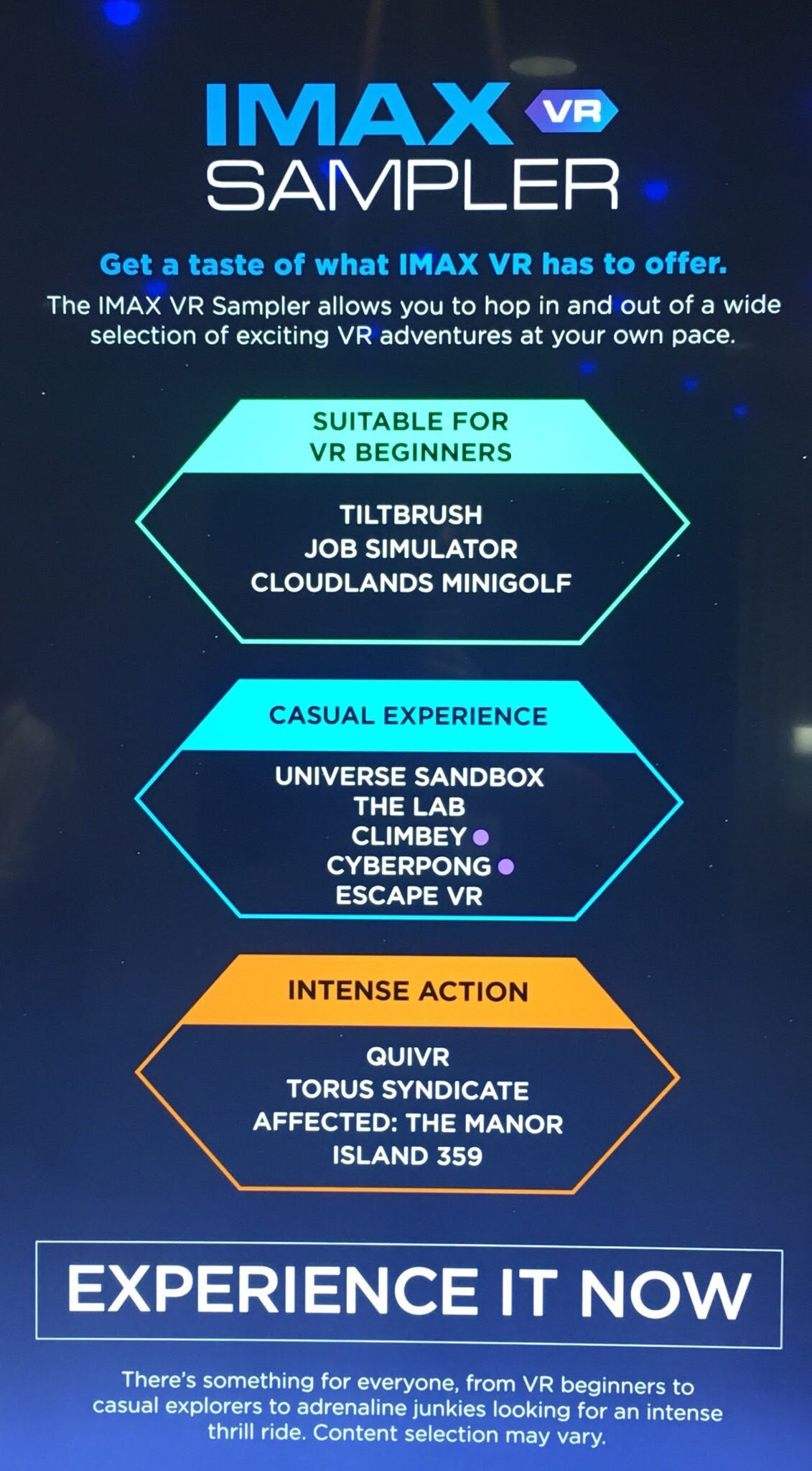 Star Trek: Bridge Crew is among the experiences coming to the center soon, and IMAX is working with Google to develop "a cinema-grade VR camera" planned for launch in mid-2018 to capture 360-degree content in 3D. IMAX is planning to " leverage the resulting content" for its VR centers.
IMAX is pretty clear this is a test for the company, but it is definitely a serious one. We'd love to see how busy the center is in the coming weeks and months, as well as what foot traffic looks like at centers rolling out inside theaters. That's the data IMAX needs to decide whether its experiment is a success. We'll both certainly be watching.
The flagship IMAX VR center is located at 157 South Fairfax in Los Angeles, CA 90036 across from the Grove. The phone number is 323-452-4081 and the link to buy tickets is available here.