Preorders for the $999 Valve Index full bundle have now fully sold out. The preorder button has been replaced with a Reserve button, with the full bundle reading "Ships by Sep 30, 2019" in the USA.

In the USA, the initial shipment for the bundle sold out in less than 30 minutes. As of today it is also sold out in other supported regions, though they don't list an availability month.
The other packages are more available, with the headset and controllers still listed as shipping by July 31. Controllers or base stations alone ship by June 28.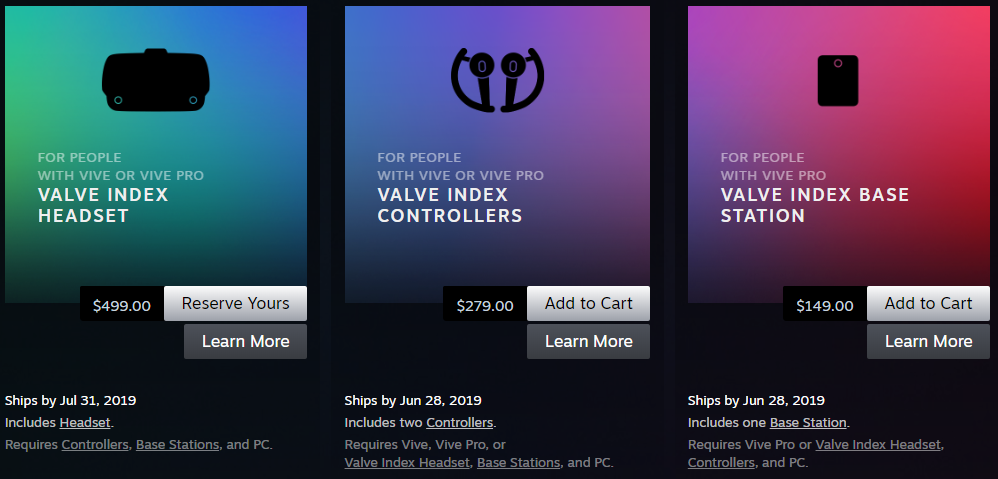 Of course, this doesn't really tell us anything about how well Index preorders sold. We don't know how many units Valve is producing, or what the company's sales expectations were. But being sold out after less than a day does indicate the launch wasn't a failure. Some expected that the $999 pricepoint would be too high for many, but that doesn't seem to be the case.
Steam is currently the only place Index is sold, and Valve hasn't given any indication that will change.
In 2016 Valve partnered with HTC to launch the Vive. This partnership allowed them to bring their research to market with a company with experience in rapid mass production and global logistics. This allowed the Vive to beat Oculus Touch to market and ship at scale much faster. By going alone this time, Valve may be missing that kind of experience. While Valve does have experience shipping the Steam Controller and Steam Link, a product like the Index is harder to manufacture and contains more varied components. We'll keep an eye on Index shipments and keep you updated on Valve's efforst to clear the backlog.