Earlier this week I visited HTC's office in San Francisco, CA and finally tried out their upcoming new HTC Vive Cosmos (official website) VR headset that launches on October 3, 2019, for $699. Pre-orders are now live.
With six inside-out tracking cameras, brand new controllers, and a high-resolution screen, this new VR device certainly has a nice specification sheet, but its value and place in the market is unclear.
HTC Vive Cosmos Hands-On Preview Video:
The demo setup for Vive Cosmos was about as effective of a VR demo I've ever had. They juxtaposed the new with the familiar by having me try out a quick demo of TheBlu in an original Vive and then immediately doing the exact same scene in a Vive Cosmos. The differences were staggering.
The upgraded 1440 x 1700 resolution per eye was extremely crisp with basically no perceivable screen door effect to my eyes, especially with the three subpixel design of the LCD. Field of view is basically unchanged compared to previous Vive iterations, reportedly sitting at around 110 degrees. I was also immediately a fan of the new Cosmos controllers which look and feel similar to the new Touch controllers for Rift S and Quest. Like, really similar.
For me, all of that really highlighted what makes the Vive Cosmos unequivocally better than not only the original Vive, but in many ways even better than the Vive Pro. This definitely seems like it's HTC's most feature-rich headset yet, but even still, in the fall of 2019, I'm not sure that's enough since HTC isn't just competing against its own lineup. It might just be too little too late.
Vive Cosmos Release Date Trailer:
Comfort and Headset Design
Let's start with the headset itself. As stated, it offers 1440 x 1700 pixels per eye with three subpixel RGB LCD panels, which pushes the number of pixels higher than even the Valve Index and edges out the Pro. Without a doubt, it's got a great display. The lenses also seem to be improved as well, but I didn't get to spend enough time to really say anything too definitive about how they compare to the lenses on other 2019 VR headsets.
The end result is fantastic clarity, a generous sweet spot, and probably the most comfortable headset I've used from HTC yet. It's very light and the weight distribution is great. From a visual performance and fit perspective, the Cosmos checks a lot of boxes for me. They even switched to a halo headstrap design similar to the PSVR and Rift S. But from the outside looking in, I really don't like the style. The front panel enabling six camera inside out tracking reminds me of the vent on the side of a microwave or a cheap vehicle grill, and it looks a bit silly.
One really great minor feature of the Cosmos that I wish was more common in other headsets is how the front visor flips up. Even while wearing glasses it worked great. As someone that often streams VR games and generally spends a lot of time in VR, being able to quickly flip it up without removing it or awkwardly placing it on my forehead and smudging the lenses is great.
Finally, the audio was really good as well. The earphones hang down and sit against your ears just like the Deluxe Audio Strap and Vive Pro, but according to HTC, this is their best audio solution yet. Based on my brief demo I couldn't discern a difference in quality compared to other HTC audio solutions.

Vive Cosmos New Controllers
Since the tracking system is all-new, that means new controllers as well. There are no base stations to track your controllers anymore so now they've got a ring design that looks remarkably similar to the Oculus Touch controllers, except with a really fancy light design that's reminiscent of Tron. I honestly dig it.
And just like Oculus Touch, it's got an analog stick, two face buttons and one menu button on each controller, triggers, and grip buttons. However, it also adds a second trigger just like PS4 and Xbox One controllers have. I didn't try any demos that really took advantage of this, but having slightly more nuanced interactions is usually not a bad thing if developers use it well. Generally the layout felt good and very comfortable.
The Cosmos controllers are actually quite hefty. I feel like I could use them in place of brass knuckles in a fight and probably fair okay. They've each got two AA batteries powering them and the build quality is really nice. I can definitely say they feel sturdier than Oculus Touch controllers even if they look almost identical.

Vive Cosmos Inside-Out Tracking and Passthrough
Since the Vive Cosmos is an inside-out tracked headset like Windows VR devices and the Oculus Rift S, or Oculus Quest, that means you don't need tracking hardware outside your play space at all. Cosmos includes six cameras on the headset itself, which is two more than the Quest and one more than the Rift S. HTC claims the tracking volume is 310-degrees around the headset with its only real blind spot directly behind your back/head.
Generally speaking, tracking felt comparable to Rift S for the most part with two exceptions. The first is a positive in favor of Cosmos and that's the extra camera on the underside of the headset pointed down. Because of this camera's placement I could let my hands dangle by my side or hold them down low without any tracking issues at all. Sometimes on Rift S (and especially sometimes on Quest) leaving my hands near my waist for too long causes issues.
The second main difference is a negative, but I don't really know how to explain why it happened. During my demo with Swords of Gargantua I was able to fight off enemies just fine by blocking, parrying, and generally playing like normal. Then I did a little test where I held my arms behind my head, below my neck, and waited a few seconds for tracking to fully be lost, then slowly moved my hand back in front of me. On Rift S the controllers are very quick to return into view and snap back in place, but on more than one occasion it took a full two seconds or more for it to happen with Cosmos.
This is a very specific scenario and I was specifically trying to break the tracking, but it's still worth noting. The other demos I tried included Audio Trip, which performed great and looked beautiful on the high resolution display, and Eleven Eleven, a gorgeous branching narrative game.
Similar to Rift S and Index, the Vive Cosmos includes passthrough functionality for its front-facing cameras. This means while wearing the headset the cameras will display the real world as-needed, but unlike Rift S, it's in full color.
The passthrough turns on automatically if you start to go beyond the tracking boundary you've set up. It was neat being able to poke my head out, look around at the real world, and then dip my head back through the wall and return to VR. You can also manually toggle this feature by double-tapping either of the two Vive logo buttons on the controllers.
Vive Reality System Video:
Vive Origin Platform
Alongside Vive Cosmos, HTC is also launching their own branded VR home hub called Vive Origin. It's a lot like SteamVR Home and Oculus Home, except it's tied to their Viveport store instead. I'm surprised it took them this long to release a branded home space.
The way it works is you load onto this little circular island with a tree in the middle and there are a handful of stations you can interact with in the space. One station summons a remote control RC car, another lets you browse a collection of sculptures and statues with info bubbles like a museum, and another shoots out an orb into the sky that erupts like a firework and slowly transforms the 360 image surrounding you as the background. It's a great effect, but I was disappointed the images are entirely static and not animated at all. Looking out at the Golden Gate Bridge surrounded by static water with waves frozen in time was a bit odd.
One side of the island has a waterfall and pond with some fish and lily pads in it and then on the other end there is a cozy apartment pod. It's a nice space that feels homey and it even has a Vive Cosmos headset that you can put on your face, while in VR, for a quick passthrough preview, which is a nice touch.
And that's about it. No customization that I saw, no multiplayer at all (yet, they said that would probably be coming later) and no way to launch apps directly from within Vive Origin itself. The only way to do that is to press one of the Vive menu buttons to pull up the "Vive Lens", which is just a circular menu that pops into the air, where you can adjust settings and launch games from Viveport.
If this had launched with Vive in 2016 it'd have been fine, but I expected a bit more out of a "home" space 3 1/2 years into HTC's VR efforts. As far as I can tell, Origin is Cosmos-only for now but is likely coming to other Vive headsets soon afterward.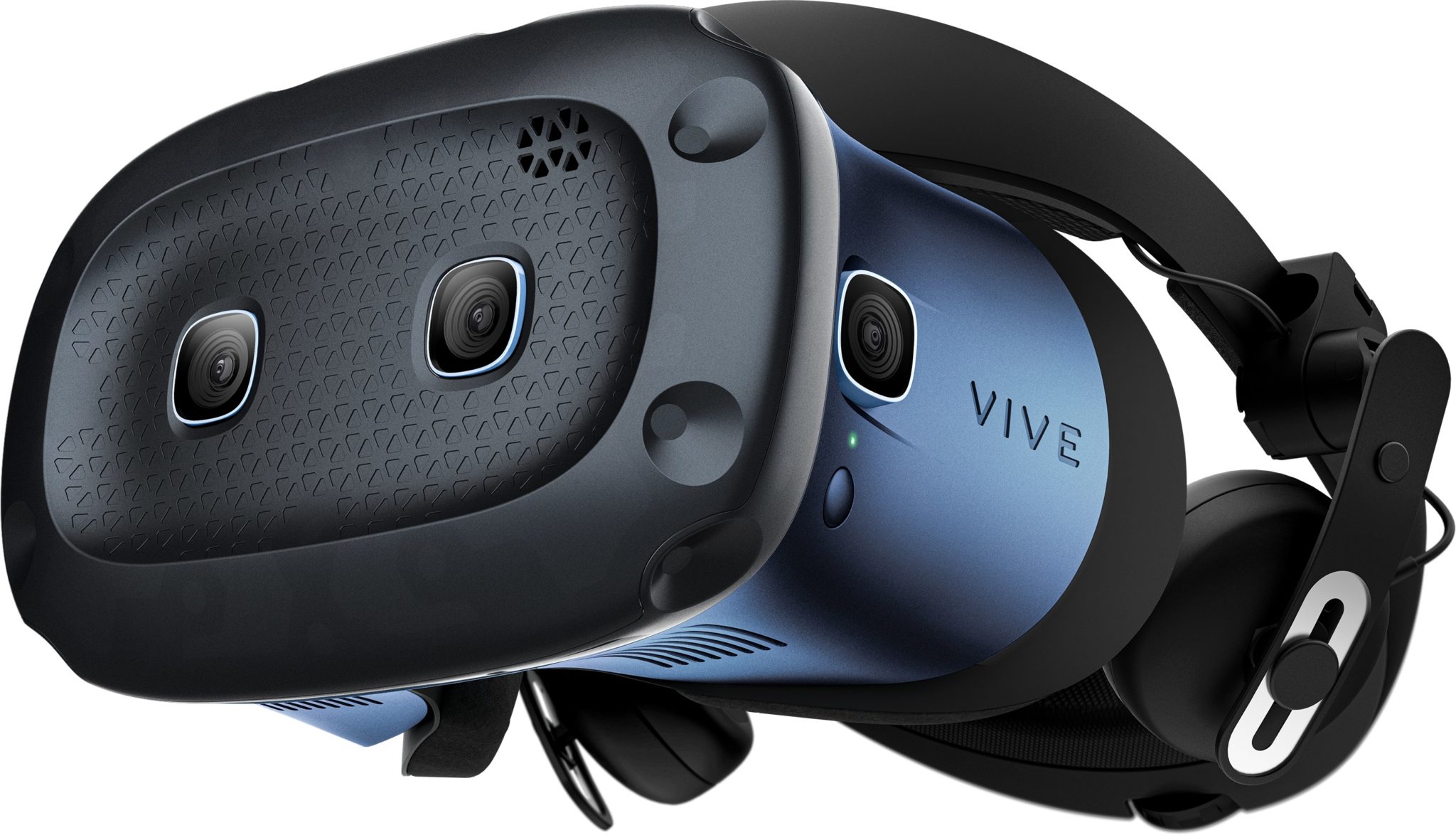 The External Tracking mod ships in early 2020 and will enable the Vive Cosmos to work with SteamVR base stations.
Add-On Mods and Smartphone-Powered Functionality
HTC pitched modding as the major differentiating feature for Vive Cosmos. The front face plate can be taken off and replaced with alternate versions that will enable different features. In early 2020, HTC says they'll launch a faceplate that enables external SteamVR Tracking base station connectivity so if you have those base stations already from a previous Vive, this attachment should let you use it in that environment natively. That means HTC is promising future support for Vive wands, Index Knuckles controllers, Vive trackers, and everything else soon. That's still several months away without a release date or price.
The ability to power your Vive Cosmos with a phone instead of PC, a feature that was hinted back at CES in January when the Cosmos was unveiled, is mysteriously absent. When I asked HTC about the feature, they just said it's on the roadmap and isn't being discussed right now.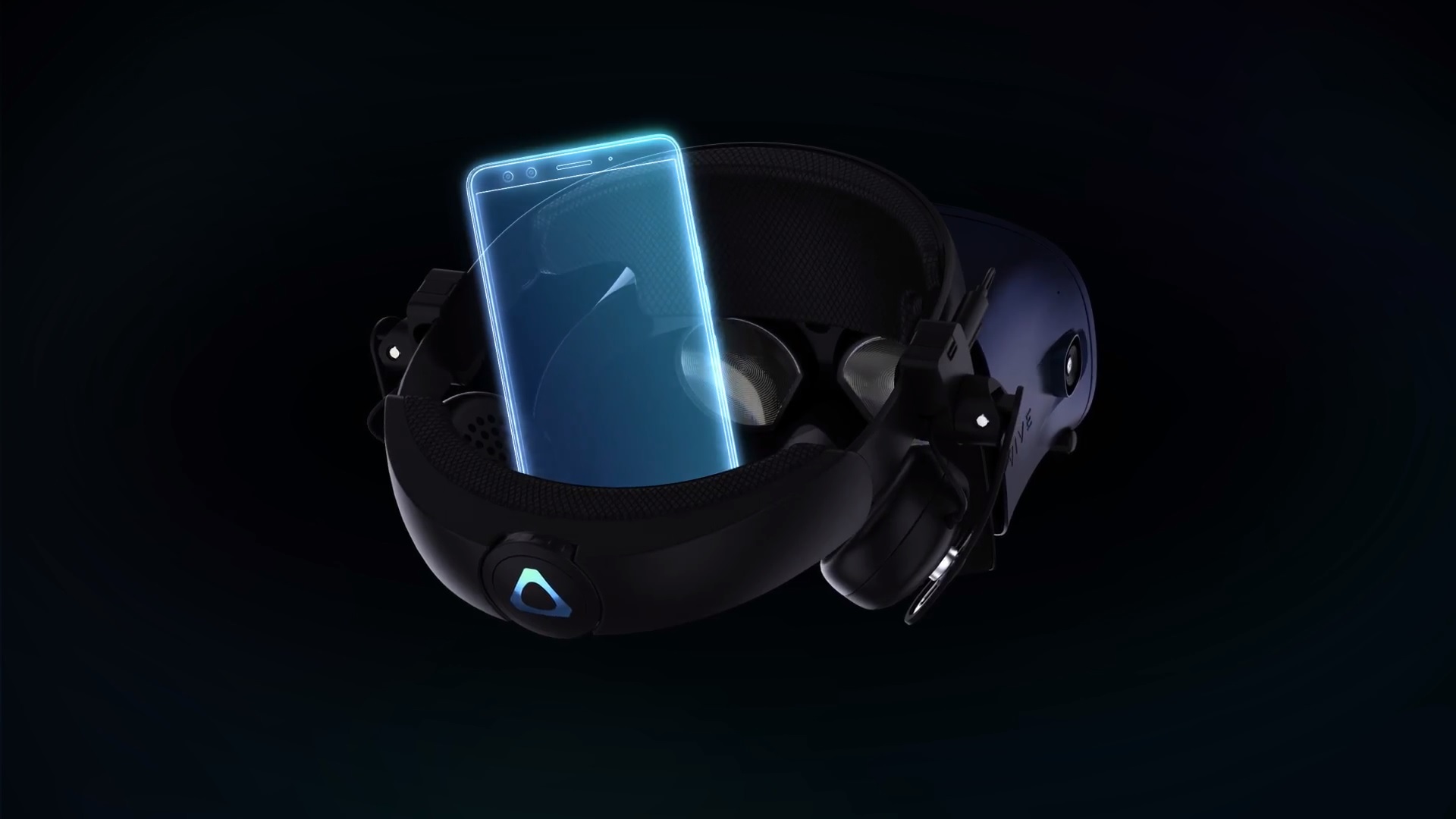 That's a major disappointment. The prospect of a headset that can reliably swap between phone-powered VR when needed and high-fidelity PC-powered VR is extremely interesting and was one of the key marketing pillars for Cosmos that got a lot of people excited. As far as I'm concerned, the lack of discussion on that feature deals a significant blow to my personal interest in the headset at all.
HTC did tell me that the wireless adapter they released previously would be compatible too, but you'll have to buy an attachment kit similar to the one needed for the Vive Pro. Another bummer, and another topic HTC was unprepared to offer a date or price for.

Which VR Headset Do You Buy?
Which brings us to the question at hand: Which VR headset do you buy? The main competitors are Rift S and the Valve Index.
In terms of sheer pixels, it's got the highest resolution compared to the Rift S, Index, and all past Vive headsets, but the Index still has it beat for refresh rate and field of view. The controllers are very similar to the Rift S controllers, but the Index controllers are really the top of the line from that perspective. It's got built-in audio, but again Index audio quality is best-in-class by comparison.
Vive Cosmos sits at an interesting juncture. It's got similar tracking to Rift S and similar controllers with a similar halo headstrap design, but it swaps the Oculus Home store for Viveport, ups the resolution, and improves the audio. But is that worth the extra $300 price tag?
Compared to Valve Index it gets a little trickier. If you don't have base stations and never owned a Vive then the full Index package is $999 and Cosmos is $699. But if you do already have base stations, I don't think I could reasonably recommend anyone pre-order a Cosmos over just buying an Index headset plus Index controllers as a $749 package instead.
All that being said, this isn't a review. I'm basing these opinions from a single 30-minute demo session. To be honest, I wasn't too excited about Rift S after first trying it at GDC earlier this year, but now it has become my go-to PC VR device simply because of the ease of use and form factor. If you're dialed into the Vive or SteamVR ecosystem already, there's a good chance Cosmos could fulfill a similar spot for you.
However, we're not sure when we'll get review units. HTC told us they should have info on timing in a couple of weeks, but the headset starts arriving to buyers October 3rd, which is less than a month away. There's a good chance we'll be ordering a headset as consumers, then, and won't have a full review in time for launch — but fingers crossed that isn't the case.
Let us know what you think of the Vive Cosmos down in the comments below! We'll answer as many questions as we can.
---
For more details on the Vive Cosmos make sure and check out our coverage hub, read our price and spec breakdown, check out pre-order info, and see what HTC's Dan O'Brien had to say about the (bleak) future of the original HTC Vive CE headset.
Editor's Note: A mention of the field of view was added near the beginning of this article.