ATTENTION VR GAMERS: We're teaming up with ARVORE to give away a free 'Pink Cassette' Limited Edition version (releasing April 12th) of cult classic nostalgia-charged VR game, Pixel Ripped 1989. Details below!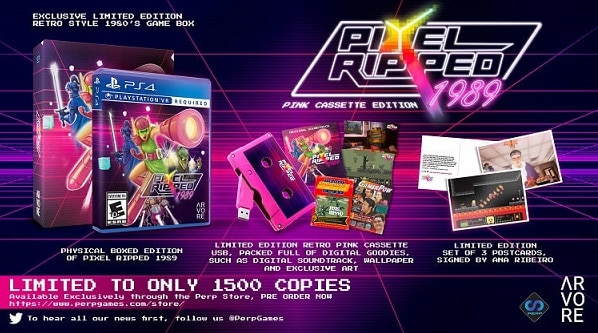 The Pink Cassette Edition is exclusive to the Perp Games Online Store and only 1,500 will ever be sold. This makes it a must-have for collectors and a very rare giveaway option for fans of the series and fans of VR in general.
This extremely limited Pink Cassette Edition includes an exclusive, limited-edition retro-styled 1980s game box with a physical boxed edition of Pixel Ripped 1989 on PlayStation VR inside, a limited edition retro pink cassette USB drive which contains the digital soundtrack, wallpaper, exclusive art, and three limited edition postcards, including one signed by Pixel Ripped's creator, Ana Ribeiro.
For more details on the game itself, here is what I had to say in my original review from 2018:
Pixel Ripped is a love letter to all things classic gaming. From the inventive melding of retro graphics with a modern VR game setting to the way it subverts medium stereotypes by putting you in the dress and shoes of a grade school girl with a trusty Gameboy, it's hard not to smile while playing this nostalgia-fueled adventure. A few minor hiccups hold it back from truly transcending the medium as a whole, but anyone that has fond memories of video games from the 80s and 90s absolutely needs to check this one out.
And if you love Pixel Ripped 1989, definitely check out the sequel, Pixel Ripped 1995, which builds on everything that made 1989 great and delivers an even better (in my opinion) nostalgia trip that's dripping with charm.
GIVEAWAY: Win A Free 'Pink Cassette' Limited Edition Of Pixel Ripped 1989 On PSVR!

To enter into the giveaway fill out the form above or at this link here. A winner will be randomly selected and contacted via email on April 9th. You'll send us your shipping information and we'll give that to Perp Games so they can ship you the physical Limited Edition.
Let us know if you have any questions down in the comments below!