2016 was the year of VR hardware and it's looking like 2017 is the year of software and accessories, but there are still many skeptics about the potential of the industry. Because of those, supporters and detractors clamor for whatever data is made available, from sales to time spent playing on VR platforms and more.
As development charges forward, creators are interested in statistics deeper embedded within their games as well, especially those that could help them create better VR experiences. Aldin Dynamics, a studio founded in 2013 that works exclusively on VR content, has a powerful analytic tool called Ghostline and they've started fostering partnerships with other dev studios to use the tool with their games.
Aldin Dynamics is starting things off by sharing their Ghostline program with Cloudhead Games and the SUPERHOT team, who both have created top experiences in the VR ecosystem. SUPERHOT and The Gallery – Call of the Starseed both received 9s out of 10 from our team at Upload and both are maintaining "Very Positive" ratings on Steam at the time of this writing. Even though the high reviews allude to these developers having a solid grasp on what they're doing, the VR ecosystem is incredibly young and developers will want to take special note of what they're doing wrong as well as right for future projects. The immersive nature of VR presents a lot of data about players that wouldn't be considered in traditional game development, so tools like Ghostline will be crucial going forward.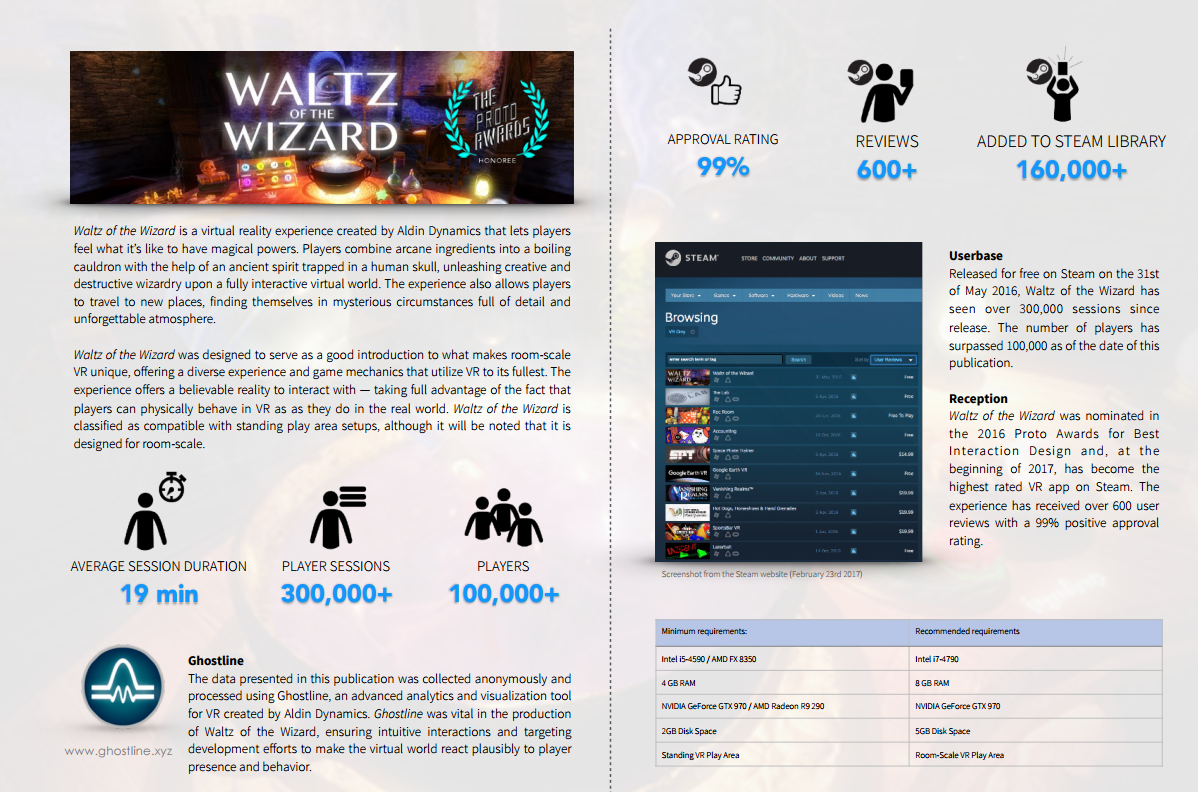 To offer up an idea of what Ghostline offers, Aldin Dynamics shared the information gathered from Waltz of the Wizard which is another one of the best performing VR titles on Steam. The document has the expected information like the amount of people playing with more in-depth info like the average duration of a play session and what days of the week people play. It goes beyond that into unique VR territory with tracking of player height and how regularly they utilized room-scale, both important things to note for future games. A notable takeaway is that players using room-scale would play for longer periods than those just standing in one spot. The full PDF shows the potential of Ghostline and will hopefully inspire devs to use the tool and apply what they learn going forward.
Developers that are interested in partnering with Aldin Dynamics for Ghostline can reach out to the team via info@aldindynamics.com or sign up for their newsletter to stay informed on early access for the tool.