Innovation across industries is being inspired by emerging AR and VR software and hardware, a fact that was made clear today during the ASUS press conference at CES 2017. During the Zennovation keynote, Asus revealed their ZenFone AR that contains a TriCam system for immersive and high-quality AR experiences.
One of those highlighted experiences, the result of a partnership with the major clothing company Gap, is an augmented reality shopping application that provides you with a digital mannequin for you to try different clothing out on.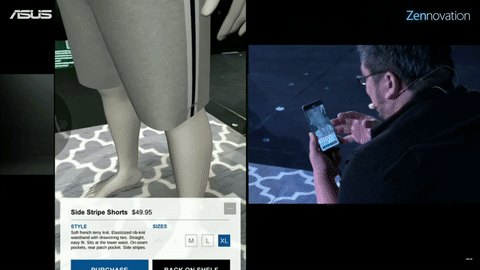 Online shopping is a massive force in various markets, but in retail and clothing sectors it has its limitations. While this isn't a final solution that makes brick and mortar shopping obsolete, having an AR clothing application with the backing of Gap is a huge step forward.
During the on-stage live demo, the presenter searched through a side menu of different clothing options and then chose a size to model on the digital mannequin that occupied the space in front of him. Once the mannequin was rendered with the shorts he chose, he was able to walk around it and get up close to see some of the details. He then switched the size of the shorts to get the length to what he desired.
Gap is one of the largest specialty retailer (3rd in total international locations) and having an application with them behind it is a huge move. The most obvious reason is that having such an entity taking this step shows that the potential of AR technology is appealing enough for a major company to invest in it. In addition to that, the app is backed by decades of information regarding shapes and sizes so users can get fairly accurate ideas of what the clothes will look and fit like once they receive it at home.
This is a monumental push into the shopping industry for AR and we won't be surprised when other retailers start to follow suit. Other brands like Alibaba and Amazon are already making moves towards VR shopping experiences.