Update: Firewall Zero Hour is out and it totally lives up to the hype! Read our full review here.
Original: Firewall Zero Hour is just around the corner with a release date of August 28th, 2018. In preparation for the game we've rounded up all of the information we've got so far on this highly anticipated release. Once Firewall is out on PSVR, you'll already be locked and loaded to jump in if you read this.
So here's everything you need to know about PSVR-exclusive shooter, Firewall Zero Hour!
What Is It?
Firewall: Zero Hour is a PSVR-exclusive tactical, team-based first-person shooter. In the game you pick one of 12 different contractors, form a team of up to four total players in its core Contracts game mode, and fight against another team of four players. There are Solo and Co-Op training modes as well.
Gameplay is slow-paced and methodical, similar to non-VR game, Rainbow Six Siege, or PC VR-exclusive shooter, Onward. There are no respawns during matches and the objectives are more complex than simply "kill the other team" to encourage teamwork and strategy.
We've gone hands-on with the game on multiple occasions, so you can read more about why we think this could be the next great VR shooter right here and right here.
How Many Game Modes?
In Firewall: Zero Hour there are essentially two game modes: Training and Contracts. In Contracts two teams of four players fight against each other on one of nine maps. The objectives for the Attacking team to locate and steal sensitive information by hacking a firewall and then retrieving intel off of a laptop inside the level. If you're on the Attacking team you must complete your objectives. Simply killing all of the Defenders but not completing your objective will result in a loss.The Defending team's goal is to prevent the Attacking team from getting the information, or killing all of the Attackers.
What makes matches extra intense is that there are no respawns at all. Once you're dead, you're out until the next match and can only watch security cameras to give your team advice.
The only way of playing the Contracts game mode will be through competitive 4v4 online multiplayer so an active community will be very important. If you decide to play Training instead, you can do this either as a Solo player against a stream of AI enemies, or in Co-Op with a total of 2-4 real players against a stream of AI enemies. In Training, the objectives remain basically the same for both Attackers and Defenders.
Both Contracts and Training will be playable in either Public or Private varieties, however, you only earn XP and rewards for playing Public matches. All game modes require an internet connection to play and PlayStation Plus is required for both Co-Op Training and Contracts.
What About Single Player?
As explained above, there will be a single player option in Firewall: Zero Hour, but it's just one of the "Training" modes that is basically focused on the same objectives as Contracts multiplayer. The only difference is that you're facing off against a stream of AI bots instead of other players. You will still gain XP and credits, but not as much as in Contracts.
This means that there is not a structured, narrative campaign. If you're looking for a story mode similar to DOOM VFR or Farpoint, then you should look elsewhere.
Even the single player Training mode requires an internet connection to play.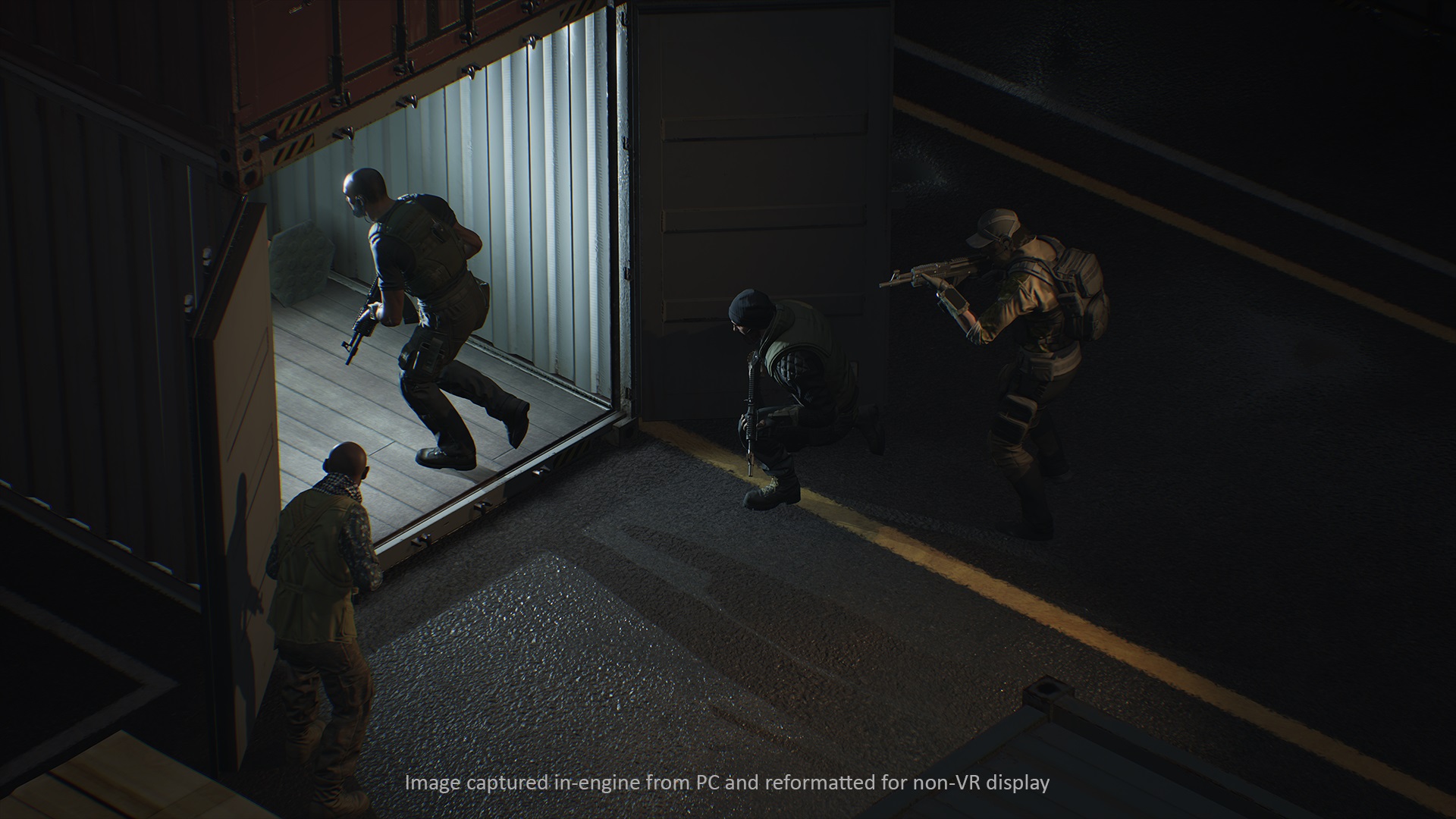 How Do Contractors And Progression Work?
There are a total of 12 different Contractors in Firewall: Zero Hour. Visually each of them look different and have their own personal background stories informing their voice over style, name, and abilities. Although all 12 play the same mechanically in terms of actual controls on your controller, they differ in strategy. If you've ever played Rainbow Six Siege, this should sound very familiar.
Every contractor has a single special ability unlocked from the beginning of the game, such as faster reloading for certain types of weapons. As you continue to play as a Contractor and earn XP, you'll unlock a second ability slot and additional weapon customization options for your loadout. There will also be a ranking system in place based on player overall level.
It's also our understanding that there will be different outfits, face paint, and other forms of customization for each Contractor as well.
Here is list of all 12 contractors, their names, and what their starting primary ability skill is:
Skip
Real Name: Jack Turner
Primary Skill: Loaded (Extra ammo for primary and secondary weapons)
Texas
Real Name: Sarah Wells
Primary Skill: Bullet Sponge (Takes less bullet damage)
Red
Real Name: Sergei Volkov
Primary Skill: Bang Bang (Extra frag grenade)
Tarek
Real Name: Tarek Adjmi
Primary Skill: Wired (Enemy traps visible at greater distance)
Raha
Real Name: Raha
Primary Skill: Scout (Heightended enemy detection)
Diaz
Real Name: Rob Diaz
Primary Skill: Double Time (Faster movement speed)
Fang
Real Name: Fang Li
Primary Skill: Lightspeed (Reload magazines faster)
Meiko
Real Name: Meiko
Primary Skill: Ninja (Reduced movement noise)
Okoro
Real Name: Okoro Chetty
Primary Skill Heavy Duty (Less explosive damage)
Grim
Real Name: Charles Taylor
Primary Skill: Quick Fix (Revive teammates faster)
Nala
Real Name: Nala Buhari
Primary Skill: Ghost (Doesn't set off mines)
Odin
Real Name: Erik Andersen
Primary Skill: Iceman (Decreased weapon recoil)
What About Maps?
Firewall: Zero Hour will launch with nine maps. As of August 16th, we've tried them all. Here's what to expect:
U.K.
Docks – This one looks like a literal shipping facility with lots of containers and maze-like areas,
Office – A modern, brightly colored office space for a social media company called Social Makers,
Shoot House – Looks like a small, target practice shooting range with lots of cardboard cutouts.
Middle East
Hotel – This one is almost all indoors with lots of tight hallways and intricate decorations, very high-end,
District – Features lots of outdoor areas in the Middle East with a shopping district, several alleys, and even some grocery stands,
Compound – This was the first map we ever played and is a mixture of a large, open field with a multi-level building at the center.
Russia
Bunker – This is the second map we tried and it's 100% in-doors with one open area at the center and lots of hallways at either end where you spawn,
Warehouse – Mostly just one large open area, but it has lots of obstacles and containers scattered around,
Embassy – Finally, this is a government building and the insides feature several cubicles in an office-like setting to duck behind for cover.
When you play a match in Firewall, the objective is placed in a different spot each time. So even if you play the same map over and over, it will yield a slightly different experience for both the Attacking and Defending team.
What About Weapons?
When you select a Contractor in Firewall: Zero Hour, you will also pick a loadout that is catered toward a specific playstyle. All loadout options are the same across all contractors and when you unlock a gun or accessory for a gun it unlocks those items permanently. For example, when you unlock and purchase the red dot sight, you can equip it on any gun that allows a sight attachment for any contractor. The same goes for camo colors/skins, patches, and gun trinkets.
We don't have a full list of weapons yet, but from what we've seen everything you expect from assault rifles and handguns to shotguns and grenades are all represented. In our latest demo we counted around a dozen guns.
Can I Use PS Aim Or PS Move Controllers?
The first three demos we had for Firewall: Zero Hour had been with the PS Aim Controller. While using this peripheral, you move your character with the analog sticks on the controller itself and physically aim and shoot your gun with the plastic rifle. It feels similar to Farpoint and DOOM VFR, but it's a bit slower-paced.
At the final hands-on opportunity on August 15th, we finally got to try the game using a standard DualShock 4 yet. It works similarly to the gamepad support in Farpoint, in which you must physically aim and point the controller as if it were your gun. It feels a little strange at first, but you eventually get used to it. Otherwise the controls are basically the same as the PS Aim.
Firewall: Zero Hour only supports the standard DualShock 4 and the PS Aim Controller — there is no support for the PS Move controllers. The main reason for this is that the lack of an analog stick on the PS Move controllers make it difficult to map all of the buttons and actions you need during a game.
When And Where Does It Launch?
Firewall: Zero Hour is releasing exclusively for the PSVR on August 28th. Specifically, the servers go live at 9PM PT. There is a PS Aim Controller bundle for sale if you don't have the gun peripheral yet and want to use it when playing Firewall. If you want to pre-order the physical version of the game, you can do that from Target, GameStop, and Best Buy.
Or, you can pre-order the game digitally on the PSN Store. All digital and physical pre-orders for Firewall will receive the same pre-order bonuses: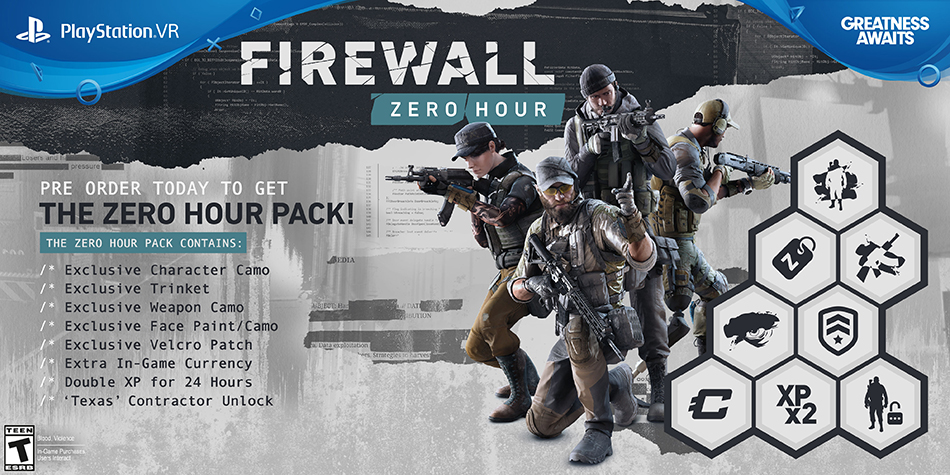 Other News
How to Invite Friends to Contracts Multiplayer
We Won't Have A Review On Launch Day
The Official PlayStation Website Listing
Creative Strategist, Adam Orth, Departs Firewall Dev First Contact
Firewall Awarded Best PSVR Game At E3 2018 By UploadVR
How Firewall Could Be VR's Next Great Shooter
---
If you're looking forward to Firewall: Zero Hour, let us know down in the comments below!