Insomniac Games — the imaginative minds behind Sunset Overdrive, Ratchet & Clank, Resistance, and Spyro the Dragon — is publishing an unprecedented five games this year; three of them VR titles exclusive to the Oculus Rift. There's the Lovecraftian horror adventure Edge of Nowhere, the "urban magic fight club" vibe of The Unspoken, and finally the newly announced Feral Rites, a game that asks you to take pretty much everything you know about Insomniac Games and throw it out the window.
"Whenever I talk to you guys or to our fans, everybody says 'Insomniac is known for crazy weapons,'" Feral Rites creative director Marcus Smith tells us as he's describing their new VR game. "And that's totally true and we're so thankful to be known for something, especially that! But we don't want to give you the same experience over and again, so the first rule we had for Feral Rites is 'No Weapons.'
Remember that this is the man behind Xbox One exclusive Sunset Overdrive, a game overflowing with grandiose, elaborate weapons.
And you're probably saying 'Well that sounds like suicide,' Smith continues. "But that's what makes things exciting!" he exclaims as a laugh washes over the press in attendance.
Before Feral Rites was born, Smith and his team wanted to extrapolate that "no weapons" directive into a VR game that mashed up the exploration of The Legend of Zelda, the melee brutality of God of War, and the animal transformation mechanic of classic coin-op Altered Beast.
I know! We're straying far from the comfortable, established Insomniac Games path, but let's get even crazier.
"For inspiration for the mythology of the game, we went back even further to turn of the century adventure-era novels by H.G. Wells like 'The Island of Doctor Moreau,' Sir Arthur Conan Doyle's 'The Lost World,' and all of Edgar Rice Burroughs' collection," Smith says. "These stories were all from an era that emphasized over-the-top action, and it was all about exploration of the unknown."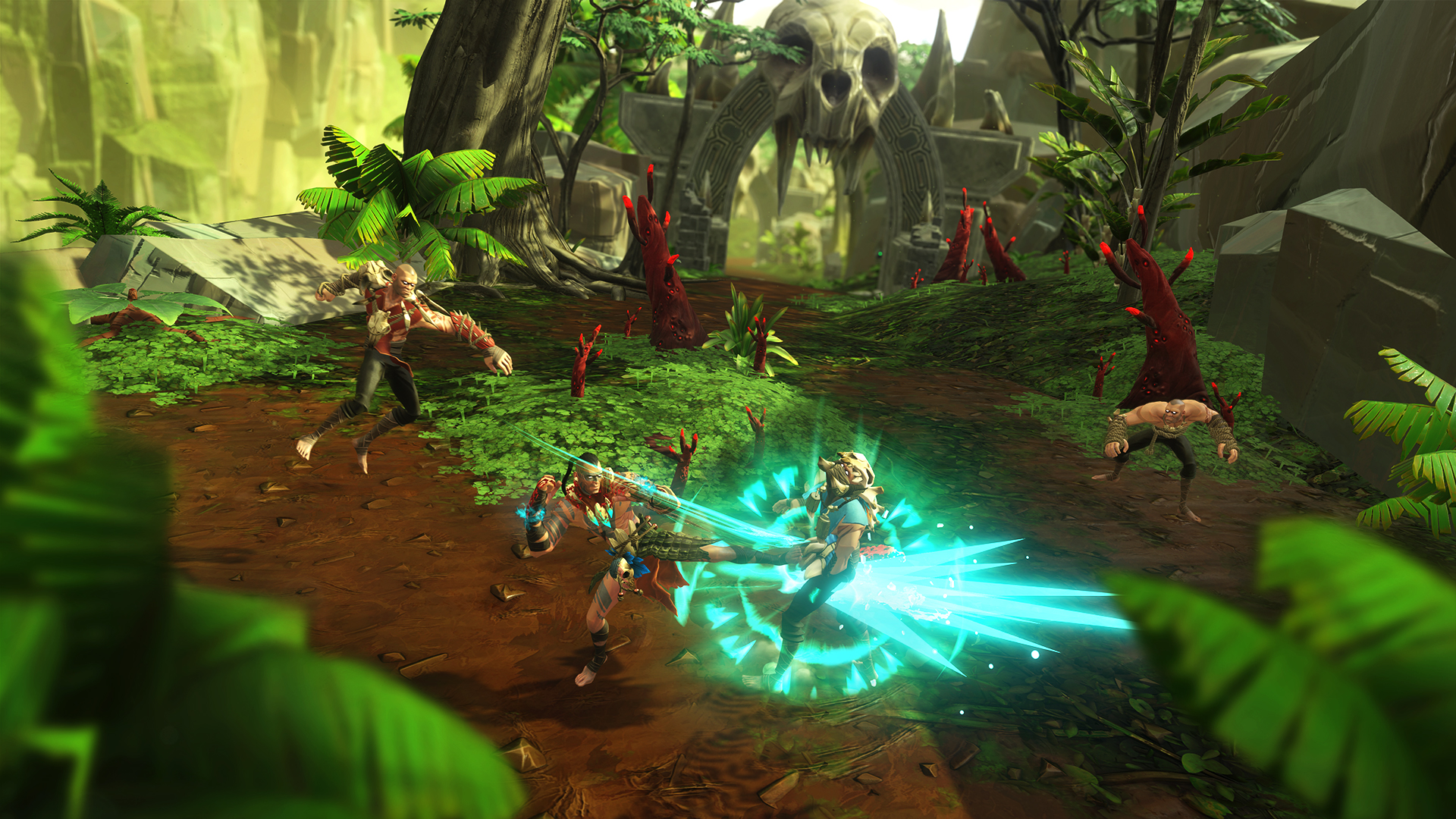 Feral Rites, coming exclusively to the Oculus Rift this Fall, follows the story of a murdered chieftain's child who was rescued from a violent, collapsing society and raised in a foreign land. Now his sights are firmly set on avenging his father's death. Along the way, he or she must explore the lush jungle canopies and ruined temples of a mystical island, and eventually tap into their ability to transform into a savage, feral beast.
Despite sounding like an inconceivable (if ambitious) mashup on paper, Feral Rites has all the makings of a memorable VR game from an established studio, with a combo-based combat system, side quests, loot gathering, distinct art style, and what sounds like some beastly (heh) executions.
Unfortunately, it's the one game from Insomniac's 2016 VR portfolio that wasn't yet playable for press, but I suspect we'll be delivering some meaty hands-on impressions around E3 this summer. Still, I walked away impressed at the pitch, and even more impressed at just how aggressively Oculus seems to be investing in quality content for the Rift.