Virtual reality can create an amazing personal experience but the difficulty has always been sharing that experience with other people. Unsurprisingly, social giant and Oculus owner Facebook is leading the charge for new social VR sharing options including direct livestreaming to Facebook from a Samsung Gear VR.
According to a blog post published today on the official Oculus website:
We want to make it easy to share memorable virtual moments with your friends and family on Facebook. Today, we're beginning to roll out Facebook Livestreaming—direct from Gear VR.

Whether you want to share the suspense of Face Your Fears or show off your sorcery skills in Wands, you can take your friends along for the ride. Just select the 'Livestream to Facebook' button from the Universal Menu when you're in VR, and you'll instantly start livestreaming to your friends on Facebook.
As the above video demonstrates, Livestream to Facebook for Gear VR will push out an up-to-the-minute first-person view of your VR experience. It will also capture your voice and add that to the stream as well. It's important to note, however, that currently this feature is only available to those "with a Gear outside the US," although it will be "coming soon to everyone with the latest version of Android on their Samsung phone in the coming weeks."
This represents the most significant marriage of services yet between Oculus and Facebook. The two companies, whiled linked financially, have never crossed over too aggressively in practical ways. Facebook has big plans to make VR a social play and Oculus is their front line for all thing immersive. It will be interesting to watch as more shared Facebook features and integrations like this pop up on Oculus platforms as the years go by.
In addition to the livestreaming, today Oculus is also announcing a new version of Rooms (1.2) that includes spherical shared 360 video domes. These domes can be placed among you and your virtual cohorts so that "friends in other areas of the Room can get a glimpse of the fun."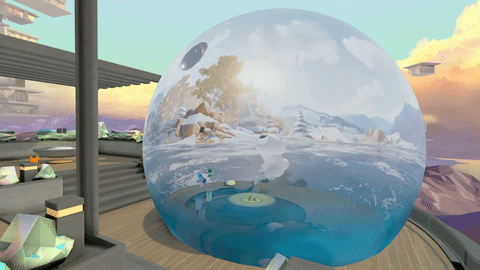 Oculus Events arrives today as well and is making easier to find and interact with your friends inside your Gear VR. With Oculus Events you can "find public events and interact with others in Gear VR. You'll find highlighted events showcased in Oculus Home, and you can check out a full roster of Oculus Events in the dedicated Events tab."

Finally, Oculus Voice will be made available for English speaking customers only today on both Rift and Gear VR. Oculus Voice allows "voice searches from Oculus Home to intuitively navigate games, apps, and experiences."
Oculus is working to expand voice and make even more commands possible, like inviting friends to join you in an experience.