We've been following the development of VR headsets at Facebook since its acquisition of Oculus VR in 2014.
That's when Facebook, under the direction of CEO Mark Zuckerberg, bought the two-year-old Oculus VR startup. In the process, they hired Oculus employees John Carmack, Nate Mitchell, Michael Antonov, Brendan Iribe, Palmer Luckey, and a long list of engineers and researchers working on the Oculus Rift PC-powered VR headset, as well as the Gear VR phone-powered system. They also made significant new hires like Michael Abrash, formerly of Valve.
Since then, hundreds upon hundreds of people joined the VR and AR teams at Facebook. Facebook itself ballooned to some 34,000 employees at the end of 2018, up from 23,000 a year earlier. In the build up, though, Oculus founders like Palmer Luckey and Brendan Iribe left Facebook as a layer of Zuckerberg-approved management was installed to lead the VR/AR efforts.
Why is Facebook focusing on VR/AR?

Here's Zuckerberg's explanation:
We're investing a lot in this because, frankly, we haven't to date been a hardware company or an operating system company. We think that we need to build up a lot of different muscles in order to be competitive and be able to succeed in that space and to be able to shape that space.

One of my great regrets in how we've run the company so far is I feel like we didn't get to shape the way that mobile platforms developed as much as would be good…
Zuckerberg is looking to secure a direct relationship with consumers. To do this, the AR/VR teams at Facebook are making hardware products. Facebook shipped three consumer products on this path — Oculus Rift, Oculus Go and Portal.
These products come ahead of more robust efforts planned for 2019 and beyond.
The Oculus Quest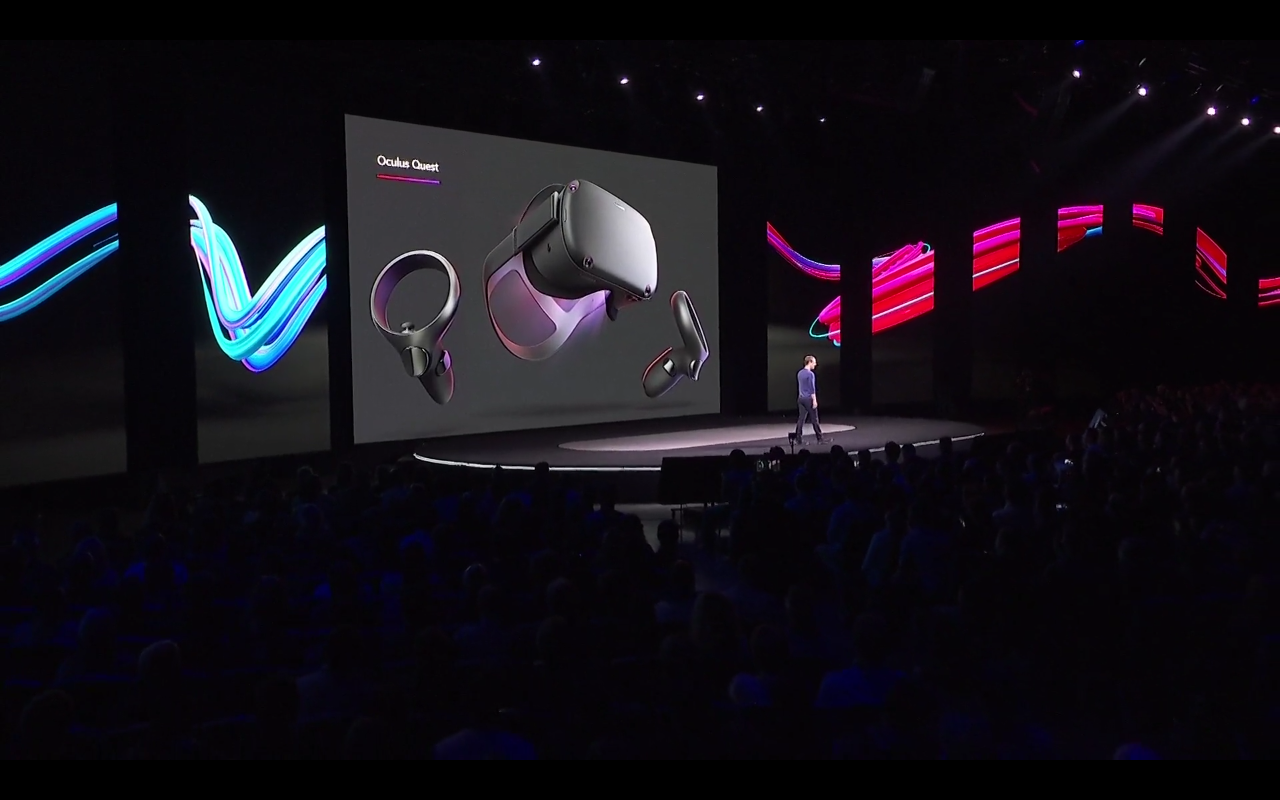 In 2019, Facebook is releasing Oculus Quest as a $400 standalone console VR system with Touch controllers. More than 50 titles are already planned for the system. The Oculus Quest could represent Zuckerberg's best chance yet at establishing that direct relationship with millions of customers. Quest is hardly the end of Facebook's ambitions. Creative software apps like Medium and Quill flourished into full VR software products at Facebook while the Oculus research division became Facebook Reality Labs, with researchers working longer-term on technologies which could push VR and AR into more compelling products. The Half Dome varifocal prototype, for example, showcases a design that could provide sharper visuals up close and more comfortable long term use overall.
Who is determining strategy in VR/AR at Facebook?
Underneath Mark Zuckerberg and Facebook CTO Mike Schroepfer is VP of VR/AR Andrew "Boz" Bosworth, the Facebook executive formerly in charge of ads.
Bosworth took on the new role in 2017.

Facebook's Goal

Before Andrew Bosworth, former Google executive Hugo Barra was put in charge of the VR/AR efforts.
Now Barra reports to Bosworth as "VP AR/VR Product."
We've reached out to Facebook and confirmed the following people — Rafa Camargo, Jon Lax, Michael Abrash, Ficus Kirkpatrick, Carmine Arabia, Ira Snyder, Jason Rubin, Rachel Franklin, Rebecca Van Dyck, Maria Fernandez Guajardo, Colan Sewell and Angela Song — are all directly reporting to Bosworth.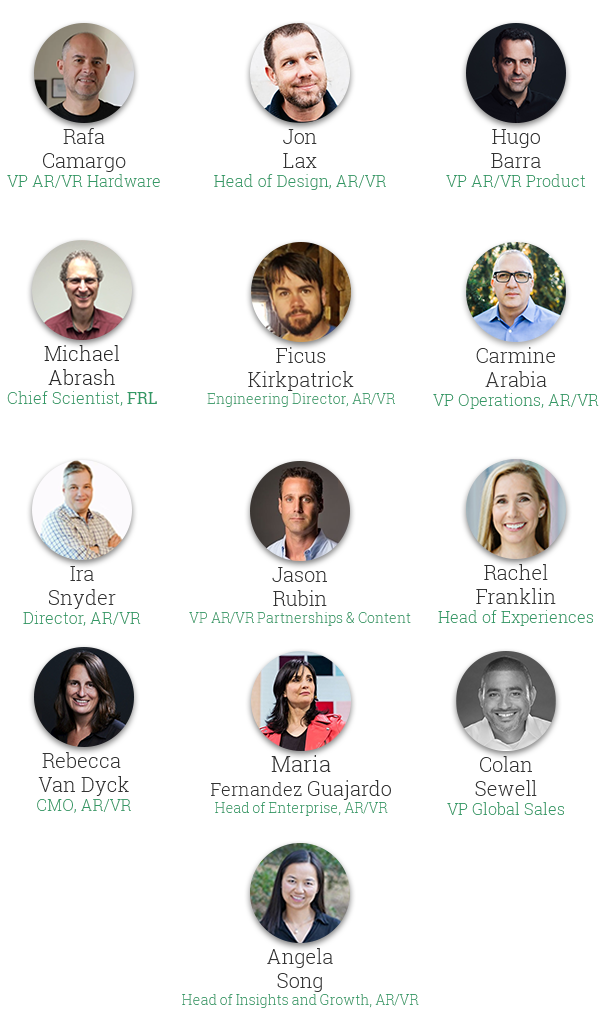 Who Does John Carmack Answer To?
Notably, key VR leader John Carmack (Oculus CTO) is not a direct report to Bosworth.
Facebook confirmed Carmack is still in the Oculus CTO role and works "closely" with Kirkpatrick. We wondered recently if Carmack was planning to stay at Facebook past the release of Oculus Quest this year, given the headset is partially an outgrowth of Carmack's work transforming Android-based phones into VR-ready machines. The release of Quest is likely to be close to the five year anniversary of the Facebook acquisition. "I do intend to stay at Facebook past the launch of Oculus Quest," Carmack wrote on Twitter in October 2018.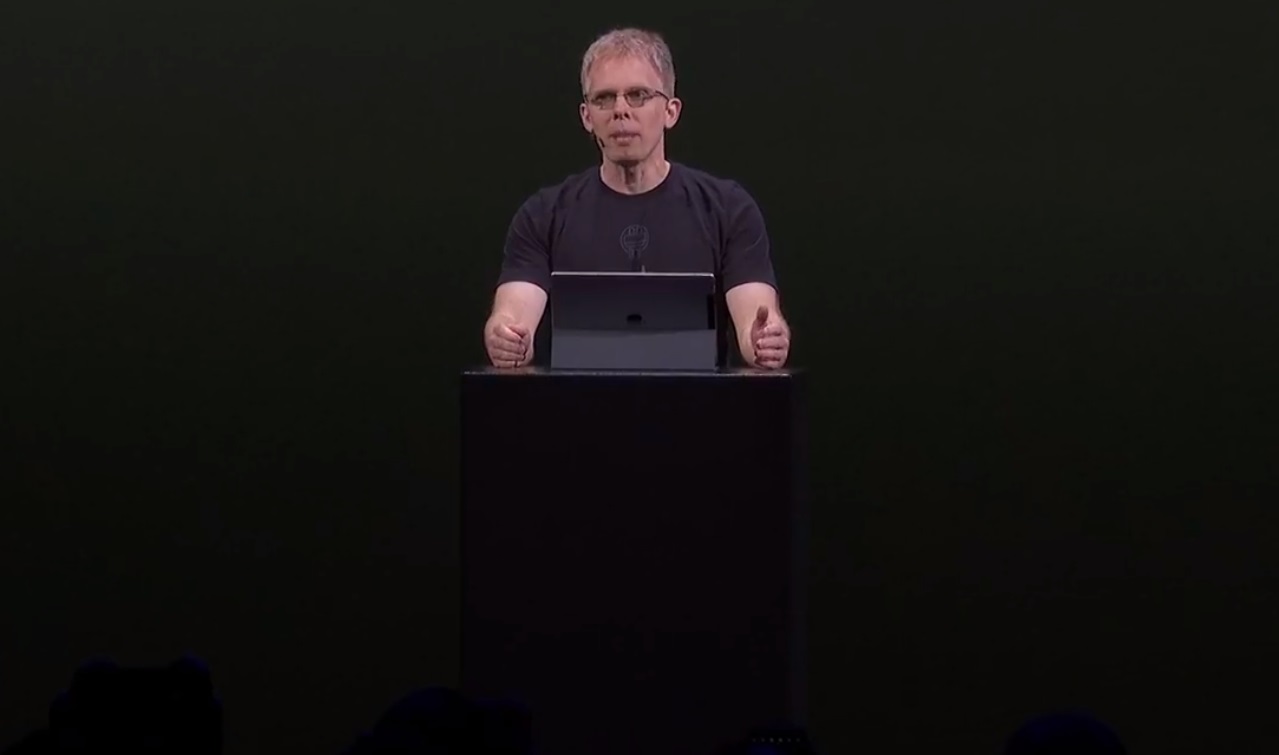 "Carmack continues to operate as CTO of Oculus," a spokesperson wrote in an email this week. "It's well known that John Carmack works on pushing the limits of VR software, and for official reporting purposes he works with Ficus closely."
Oculus co-founder Michael Antonov lists on Linkedin that he now works on AI infrastructure at Facebook.
Facebook titles and roles are likely in constant flux in the build up toward lower cost and easier to use VR headsets like Quest, as well as future AR systems. Nonetheless, we plan to update this post from time to time with new information or if the organizational structure changes.