Chalk up another name on the list of big companies that are getting involved in VR more seriously. Today, during their Investor Day briefing as reported by GameSpot, Electronic Arts (EA), one of the largest and most prolific publishers and developers in the entire video game industry, expressed their explicit interest in not only virtual reality development, but other applications of future technology as well. In doing so, they've created a brand new internal team of approximately 30-40 people under the new Frostbite Labs umbrella, based in both Stockholm and Vancouver.
Interestingly enough, last year, EA's Chief Financial Officer, Blake Jorgensen, went on record with GamesIndustry.biz as saying that they would "wait and see" how big the market gets with VR before dedicating any resources. That statement was only a few short months ago in November, which means either they've seen a high enough adoption rate already of the major headsets, or they've had a shift in focus since Jorgensen made those comments.
While important and meaningful without a doubt, this news should come as no surprise to anyone that's been paying attention to the VR scene over the past several months. At GDC, when Sony announced the release window and price of the PSVR headset, they also announced a Star Wars Battlefront VR experience would be coming exclusively to the PSVR. Star Wars Battlefront is not only published by EA, but is also developed by DICE using the Frostbite Engine, which is already migrating over to allow for VR creation. While we do not know how they intend to expand into VR further, we can make some assumptions based on the image shown below, which was also provided by GameSpot. You'll notice that the VR/AR section of the image displays a shot of the PSVR headset.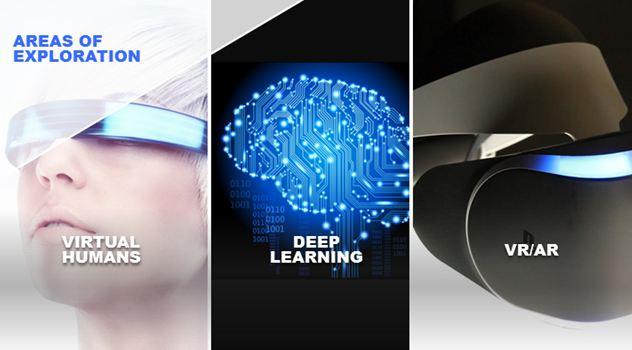 During the briefing, EA Studios boss Patrick Soderlund indicated that their focus is primarily on long-term projects, which is good to hear given the current state of quickly produced and often tech demo-esque productions that currently litter the Steam marketplace. Soderlund also elaborated that they are looking into the creation of "virtual humans" within VR, elaborating that, "how you're seen as a virtual human in that world is something we need to solve for." Whether this simply means more advanced avatars or an entire social MMO of some kind built within this technology remains to be seen.
Soderlund also provided insight into EA's philosophy on innovation and improvement from a high level:
Innovation is not something you have to ask permission to do. This is something that has to be in our DNA. It's something that should be ingrained in the culture of the company…I am a big believer in the need to constantly push and constantly innovate and try to be better. We need to dare to look into the future and dare to go deep into the crazy corners of technology. It's our responsibility as a company, it's something I'm passionate about, and it's something I think we have the right people to do."
UploadVR has reached out to EA for comment regarding Frostbite Labs and will provide additional information about this development when possible.