Oculus is getting its own version of Magic: The Gathering or Hearthstone. Unlike the digital versions of those other card games, though, Dragon Front feels like you're actually playing a card game with people around the world.
Earlier this week Oculus founder Palmer Luckey sent out the following tweet:
Anyone remember the Virtual World arc of Yu-Gi-Oh? Get ready for something even better!

— Palmer Luckey (@PalmerLuckey) February 24, 2016
For those unfamiliar, Yu-Gi-Oh is a Japanese anime series that centers around a combative trading card game called "Duel Monsters." At one point, the show saw its main characters trapped in a digital world in which they were forced to battle their way out of an environment that brought their monsters, spells, and traps to life before their very eyes.
Luckey's tweet set the VR community abuzz wondering what it could mean. Would there be a licensed Yu-Gi-Oh title for the Rift? Is the company teasing some sort of VR TCG that brings the cards to life just like the anime? Or will cards have nothing to do with it at all and Luckey is once again simply demonstrating his deep love for anime and Japanese entertainment?
Today those questions may have been answered. An update to the Oculus blog is announcing Dragon Front: a new collectible card game specifically engineered for the Oculus Rift.
According to the blog post:
We're very excited to announce Dragon Front, the first collectible card game (CCG) built for VR. Developed by High Voltage and produced by Oculus Studios, Dragon Front combines traditional high fantasy with a dieselpunk aesthetic for a one-of-a-kind experience…In Dragon Front, players are pitted against each other based on skill level and watch their units come to life on the battlefield as they command the action. There's also a champion system where each team can summon legendary boss units to the fight and turn the battle in their favor.
The post goes on to detail that Dragon Front will feature, "280 characters, 80 different encampments, and more than 100 spells."
Game writers are describing Dragon's Front as Magic: The Gathering in VR. Personally, however, I find the title to have much more in common with Blizzard's Hearthstone. The voiced avatars, detailed battlefield environments, and even certain design choices seem to be heavily inspired by Hearthstone's aesthetic.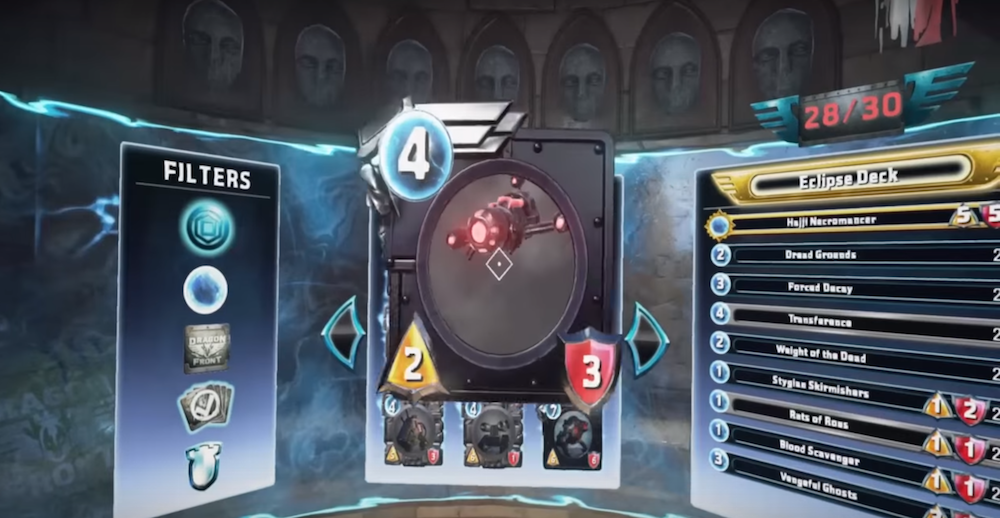 High Voltage Software is no stranger to developing titles for the Rift. Its previous game, Damaged Core, is a, "first-person shooter experience on the Oculus VR headset that explores the near-future story of mankind on the brink of extinction following a robotic uprising led by a swarm intelligence known as the Core," according to the studio's website. High Voltage has been in the business of making games for over 20 years and has worked on notable titles such as Mortal Combat X, and Saints Row IV.
Updates to come.