(Update 05/19/19): This was previously a review-in-progress published on 4/30/19, but has since been updated to reflect my full impressions of the entire game.
Dance Central VR was one of the real stand out demos that I tried at GDC this year. When I walked into that hotel suite and put on an Oculus Quest headset to be treated to the latest VR music experience from Harmonix, I was certainly excited.
Now that I've had plenty of extended time with the Oculus Quest and access to the full version of Dance Central VR to mess around with, I've got much more robust impressions of the dancing game.
This entire review was conducted using the Oculus Quest version of the game in various rooms and environments, all standing in roomscale arrangements.
Dance Central VR is designed to be played in short bursts, but you can easily sink a few hours into it at a time if you really want to. There isn't much of a story or campaign mode from what I found, but instead it's about more subtle progression and immersion. As you explore different areas of the dance club and various surrounding buildings you'll meet different NPCs that want to dance with you.
Each of the characters have their own unique personalities and voices that really do feel distinct and meeting each of them is part of the fun. As you dance with them more and more you'll unlock new wardrobe options for yourself, different cell phone skins, and even dialogue choices for your text conversations. It seems silly, but when I had new texts from my favorite characters it genuinely made me a bit excited, sort of like getting a text from a friend in real life. Even if it was just a stupid selfie the fictional character took at the club.
Harmonix aren't doing anything fancy from an AI perspective to make these characters really feel real by any means, but small things like that made a big difference for me. It made me actually want to log back in just to see what's going on and kept me checking the floating virtual phone.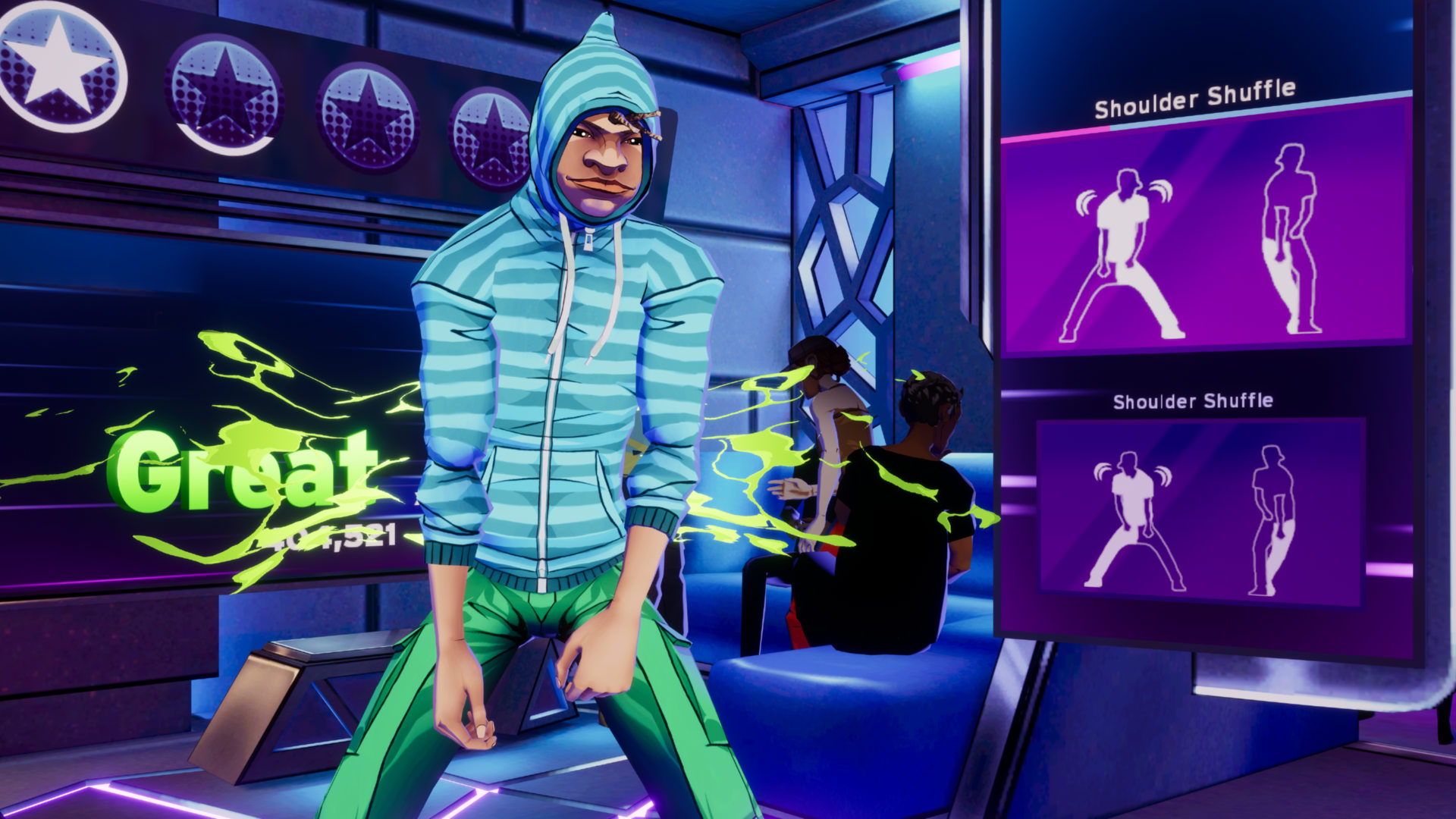 The actual dancing bits were a lot of fun, if a little simple. Dancing is split between two difficulty modes, Normal and Pro, but I found myself wishing for something in between. Most songs were extremely easy to get 5-star ratings on your first try on Normal, if not your second. However playing songs on Pro, which offer far less guidance and change moves very quickly, was a bit overwhelming at first. You get used to it after a while.
There are 32 songs in the game, including:
Bruno Mars ft. Cardi B — "Finesse (Remix)"
The Chainsmokers ft. Daya — "Don't Let Me Down"
DJ Snake & Lil Jon — "Turn Down for What"
Haddaway — "What is Love"
Pitbull ft. Ne-Yo, Afrojack, & Nayer — "Give Me Everything"
Rob Base & DJ EZ Rock — "It Takes Two"
Since I played on Quest the tracking did seem to have some limitations. A lot of dance moves ask you to spread your arms out wide and make a fist or twist them a certain way, but the tracking cameras seemed to miss those movements occasionally. The same goes for any sweeping gestures down below or up high. Generally if I made a conscience effort to keep my hands in front of me and not too far above, below, or to the side it didn't matter, but you don't want to be thinking about your hand placement around you when you're trying to dance.
Visually it looks really good, but on the Quest I noticed some performance issues here and there. Frame drops were a problem during some songs and if the battery was running low (say 25% or lower) they seemed more frequent. I also perceived the fixed foveated rendering very obviously in Dance Central VR — something that was much less noticeable in other games.
Outside of dancing there is a wardrobe to customize your look, as well as multiplayer lobbies to queue up with other dancers. The social hub is a cool, fun place to hang out and talk, but then you can also have private dance battles with a variety of rulesets to pick from. You can even dance alongside a friend for co-op dances too so it's not all competitive.
For players that want to get particularly serious about their dance moves there is also a studio. Here you can break down songs into their individual parts and dance moves and practice them in slow motion. The trainer will even show the arcs of your hand movements so you can clearly tell what you're doing wrong. It's a great training tool, but it never felt intense enough to really warrant that kind of belabored practice to me. I had more fun just dancing and acting silly.
As it stands, Dance Central VR doesn't nail every move, but it more than sticks the landing when it comes to getting you moving and grooving to the beat of the music in VR. When you slide on a headset and let the music take over it's genuinely easy to forget where you are in real life as you dance along to the rhythm. I'm a terrible dancer, but Dance Central VR made me feel like I knew what I was doing. It's got some technical hiccups and it's a bit meandering in its focus, but the core mechanics are a lot of fun.
Dance Central VR launches on May 21 for Oculus Quest and Rift S — this review is based on the Oculus Quest version. Read our Game Review Guidelines for more information on how we arrived at this score.
Correction: A previous version of this review incorrectly stated that you cannot remove cue cards for an increased challenge, but you can.