Mixed reality has been buzzing the past few weeks with a slew of Microsoft Hololens and Magic Leap announcements. Both companies seem poised to augment our realities over the next few years, but one developer isn't willing to wait that long to have a pretty hologram floating in his room.
Oliver Pavicevics has been working in the mixed reality space since 2002, we reached out over email to learn more about this epic homebrewed mixed reality hologram.
Do you have your own company? Who were you working on this project with?
I don't have my own company, as I'm working as a free lance. I have an art name OliVR, and I'm mostly signing with that name. At the moment I'm mostly working for great events & congresses (clients like General Electric, Fiat, MTV) where I'm trying to apply some of the techniques used in VR/AR.
Can you tell me more about how you created the hologram?
This project was a free time project, simple experimenting for future applications. There is a DSLR camera with wide angle that transmits a signal via HDMI to Blackmagic Intensity pro capture card. Oculus is attached to camera, and it takes tracks all camera movements, while Kinect 2 tracks hand movements. It's a quite simple setup. The main problem was synchronising a Rift tracking with camera latency. So this part was a little bit of problem, and I implemented something quite similar to Oculus time warp and looking behind time to see where the tracker was when capture image has updated. Latency has to be compensated for by hand for now.. but maybe I will make a little latency checker with arduino and a small led.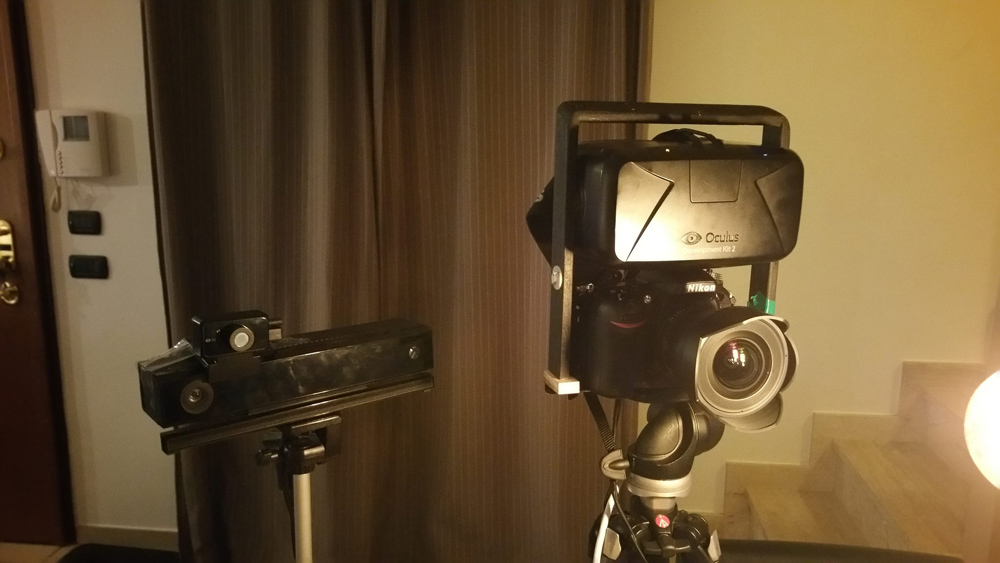 Why Blackmagic specifically for the card?
I need a small latency, and BM gives that – we are talking about 3-4 frames of latency.
Is it at all perceivable in the headset? The latency that is.
Yes, when speaking of headsets, it's all about latency. But here the problem of latency is a little bit complicated, or more simple. We can compensate this latency, but it leads to a reduction of Field of View.
How much of one?
Depends of a head speed movement. If you move fast FOV gets shifted…
[gfycat data_id="HastyWateryBarasingha" data_autoplay=true data_controls=false]
What made you decide to take on this problem? Other than making epic holograms that is.
I've made this video as a simple demonstration of a technique that I'm using for some time for making musical videos.
Are you going to open source it at all?
I was thinking of doing that later. But I would like to do some optimisations before.