Call of the Sea VR is a narrative-driven puzzle adventure available now on the Quest platform. Does this VR port of the BAFTA-nominated flatscreen release survive its transition? Find out in our full Call of the Sea review.
How far would you go for love? Call of the Sea VR is a puzzle adventure that explores the lengths a husband and wife will go to in their devotion for one another. Wealthy aristocrat Harry Everhart ventures into the South Pacific with a small crew to find a cure for his wife's mysterious affliction but fails to return.
Call of the Sea VR Review - The Facts

Platforms: Quest 2
Release Date: Out now
Developer: Out of the Blue
Price: $19.99
You play as his spouse Norah, a woman on a mission to find Harry and unravel the mystery surrounding his disappearance. Your adventure takes place during the 1930s on a tropical Polynesian island amidst lush island jungles, underwater biomes, and ancient ruins. Players need to solve puzzles using the clues from Harry's voyage to uncover the strange, dark secrets bubbling beneath.
Captivating Mystery
This solitary adventure tells its story through the various equipment, writings, photographs, and audio recordings left behind by Harry and his crew. Norah will comment on her dreams, thoughts, and almost every item you discover along the way. The commentary sometimes states the obvious, but also does give helpful context on occasion too.
However, the continual monologuing rarely gets tiresome due to the solid writing and expert performance by Cissy Jones, an American voice actress with a long list of voice credits including AAA titles such as Red Dead Redemption 2 and Half-Life: Alyx.
If you are looking to lose yourself in a cast of well-developed characters, then you may be left wanting. You ultimately learn very little about the crew's background or personalities along the way, just enough to provide you with basic motivations for the actions they take.
On the other hand, the lack of specifics surrounding these peripheral characters avoids players from getting too bogged down with unnecessary details and keeps the focus firmly on the mysterious love story and its protagonists.
Call to the Sea excels in its ability to drum up intrigue and curiosity, and it wasn't long before I was hooked. Every puzzle I solved uncovered just enough of the mystery to keep my interest piqued and motivated to explore more. The characters of Norah and Harry are also fleshed out well enough for the player to build a connection with their plight and become concerned about their fate.
Balanced Puzzling
The puzzles are generally well thought out. Clues provide sufficient information to get you started but withhold enough details to retain some challenge. Norah carries a trusty journal to document the main storyline events and any clues you come across during your travels, which is great for refreshing your memory on the evolving narrative and essential to solve some of the puzzles.
Puzzles often involve deciphering symbols and tinkering with some bizarre contraption or ancient mechanism. In many ways, they reminded me of the classic puzzle game Myst VR, except far less cryptic. For example, during one puzzle involving a telescope lens, Norah commented on her lack of knowledge regarding the device, dropping the not-too-subtle hint that I didn't have the necessary information yet to solve it. It's touches like these that give just enough guidance to put players on the right path and avoid hours of frustration plugging away at a dead end.
That said, there were some conundrums that took me longer than I would care to admit, but that's likely just due to my own lack of creative thinking and grey matter limits rather than faulty puzzle logic. However, should you get hopelessly stuck and need a helping hand, there's also a hints system in the menu.
The game took me about six hours to complete – a time that will vary depending on how long you spend exploring the environment and tackling each puzzle. There is also an alternate ending, which encourages players to return to the final section of the game and experience it a second time.
A (Mostly) Successful VR Port
Compared to its flatscreen counterpart, Call of the Sea VR doesn't hold up too well in the graphics department. Environments generally look okay but there are some sketchy visuals that are sub-par even when accounting for the limitations of the Quest hardware. Jagged edges, glaring 2D tree sprites, and blurry wildlife are some of the things that limit the visual appeal.
There are also missed opportunities to maximize the game's sense of realism and immersion. For example, the developers opted to remove footstep sounds which, together with the fluid motion, make it feel like you are floating above the ground. Blink teleportation is also used in place of climbing ladders and swimming is controlled with a push of the thumbstick, which would have been more immersive if propelling yourself using physical controller movements mimicking hand strokes.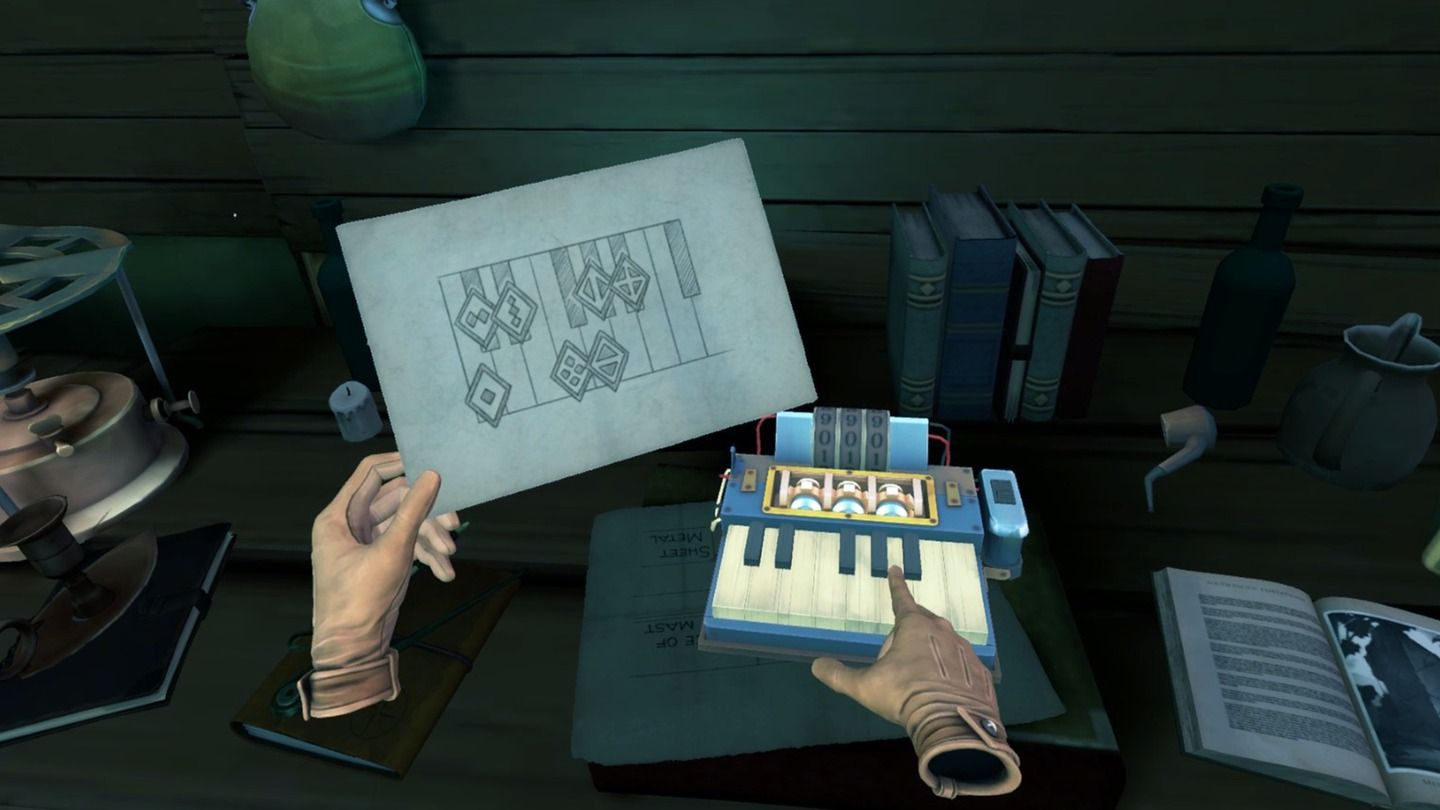 Otherwise, Call of the Sea by its very nature works very well as a VR title. Successfully finding clues and solving puzzles relies heavily on having a good awareness of your surroundings and makes excellent use of the immersive player presence that VR offers. Interactions with the environments are smooth, intuitive, and mostly jank-free. It is also hard not to get drawn into the paradisiacal environments and mysterious atmosphere, despite some of the graphical qualms.
Call of the Sea VR Review – Comfort
Call of the Sea VR can be played either seated or standing, although some puzzles may need to be interacted with using the distance grab function whilst seated. Blinders, blink teleportation and snap turning can be enabled to make it a comfortable experience for most. There is also an option to disable flashing lights that sometimes make an appearance in the game.
Call of the Sea VR Review - Final Verdict
Call of the Sea VR not only survives its transition from flatscreen but flourishes in VR. There are some graphical concerns and areas for improvement in terms of full immersion, but those are outweighed by how at home the game feels in the medium. The high suitability for VR, along with well-designed puzzles and a rich story, makes Call of the Sea VR a captivating adventure that will keep you thinking long after the final credits roll.

---
UploadVR focuses on a label system for reviews, rather than a numeric score. Our reviews fall into one of four categories: Essential, Recommended, Avoid and reviews that we leave unlabeled. You can read more about our review guidelines here.