Tokyo Game Show 2023 embraced the world of VR this year.
This is the third time that the Japanese gaming expo has used VR as a tool to offer a hybrid way to experience the event from home, allowing fans to explore a gamified look at titles featured within bespoke booths built inside fantasy landscapes. However, those attending in person also had the chance to experience the future of VR through a dedicated area for companies to showcase their innovations in the medium.
There was a VR presence from some major studios at the event, such as Capcom's public demo of Resident Evil 4 on PSVR 2. Meanwhile, Thirdverse brought a world-first demo of their newest story-driven post-apocalyptic sci-fi action game Soul Covenant (which we already went hands-on with), while PICO offered demos of a range of titles, including Magic Stone Guardians and DYSCHRONIA: Chronos Alternative, to showcase their hardware.
What was most exciting, however, was the focus on bringing newer voices into the conversation. There were schools dedicated to VR development in both the VR and the Game Academy sections around the event, while solo developers getting their start were given equal footing alongside the more experienced studios.
This allowed smaller titles to thrive and brought joy for anyone curious enough to step beyond the headline experiences to try something new. Game shows bring audiences in with their headline publishers and studios, but often the most exciting titles come from places you least expect them – that couldn't be more true for the VR experiences on offer at Tokyo Games Show (TGS).
Here's our picks for the best indie VR experiences that we tried at TGS 2023.
Guruguru Crazy Hill
While certainly still more in the conceptual stage of development, Guruguru Crazy Hill impressed most for how it proudly disavows development conventions to create an altogether unique racing experience. The visuals have more in common with a SNES Super FX racing game with a Game Boy filter slapped on top than any typical game in the medium, yet it still immerses players via thrilling arcade-like excitement.
The Guruguru in the game's name refers to the sound effect for rolling in Japanese, which does a good job at summarizing the demo's gameplay loop. You accelerate your bike by rolling your arms in front of you, leaning side-to-side like the monkey in Super Monkey Ball to dodge obstacles and collect speed-boosting pellets along the ground. There were three levels in all, each increasing in difficulty. There's a tiring yet infectious joy to rolling your hands faster and faster while racing for the fastest times. I can't help but wish there was more, especially when you couple the action with its catchy chiptune soundtrack.
Guruguru Crazy Hill is still in development, featured at the event as part of the VR Professional Academy showcase using PICO 4. Plans for a public free demo of the game are currently in the works.
Tiny Candy Guardian
Just a few booths down from Guruguru Crazy Hill was Tiny Candy Guardian, a charming and at times frantic defensive shooting game in a world with a sweet tooth and… musclemen chickens?
Moka Games are the team in charge of this game, currently on showcase as a proof-of-concept demo with plans to expand further based on player feedback. Playing as a wizard armed with a candy wand in each hand, your goal is to shoot the enemies threatening the safety of Candy Island. Defeating monsters will occasionally drop bonus weapons that increase your power and alter your attacks. The overall aim is to preserve your health and defeat all the dango and flying unicorns, in order to then face the boss between you and victory: a jacked-up chicken with a six-pack that would make bodybuilders blush.
Aiming for high scores and keeping full awareness of the world around you are key. For those looking to give Tiny Candy Guardian a try, a free demo will be released on Steam later this month.
Umami Grove
It's all about exploration in Umami Grove, an upcoming physics-based VR adventure from Pomshine Games that's loosely based around cooking.
It's the freedom that shines most here – dropped on an island, you aren't thrust into a world of danger but one of whimsy instead, with an almost-overwhelming sense of freedom. You can go anywhere, and there's so much to do, depending on which direction you choose to explore.
While first wandering through the island, I found a small badger-like creature leading me into a cave. Going inside took me to a whole network of systems, platforming sequences and similar budget-like creatures who weren't so happy to find me invading their space. Leaving the cave, I soon stumbled into a small creature with a flower for a face. It stole a golden acorn from my grasp before running up some tall ruins in the distance. Suddenly I was using my arms to pull myself up vines and ladders in order to reach it and reclaim my prize.
It's all low-stakes in the grand scheme of things, but that's precisely the point. Your aim isn't to go on some grand quest, but to cook for the various fantastical creatures on the land. You'll find ingredients around the island and prepare bountiful feasts in order to make new friends.
The immersive and intricate physics at play when pulling yourself around and cooking was certainly the star here. Umami Grove should make for an entertaining, calming affair when it releases next year through publisher Dangen Entertainment.
Cards of Destiny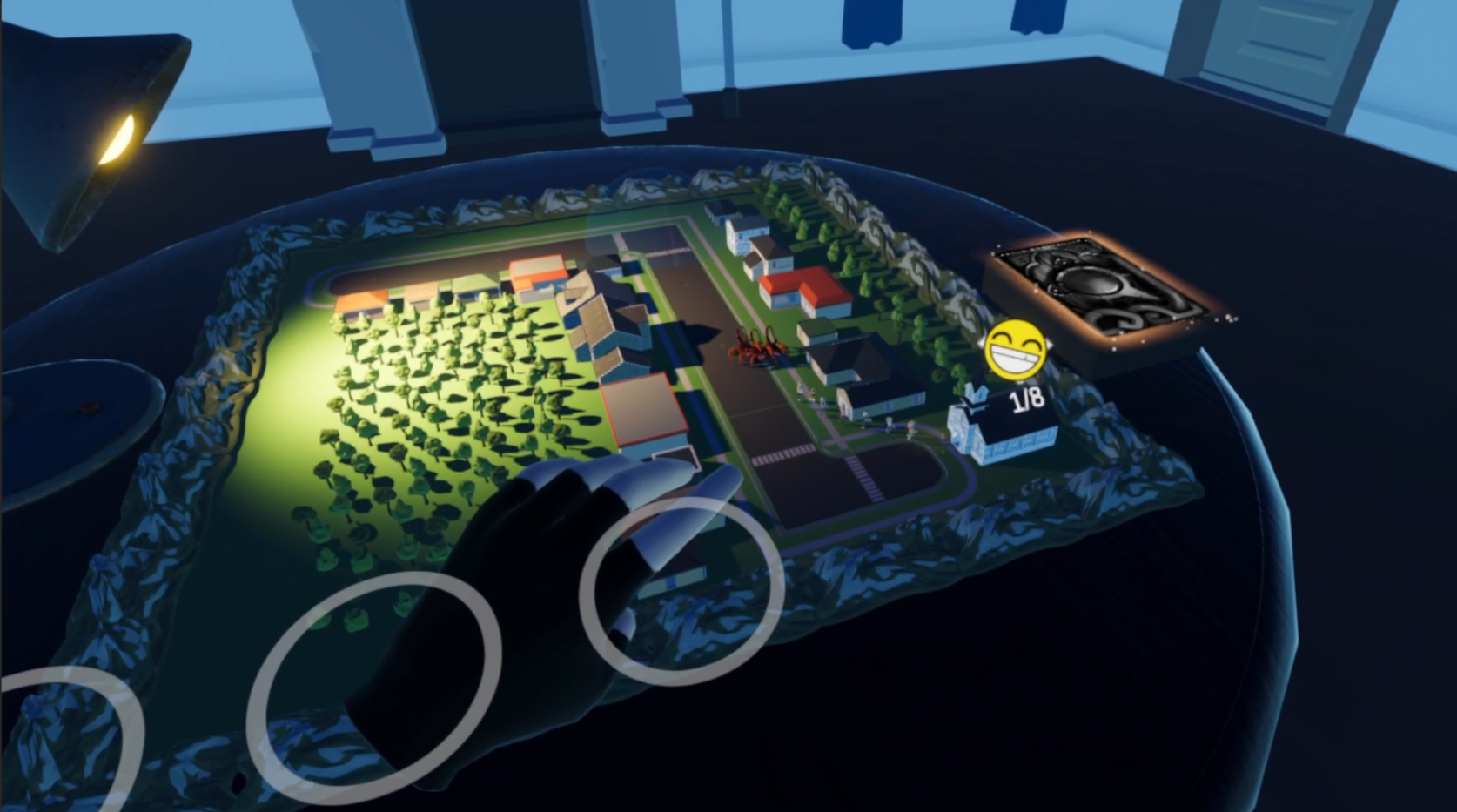 What started as a game jam project has since far expanded its scope, with Brazil-based United Games bringing a demo of Cards of Destiny to TGS as they continue to refine the project ahead of a planned release next year.
The concept is a deck-based twist on a God game, where you play a kid with the power to dictate the fate of the sentient invading aliens and humans living in your board game town. Things start simple – you're the overseer of basic tasks like killing aliens or putting out fires to bring humans safely to the church that provides sanctuary. However, greater puzzle elements soon complicate matters, adding a layer of strategy to proceedings. Before long you must become a more malevolent ruler, killing humans so that only an exact number survive and freezing – rather than outright murdering – the invading hordes.
Cards drawn from the deck are random and can kill both humans and aliens in equal measure or introduce unexpected obstacles. Still, things rarely feel unfair. You draw up to three cards at a time, positioned in a gauntlet around your wrist for easy access, and then place them above the board to activate them. With its childhood room setting and viewpoint, you truly feel like a power-hungry kid playing with toys and get whisked away into the whimsy of this life-or-death situation.
It'll be exciting to see how the project develops between now and the final release, but for now the demo is available on itch.io.