My recent visit to Baobab Studios was an interesting series of stark contrasts. For example, its Redwood City office is close to the San Francisco Bay and a stone's throw from local, nature-filled marshlands, yet its location at the northern edge of Silicon Valley puts it in close proximity to Apple, Google, Oracle, and many other cutting-edge, high-tech companies…with just one driveway separating it from Electronic Arts' main campus.
Maureen Fan, Baobab's CEO/co-founder, described herself as "an introvert in general," but during our conversation she seemed anything but—she was bubbly, humorous, and almost always smiling or laughing. The 35-year-old Fan looked at times like a fidgety schoolgirl, frequently shifting in the office chair and sometimes tucking her leg under her while she spoke, though her impressive résumé—degrees from Stanford and Harvard Business School, and multiple positions at eBay before a six-year stint at Zynga, where she moved up through the ranks from product manager to VP of Games—substantiates that she's a savvy, entrepreneurial businesswoman.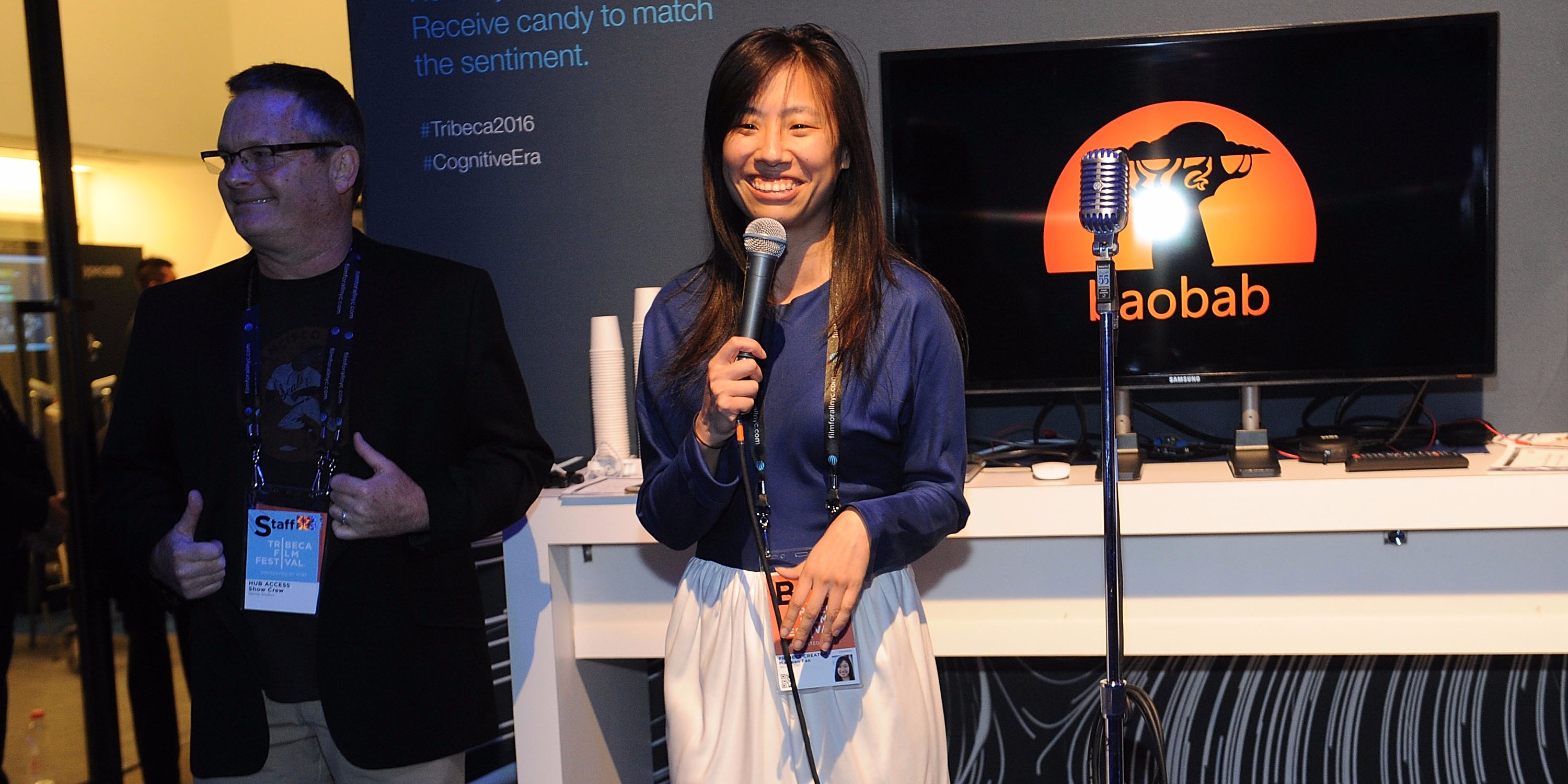 And woven into that extensive business resume is the contrast of multiple dips in the creative pools of film-making and animation—such as projects at NYU and Stanford Graphics Lab, interning at Pixar, and assisting on the production of The Dam Keeper, an animated short that was nominated for an Oscar in the 87th Academy Awards in 2015. She says she's always wanted to be an animator, but on multiple occasions deferred to her Tiger Mom, who warned that she'd end up "poor and destitute" if she sought an artistic career. So, she took off on a more mom-friendly path — but still took art classes at night when she could.
Mama Fan can rest assured that her daughter won't likely end up in the poor house as she's found a way to scratch her art and business itches simultaneously — and, hopefully, profitably. She teamed with Eric Darnell (who, among his credits, is listed as director and writer at Dreamworks Animation on such films as Antz and the Madagascar series) to launch Baobab ten months ago as a premier VR animation studio. But they're not alone, as the studio was formed with funding from such investors as Comcast Ventures, PayPal co-founder Peter Thiel, and Zynga CEO/co-founder Mark Pincus, among others.
"For [Eric], it's a creative renaissance," Fan said in describing Darnell's interest in teaming to start Baobab. "'I can think of all these stories'—because it's very difficult for Dreamworks, like it's 90-minute stories, very complicated—'I'm just going to experiment. I can make Madagascar 20 or I can be part of creating a new cinematic language.' That's really exciting."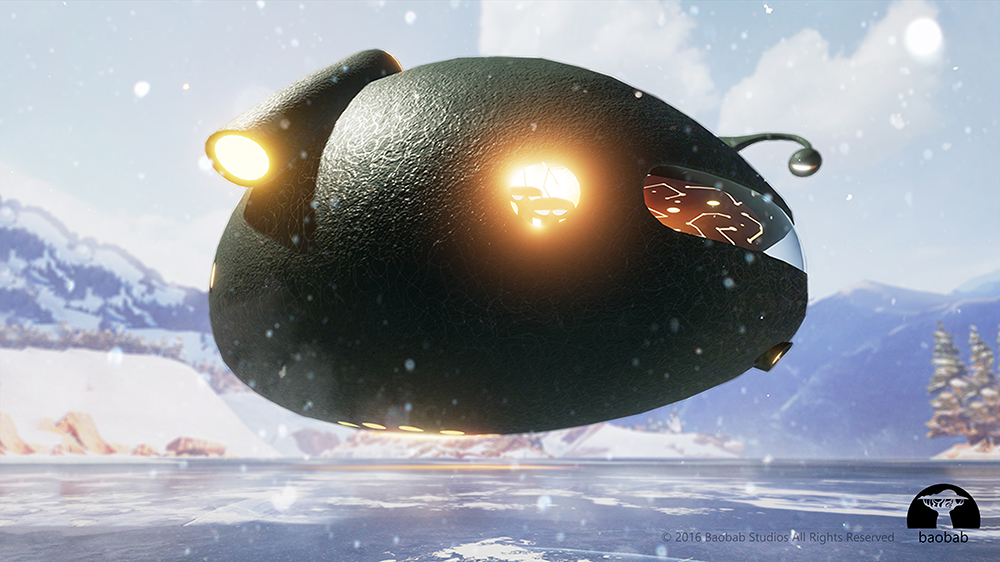 Making a Grand Entrance
Baobab recently released its debut film, Invasion!, a six-minute animated short that the company has been trying out on audiences in such venues as Tribeca Film Festival this past April (in a collection of VR experiences called "Virtual Reality Arcade") and at May's Cannes Film Festival in France. It's available for Oculus Rift and Samsung Gear, with versions for HTC Vive and Sony PlayStation VR to be released in the future.
The Invasion! 360° teaser trailer that released a few months ago set the stage and revealed the episode's premise: You're standing on a frozen lake, a cute bunny (named Chloe) comes up to you to check you out, then you're both visited by the spaceship and the alien duo (humorously named Mac and Cheze). No spoilers, but in the full installment, there's some additional introductory footage that provides a bit more information about the spaceship's origin, and more of a conclusion to the Chloe-vs.-Mac and Cheze conflict.
Fan told me that Darnell's inspiration for Invasion! was War of the Worlds, but that he saw that film's aliens as "kind of idiots" for not anticipating the lethal problems they might run into on Earth, so he wanted to push that concept further. However, his funny twist was to have his aliens meeting resistance from "the most innocuous, adorable creature…[and] what is the cutest, most adorable, vulnerable creature? A bunny."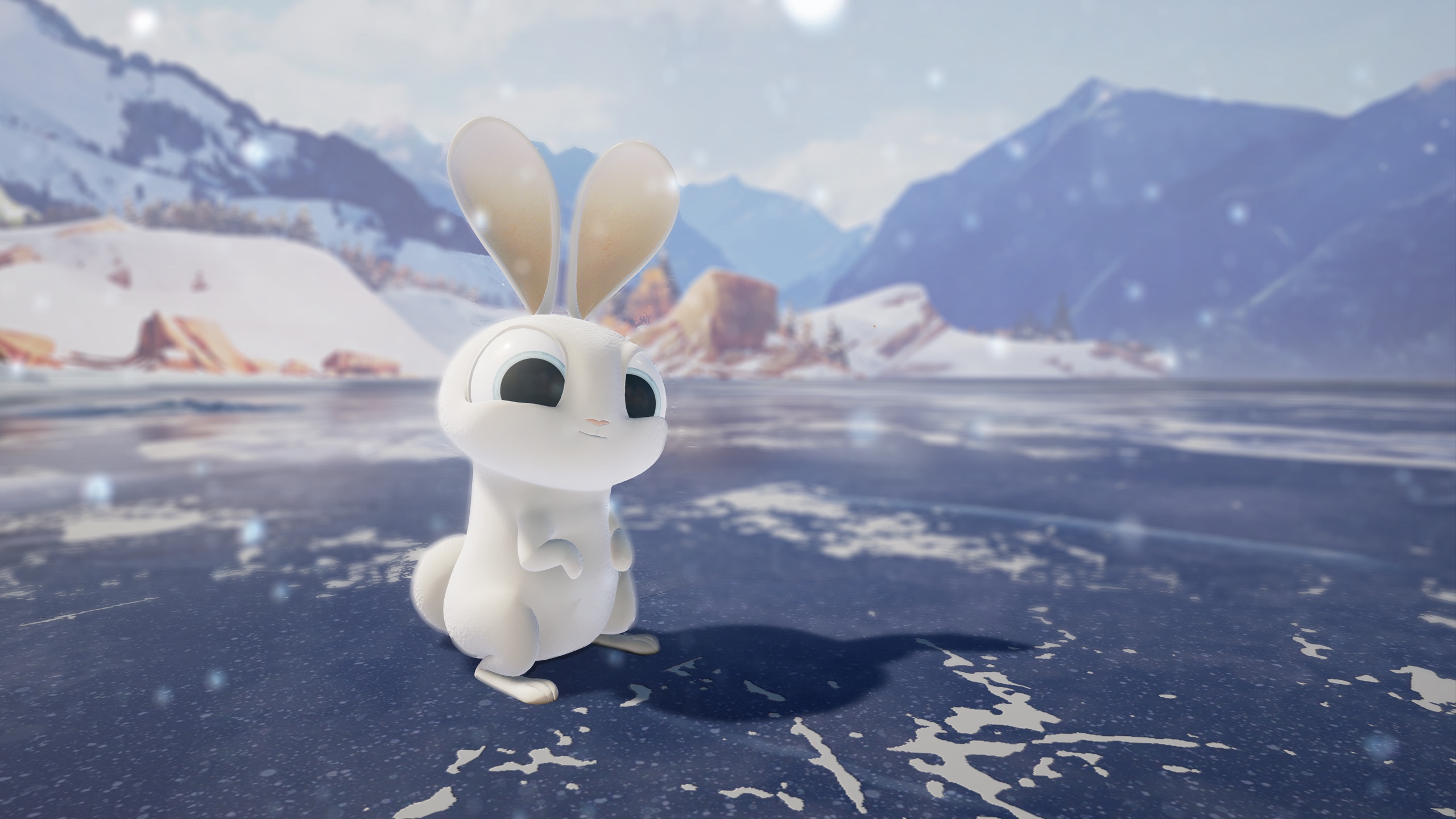 Fan also said that, once it was decided to do Invasion! as the studio's first video, they made a hasty teaser trailer in five weeks. "It's like a painted background," Fan said, "there's only one alien…and the bunny gets killed off by the hawk." She said they didn't have time to animate bunnies, but then used that teaser to find out how people liked it. Employing her data-analytics skills from Zynga, they found out that people really loved the bunny, so they used that knowledge and then dove into making the first episode.
There's also narration by actor Ethan Hawke, with text loosely based on War of the Worlds. It turns out that was a big draw for Hawke to work on the project, with a coincidental connection that made him a perfect choice, even though Fan and Darnell had no clue to his attraction when he was hired for the job.
"Ethan grew up near Grover's Mill, which is ground zero for War of the Worlds, where the aliens landed," Fan explained. "And he said that, every year, he would hear that speech, and he would drive past the place where it was. He grew up admiring Orson Welles, and would actually practice that monologue. He was telling us, 'I can do this!'"

Getting You In
A surprise you get in the VR segment, which isn't in the trailer, is if you happen to look down during a lull in the action. What you'll notice is that you're also a bunny—you'll see your body, which adds to the immersion that you experience. Though you don't have a stake in the installment's story outcome, when the aliens first make an appearance at the lake, Chloe initially hides behind you. Fan says that and other elements in Invasion! have brought some interesting reactions from viewers that proves their visual buy-in.
"The parts where the audience reacted the best are when the bunny comes and sniffs you—to the audience, their animal brain believes that it's real, and that's why they try to touch it—and when that bunny tries to do that little dance with you, people will actually start trying to dance with the bunny," Fan said. "They're like, 'The bunny is interacting and playing with me'…because there's no controller, you believe you're there."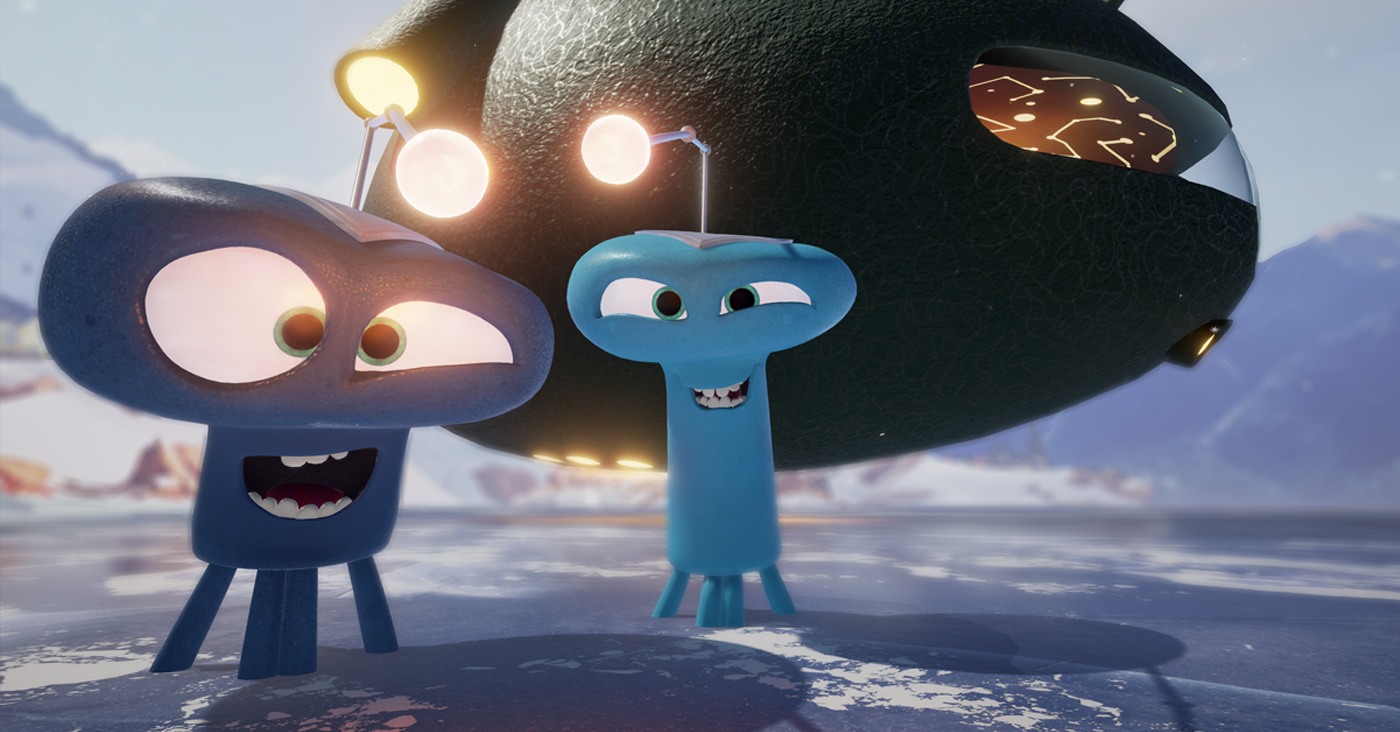 She said that she's seen over 2000 people in person trying out Invasion!, and the funniest reaction was "someone got on their hands and knees, and was playing with the bunny." Many have cooed at the bunny, while others have reached out to touch the bunny—and in some cases Fan had a bit of fun with them, by pushing a Chloe plush doll into their hands, which often provided a big surprise.
In fact, it's clear that Invasion! with a VR headset has a very high immersion factor, but Fan said it's designed to be easy to get into. The goal for the studio is to make content that's "universally appealing and there's a real story to it," and different from a lot of what she calls "super-niche, arthouse-y type" VR content that seems to be prevalent from other creators. She also stated that there are a lot of people who haven't tried VR yet, and she's hoping that Baobab films are going to be many people's first experiences, so she wants the studio to make content that's easily accessible and comfortable.
"We believe in story first with the technology there to bring that to life," Fan said, indicating that Baobab also follows a standard three-act narrative structure, "rather than technology first, and then drag the story along with it."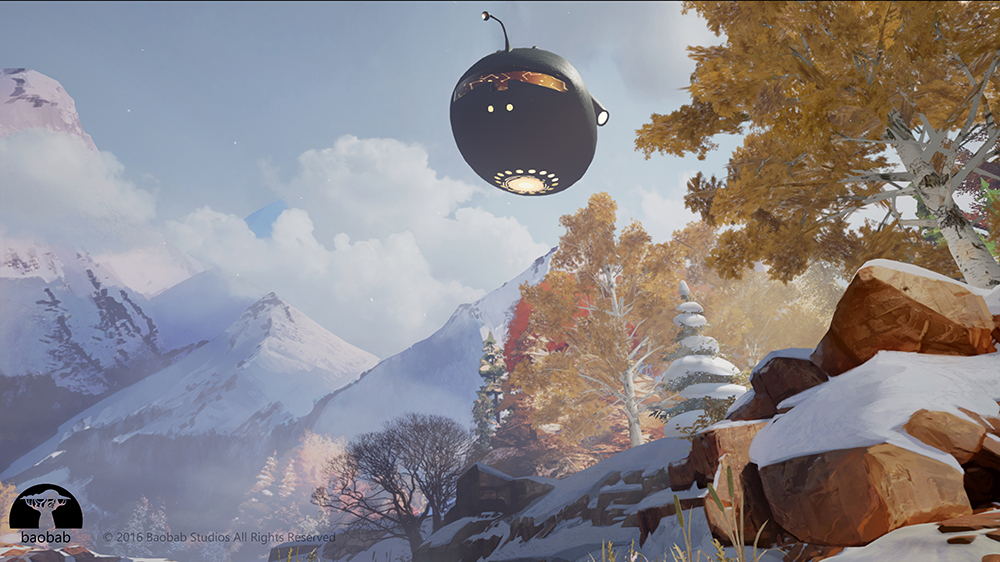 Also, the first episode of Invasion! is free, and it hasn't been determined yet if future episodes will have a fee or even how the company is going to monetize its content at this point. Fan said she'll follow the Zynga plan for monetization by testing and seeing how pricing is received.
As for where Baobab goes from here, Fan doesn't want to give away too much, but she said that they have "tons of other IP" from their brainstorming sessions. She stated that a second Invasion! episode will be coming soon and there will be "an entire series."
"In addition to Episode 2, we're also working on completely other, different IP…that has nothing to do with aliens and bunnies at all," Fan said with a laugh. "I can't say what we're doing in the future, but you will see soon."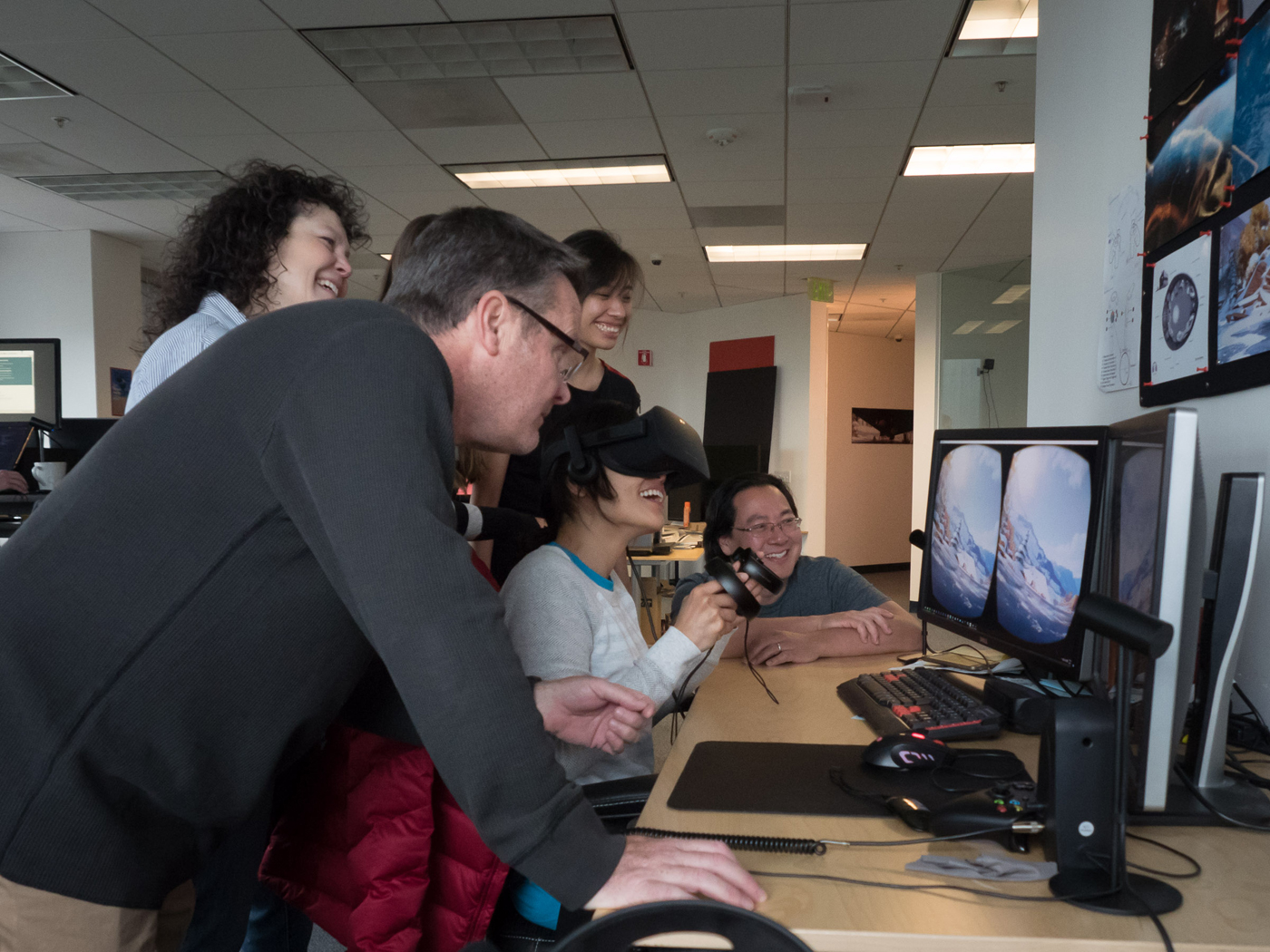 Inspiration
Before I left the Baobab offices, Fan insisted on showing me her office's great panoramic view…then asked one of her employees to point out which building a few miles away had been the offices of Pacific Data Images. PDI was the pioneering computer graphics-animation studio best known for doing some cutting-edge CG productions and effects, such as the Scrubbing Bubbles commercials for then-Dow Chemical, Budweiser's Bud Bowl ads for the Super Bowl telecasts and the first CG version of the Pillsbury Doughboy, and later was responsible for the 1998 animated feature film Antz. The studio had its name changed to PDI/Dreamworks, essentially becoming the Northern California office of Dreamworks Animation, after PDI was acquired in 2000, and then the facility was shut down for good in January 2015 when Dreamworks restructured.
In starting up Baobab, Fan and Darnell clearly received a lot of inspiration from what PDI/Dreamworks accomplished—and had some of its employees who were alumni of the now-defunct animation studio. A comparison of the two companies was just one more contrast I saw: As far as PDI moved the needle on what had been state-of-the-art for computer animation 30 years ago, now Baobab is looking to similarly move the needle, pushing animated entertainment in a whole new direction and dimension.
—
Andy Eddy has written about games and technology for about 30 years, for such publications as GamePro, Playboy, Variety and Wired. He lives in the San Francisco Bay Area, and you can reach him via @Vidgames on Twitter.