At 9 am on a recent weekday I was standing in a Banter virtual broadcast studio with the founder of SideQuest, Shane Harris.
Next to him was an avatar with a name overhead reading "Rev. Lunar Tiger", and to my right three cameras stood in positions very close to the ones we use to record our weekly VR Download podcast.
I told Harris to hold on as I started typing messages to my colleague David Heaney on Slack, looking out from the underside of Meta Quest 3 tapping my fingers on the keys. What I saw in Banter was physics-based gameplay reminiscent of Bonelab with what seemed like rock solid performance on a standalone Quest 3. I told David that Banter was just a ~150MB download and I wouldn't take more than 10 minutes of his time. At 8:54 he agreed to install it and at 9:00 he asked where to meet.
"Slipstream island", I replied. "rev. lunar tiger in top hat and dress will get you to the right place".
The timestamp on my next message to David Heaney on Slack is at 9:10 am as I was editing his article on Meta's CTO shooting down the possibility of an official Quest 3 eye-tracking add-on. The headset was off my head, I had fulfilled my promise to him and was already back to editing his writing.
In the time between those stamps I watched David find our room, meet Harris and ask some questions. If you've used VR for any length of time you understand these time stamps tell a story of their own. Following our demo of Banter, I asked Harris to explain his thoughts on how the app aims to do things better than existing platforms. He replied:
"Banter is our attempt to explore what we think the 'metaverse' could be. We don't think it needs to be full of screaming kids, or overrun by mostly the same type of avatar. We want to create something new that focuses on incredible visuals, full body motion and incredible performance. We have tried to leverage existing open web technologies, rather than trying to reinvent the wheel. Banter uses an in built web browser to integrate everything we love about the internet into visiting worlds and space in XR," Harris wrote. "We want it to be more inclusive and more accessible than VRChat, but also targets standalone first class and not as an after thought. We want Banter to be jam packed with fun features that makes it easy for creators to build without limits, without costs and without having to prove their loyalty."
VRChat has a multi-year head start in which they've learned some hard-won lessons about how to scale such an effort while simultaneously growing a passionate user base, with VRChat allowing for quick sign up on its platform with either Oculus or Steam accounts. Banter just launched in the last year and includes guest access that allows you into some worlds without formal sign-up. It also has support for Unity's Cinemachine camera tools available and its small upfront file size makes it easy to meet up in VR very quickly.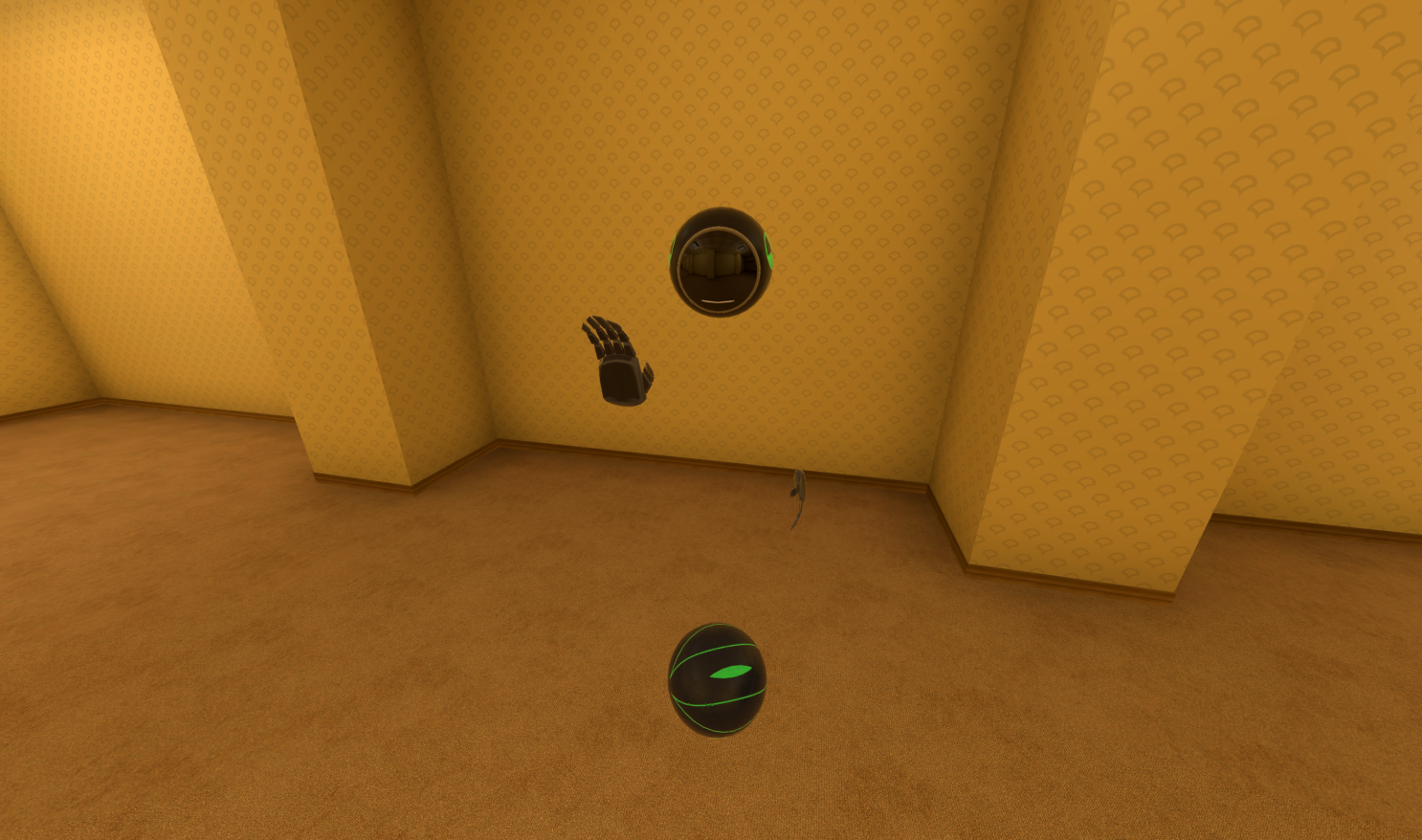 "As a guest you can do most things, enter most worlds. You get a default generated name and that 'ball' style avatar. If you want to customize your avatar or be able to add friends then you have to link your SideQuest account. Then you can change your avatar or add friends inside the app from the "Me" icon in the menu," Harris explained. "Guests aren't muted right now when they enter worlds, but some spaces can choose to not allow guests."
It will be no easy feat competing with the likes of VRChat or Rec Room, and the landscape is already littered with attempts like AltspaceVR that tried and died in the area of social VR. How exactly can Banter continue to target "standalone first" while still accepting the kinds of avatars people love inhabiting in VRChat on PCs?
That's a very obvious open question and we'll have to see where Banter goes from here. We're curious to test out the virtual studio we were shown and see if it can fulfill our needs for shows like the VR Download. That's a tall order too, but it's one we're looking to check soon. Still, we thought the timeline here, as well as the solid performance we saw in Banter's worlds, was interesting enough to share with our readers right now.
If you're curious to check it out, Banter has mostly positive reviews on Steam and is also available on Meta Quest's App Lab.
This is not sponsored content, but UploadVR did publish a labeled sponsored post from SideQuest in April 2023 in accordance with our ethics policy.